The Pull List – Cyko KO! #1
By Chris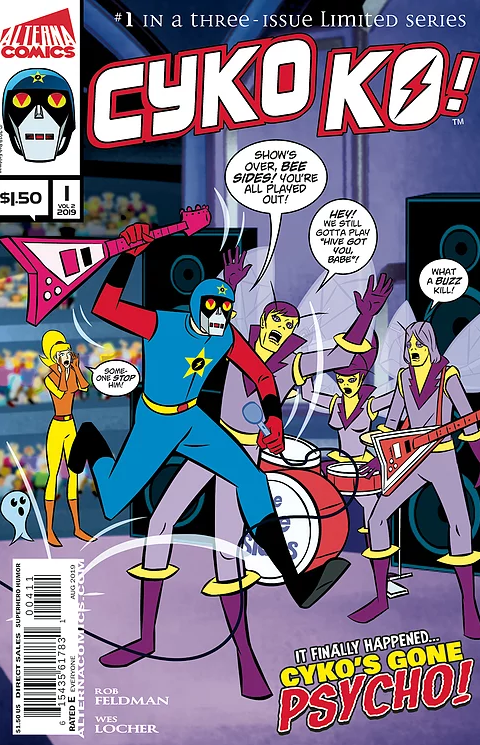 The pinball playing, motorcycle riding hero, Cyko KO is back for more misadventures. Cyko's partner, Peachy Keen, presents tickets to Rad Stinger and the Bee Sides. However, Cyko's boss, Kreskin, gives Cyko and Peachy an assignment. Baron Diablo, one of Cyko greatest villains, has returned and is heading towards Stinger's concert. Cyko's birthday bash will turn into a birthday bust if Cyko and Peachy don't stop what Baron Diablo latest scheme.
Cyko finds out that evil doesn't take breaks and neither can the heroes. Not even on a birthday for himself. Peachy's thoughtful gift starts off a chain of events. Cyko not only meets his musical idols but has to stop them from helping Baron Diablo. The last time Cyko fought Baron Diablo, the villain was trapped a disco puzzle ball. However, Baron Diablo managed to escape and needs to break out from his shiny ball prison. Rad Stinger and the Bee Sides hold the key to get Baron Diablo free, but not if Cyko has anything to say about it.
The retro visuals and the Saturday-morning cartoon elements are bought to life by Rob Feldman. Feldman writes and illustrates, with lettering done by Wes Locher. Feldman presents Cyko as the lazy rebel, always trying to skirt by the responsibilities of a hero but manages to save the day in unexpected ways. Rad Stinger and the Bee Sides are like a version of the Josie and the Pussycats, that really need a better band manager. They're a fun throwback to funky California bands that just focused on the music and not much else.
Cyko KO! #1 follows an exciting start of the whacky adventures ahead of this new volume and is a great read for new comics readers and fans of classic Hanna-Barbera creations. The nostalgia factor definitely plays a large part in drawing in the audience, but the silly jokes and attics will keep the readers staying.
Cyko KO! #1 was released on September 11th, 2019 and is available in stores and online.
Bitten by a radioactive video store rental employee and overcome by Pac-Man fever, Chris seeks new comic books, games, and movies to review.
Alterna Comics
comics
Cyko KO
Rob Feldman