The Pull List – Grendel: Devil's Odyssey #1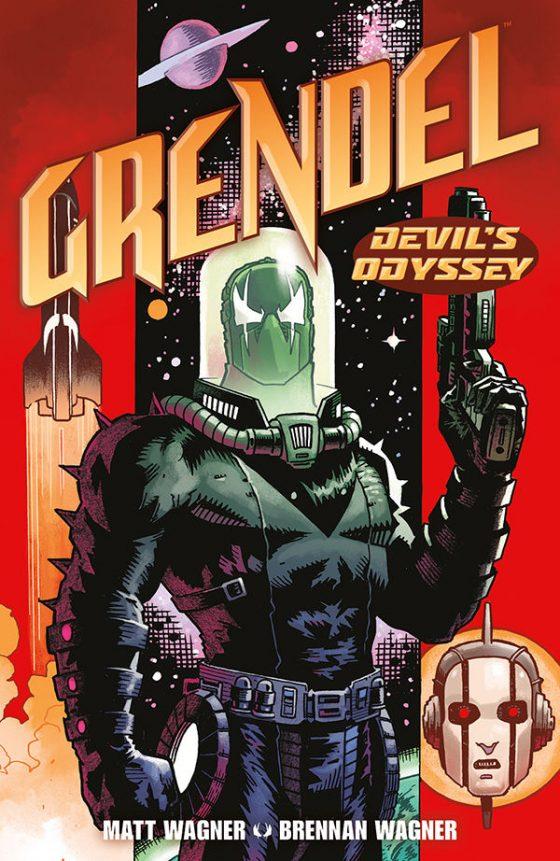 When Earth is ravaged by endless war and soon to destroy itself completely, Grendel Prime returns for a mission that controls the future of mankind. Juno II, a descend of Orion Assante and the last Grendel-Khan, gives Grendel Prime a new directive: find a new planet for humanity to rebuild. Will humans be saved by the cybernetically enhanced warrior or will it be doomed to be wiped from existence?
Much time has passed since Grendel Prime helped Jupiter Assante become the second Grendel-Khan. Grendel Prime has been in hiding the wastelands of the new world, secluding himself from the Kingdom of Grendel. The world had changed many times over, but the breaking point has arrived. Juno II uses her final to resources to give humanity a second chance at life on another planet. She charges Grendel Prime the task to search for a suitable planet and ensure humans can start anew.
The long-awaited return of the Grendel series is helmed by the original creator, Matt Wagner and his son, Brennan Wagner. Matt takes the series to intergalactic heights as Grendel Prime is sent on a mission to explore strange new planets. The series is no stranger to sci-fi elements before, the series has its shares of vampires, time travel and cyborgs. The series seems to focus on the hero who had foregone his own identity and has to rediscover it. Grendel Prime was once a human that gave up his body to become a robotic guardian for his leader, but will his loyalty carry on for the sake of humankind?
Devil's Odyssey sports amazing artwork to accompany the high flying sci-fi tale. Matt provides the illustrations and Brennan mixes in the colors. The character designs follow the style he created for the last series, and there are plenty of interesting landscape shots to show off the grand scale of the adventure.
This was a great reintroduction to the stoic Grendel. The adventure moves pretty fast but gives the reader plenty of time to get familiar with the characters and absorb the scope of the story. Hunter Rose's legacy as a devil has brought death and destruction, and Devil's Odyssey will see if that trend continues.
Grendel: Devil's Odyssey #1 will be on available Oct 2nd, 2019.
Bitten by a radioactive video store rental employee and overcome by Pac-Man fever, Chris seeks new comic books, games, and movies to review.
comics
dark horse comics
grendel
Grendel Prime
Grendel: Devil's Odyssey
Matt Wagner