Everything Actioncast Ep 465 "Wonder Woman 84, No Time to Die, Black Widow and More"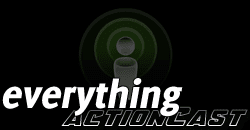 This week on the podcast, Zach and Chris talk about some huge trailers that came out over the last week or so, including Wonder Woman 1984, Black Widow and No Time to Die, the return of another classic Resident Evil game, a middling new Dolph Lundgren movie, Crisis on Infinite Earths and more.
News: Black Widow, No Time to Die, Mulan, Free Guy, Wonder Woman 1984 and Ghostbusters: Afterlife trailers, Resident Evil 3: Nemesis remake announced and Keanu faces Keanu as Matrix 4 and John Wick 4 are coming out on the same day in 2021.
Show and Tell: Both of the guys saw Hard Night Falling and Chris also started watching The Handmaid's Tale while Zach saw all the chapters so far of Crisis on Infinite Earths.
We want to hear your comments and feedback. Send them all to [email protected]. Also, be sure to subscribe, rate and review us in the iTunes music store (https://itunes.apple.com/us/podcast/everything-action/id368044198?mt=2) or on Stitcher (https://www.stitcher.com/podcast/everything-actioncast/everything-action) and follow us on twitter @evaction, Facebook (www.facebook.com/everything.action), Instagram (@everything.action) and Tumblr (everythingaction.tumblr.com)
Podcast: Download (Duration: 1:21:38 — 138.7MB)
arrowverse
black widow
capcom
chris
crisis on infinite earths
dolph lundgren
episode
Everything Actioncast
free guy
ghostbusters: afterlife
hard night falling
john wick chapter 4
keanu reeves
mulan
no time to die
podcast
resident evil
resident evil 3
the CW
the handmaid's tale
the matrix 4
wonder woman 1984
zach