Review: Bad Boys for Life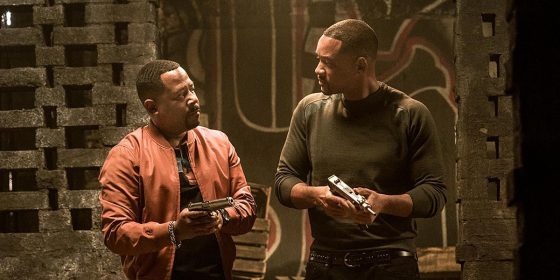 It's been 17 years since we last saw Mike Lowery and Marcus Burnett but the Bad Boys are back for a long in development sequel that is shockingly good, extremely fun and even has some honest to god dramatic character development.
Since Bad Boys II, Mike and Marcus have been continuing to serve in the Miami PD but after the birth of his first grandchild, Marcus (Martin Lawrence) is very much done with the dangerous lifestyle and wants to retire to be a "Pop Pop".  Mike (Will Smith) has no intention of retiring but he's almost killed when an assassin guns him down early in the film.  It turns out to be a revenge plot by Isabel Aretas (Kate Del Castillo), the wife of a prominent drug kingpin who has been incarcerated for decades but escapes from custody in a vicious fashion.  Mike was part of the investigation to take down her and her husband and she dispatches her son Armando (Jacob Scipio) to kill everyone who was involved in the case.  Once he's recovered, Mike is dead-set on revenge but Captain Howard (Joe Pantoliano) tells him the new unit AMMO is handling it, but Mike is not having it and is going to investigate with or without AMMO.  With new directors taking over from Michael Bay, the movie may have lost some of the truly over the top action setpieces from Bad Boys II, like the freeway chase, but it also loses a lot of the nastier elements as well, like Bay's bizarre obsession with corpses as comedic props.  Bad Boys for Life has more heart than either of the previous entries and it really digs into what makes Marcus and Mike tick.  Martin Lawrence especially rises to the occasion and becomes the emotional center of the movie (along with being also hilarious) and Mike grows as a character as well, especially after some third-act revelations.  Will Smith does his usual thing, bringing Mike's swagger from the first two movies back in full force but later on, he gets some dramatic acting as well that really reminded me of something similar he dealt with in last year's Gemini Man as far as the results of your actions and how the past catches up to you.  The movie seems to have picked up some ideas from the Fast & Furious franchise as well, with the AMMO group making the movie much more of a "team" movie than the previous entries.  All the AMMO members are likable and fun, like Alexander Ludwig as the hulking but docile tech guy or Paola Nunez as their tough and competent leader.  Vanessa Hudgens and Charles Melton are fun as well.  Kate Del Castillo is a fantastic villain, emanating hatred in every scene.
Action wise, as mentioned above, the action in Bad Boys for Life doesn't quite match the fever-dream insanity of Bad Boys II but it's still well-executed and fun.  There's a terrific chase where Marcus and Mike are on a motorcycle with a sidecar that is a blast as they chase a bad guy at night through Miami and the final shootout is action-packed and excellent as well.  The movie definitely utilizes it's R rating as well with some gruesome and crazy deaths but it feels less cynical and nasty than the Bay movies because it doesn't have the same level of sadistic humor attached.  The movie also doesn't have Bay's seizure-inducing editing style, which lets scenes actually play out and offers up more coherent action.  Directors Adil El Arbi and Bilall Fallah do offer some homages to Bay, like some 360 camera spins and slo-mo and there are some inside jokes for Bad Boys fans as well, like the return of Reggie as Marcus' son-in-law, who we last saw getting psychologically scarred by Mike and Marcus before his first date with Marcus' daughter Megan.
Bad Boys for Life is a wonderfully surprising blast that really only loses some of the more over the top style of the previous movies while gaining much more character and heart along with some great action.  There's some setup for a sequel that is on the way and if it continues the trend of this movie, I'm definitely here for another go around with Mike and Marcus (and hopefully the AMMO team as well).
I'm like the J. Jonah Jameson of Everything Action, writing and editing and constantly demanding pictures of Spider-Man.
Adil El Arbi and Bilall Fallah
alexander ludwig
AMMO
bad boys for life
bad boys II
charles melton
drug cartels
isabel aretas
jacob scipio
joe pantoliano
kate del castillo
martin lawrence
miami
michael bay
paola nunez
revenge
Reviews
vanessa hudgens
will smith