Review: 1 Week with Quibi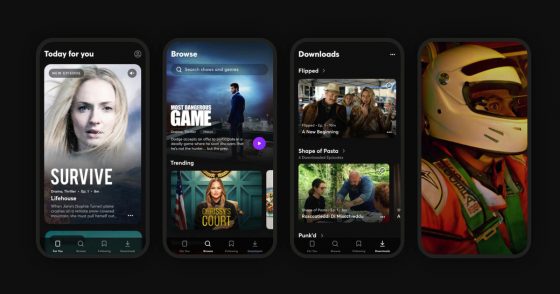 After lots of news about all the talent and money being thrown at the bizarre new streaming service Quibi, it finally launched this week to, at best, lukewarm reception.  The concept of a service only on your phone that is designed for daily commutes or waiting in line doesn't make any sense currently with the ongoing pandemic and there's also nothing on the service that is an absolute must-watch.  That being said, I have been checking it out for the last week, so read on to find out about the actual service and some of the shows on offer.
In case you are completely unfamiliar, Quibi is a new streaming service that is only available on mobile devices.  It's available for Android and iOS devices and is available on tablets as well but phones are the main focus. Former Disney and Dreamworks executive Jeffrey Katzenberg is behind the project and there is reportedly over $1 billion invested into the service.  Right now everyone who signs up gets 90 days free but it will eventually (if it survives this first three months) cost $4.99 a month for a version with ads or $7.99 for an ad-free version. If the current free version is an indication, there's really no reason to pay for no ads, there's only 1 short ad that plays before each show and the actual episodes are not interrupted by ads during viewing.  One of the biggest selling points is the apps "turnstile tech", which allows you to seamlessly view the shows in a vertical or horizontal orientation. There are actually two separate streams being sent for each show and the views are different as far as camera angles and focus. For example, if you are holding your phone horizontally and two characters are talking, you'll probably be seeing a normal looking wide shot but, if you flip your phone vertical, you will most likely get a close up of whoever is talking and it will flip between the characters as needed.  The main difference between the two views right now does seem to be that vertical is much more close-up and, while you still get a good sense of what is going on, the traditional horizontal view seems much better for the type of content being delivered, especially the dramatic shows. The streaming quality seems pretty hit or miss, at least on my phone. Sometimes the shows look fine and in HD but other times the quality is pretty crappy. This is on my home wi-fi, where I can stream 4K HDR Netflix without any issues. You have the option to download the episodes for theoretically better quality but it looked about the same as just streaming the shows.
So what about the actual content itself?  A lot of it I have basically no interest in and I've only been watching about half a dozen or so shows regularly each day.  The shows launched with three episodes each and then there has been a new episode each day. Some of the shows are "Movies in Chapters" where each chapter is part of a larger, ongoing story while others are one and done episodes or what would be the equivalent of a normal half-hour show divided into three parts.  Here is a rundown and quick thoughts on what I've seen so far.
Most Dangerous Game: Liam Hemsworth and Christoph Waltz co-star in the latest adaptation of the classic short story where big game hunters hunt a human target for sport. Hemsworth is a man named Dodge who is in dire financial and health straits, so he agrees to an offer to be the quarry for a group of five hunters in the urban jungle of Detroit.  This feels like something that would be on CBS or something, although I don't know if CBS would have gotten Christoph Waltz or even Liam Hemsworth for just an OK network series. It's just starting to pop off as of this review as the actual hunt has gotten underway in the fifth chapter.
50 States of Fright: The legendary Sam Raimi has gotten aboard Quibi for a "horror" series called 50 States of Fright.  Ostensibly telling a story of terror that originated from a particular state, it seems very loose in that premise.  For instance, the Kansas based story revolves around the World's Biggest Ball of Twine, but I don't believe there are actually horrific urban legends about it.  It's cool to have Raimi back behind the camera (at least for the first episode) and there's a lot of his trademark style and fun mix of cheesy and horror but I wish it was for something more substantial.
Flipped: Will Forte and Kaitlin Olson co-star as a couple who decide they want to be home remodeling celebrities and purchase a home in the desert to fix up.  It turns out the house is a drug cartel stash house and they foolishly spend the money they found in it's walls on producing a pilot. When the cartel finds them, they think they are dead but the cartel boss is extremely impressed with their style choices and offers them a chance to live by fixing up his mansion.  Forte and Olson have a fun chemistry where they constantly inflate each other's egos but I didn't find it consistently hilarious. There's some chuckles here and there but it's definitely not up to the duo's previous work like Last Man on Earth or The Mick and it feels at times like it's just ripping off better shows.  Arturo Castro, for example, is basically just Noho Hank from Barry.
Gone Mental with Lior: Lior Suchard is one of the best mentalists in the world and was one of the best parts of the rebooted Brain Games over on National Geographic Channel.  With this Quibi show, he meets various celebs and blows their mind with mental tricks. The quick hit format works pretty well as you get either one big trick or  two or three smaller tricks an episode but Lior really deserves something like a Netflix series or special.
Murder House Flip: One of the most ridiculous shows on Quibi currently, it could actually stand to be more ridiculous.  Although it sounds like a spoof that would have been on something like Kroll Show, Murder House Flip is an actual reality show where a pair of designers come in to redesign homes where grisly murders occurred.  Each episode is divided into three parts and the first part has been by far the best part of each as the home owners walk the design team through the macabre areas of the house and cheesy HGTV style graphics show the locations of dead bodies.  Once the actual renovation starts, it turns into a kind of generic show in that genre. If they leaned into the ridiculous aspects more, it would be more weirdly entertaining but outside of the intros, this is a fairly standard home remodel/renovation show.
When the Streetlights Go On: This is the Quibi show that feels the most like it should be on Netflix or Hulu (I believe this was actually pitched to Hulu at one point but got declined).  Set in the 90s, a popular girl and the English teacher she was sleeping with are murdered and the show folllows the mystery of who did it and how it affects various characters.  Chosen Jacobs aka Young Mike from the IT movies stars as a reporter for the school paper who is investigating the murders and Mark Duplass, Sophie Thatcher, Sam Strike, Tony Hale and Queen Latifah, who is the main cop investigating the crime. It has a sort of Stranger Things vibe mixed with something like Stand By Me, as there's constant voiceover from an older adult version of Jacob's character.  If there was on Quibi show that I would actually watch on a normal streaming service, it would be this one.
Survive: Sophie Turner and Corey Hawkins co-star in a survival thriller as the only survivors of a plane crash in the frigid mountains.  The (overly) dramatic twist is that Turner's character Jane was planning on killing herself via drug overdose during the flight and now has to decide if she does want to fight on and live.  Unfortunately this show is more 13 Reasons Why than The Gray and it's a lot of overwrought voiceover from Turner, at least for the first chapter or two, and a lot of the characters arguing with each other and their trek through the wilderness has just barely started as of this review.
Memory Hole: Weirdly this has become something of the most controversial show on Quibi this week.  Memory Hole stars Will Arnett and is sort of The Soup for found footage and weird pop culture, with a slant toward Canadian fare.  Each episode focuses on a particular item, like the Super Bowl Shuffle, the disastrous Skydome opening ceremony or Gymkata. The controversy this week is that Everything is Terrible! Believes they ripped off the idea as well as the aesthetic from them and they even had a sub-show called Memory Hole at one point.  Like Gone Mental, this show seems to work well in the small time frame with just enough time for some choice ridiculous clips from the subject at hand and some commentary/sketches based on it. If they did rip off EIT thought, that's really messed up.
So overall, there was nothing that I saw on Quibi that was flat out terrible but there's also nothing that even comes close to justifying paying a monthly fee and the orientation tech is fairly cool but it doesn't really do anything particularly cool in any of the shows I watched.  A few of the shows I would be interested in if they were on an actual streaming service you could watch on your TV but they will lose every time against even the middle of the road offering from Netflix or Hulu, just because you can watch them on your TV. If people were actually still commuting or out and say, waiting at a doctor's office or something, I could probably see the benefit of a something like this but given it's weak initial launch download numbers, they probably should maybe delayed the launch for a while and it feels destined to be a MoviePass style disaster sooner rather than later.
I'm like the J. Jonah Jameson of Everything Action, writing and editing and constantly demanding pictures of Spider-Man.
chosen jacobs
christoph waltz
corey hawkins
flipped
gone mental with lior
kaitlin olson
liam hemsworth
lior suchard
memory hole
mobile phones
most dangerous game
murder house flip
quibi
Reviews
sam raimi
sophie turner
streaming service
survive
when the streetlights go on
will arnett
will forte