The Pull List – Mars Attacks Red Sonja #1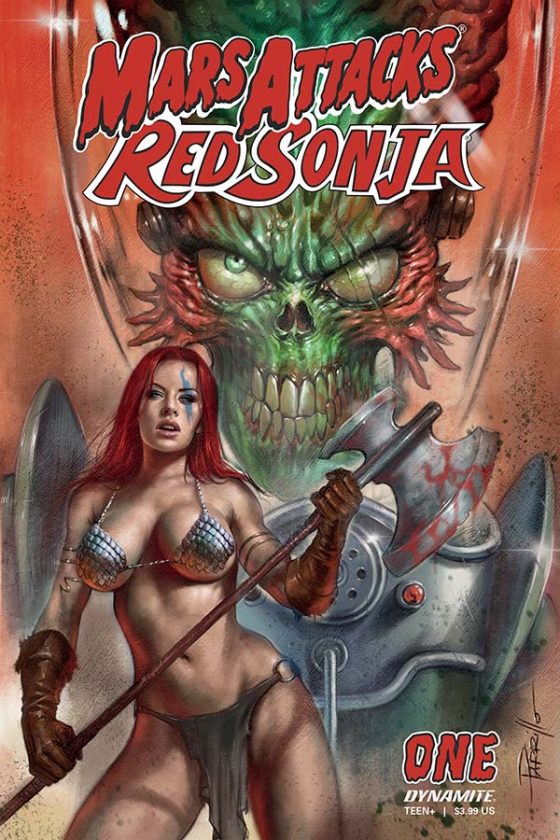 Publisher: Dynamite Comics
Writer: John Layman
Art: Fran Struken
Colorist: Valentia Briški
Letter: Taylor Esposito
In a story that tells of an early Martian expedition to earth, the green aliens arrive when power was claimed by steel and blood. Martians have the numbers and weaponry for domination but they never planned on meeting the She-Devil. Now Sonja must fend off the Martians, but will her sword be enough to match their lasers and strange experiments?
Two sci-fi legends from different worlds clash in this limited series. Lead by a corrupt scientist Xi'Zeer, the Martians arrive on Earth in the Hyborian Age on a campaign to enslave humanity. Their assault brings them a few easy victories, but it draws the attention of Sonja. She comes across a caravan escaping from a kingdom conquered by the little strange invaders. Sonja quick to step into the fight, joining a band of resistance warriors in hopes to save the world.
John Layman has written both Mars Attack and Red Sonja comics in the past. He returns to these classics characters to explore an epic war of might and technology. The Martians have an arsenal of superior weaponry. Sonja relied on brute strength and her sharp mind to keep one step ahead of her foes. Layman is able to build a good plot foundation that shows the character differences and where the story is going to unfold.
Fran Struken and Valentia Briški deliver a fun world of classic sci-fi and fantasy imaginary. The Martians have atomizing guns, laser swords, giant bug monsters that stick out from the background a typical Sword-and-sandal aesthetics. Struken plays with a lot of big posing and fast action, plus some surprising juicy glory bits. Briški's uses a florid, yet muted color palette that gives this issue a retro pulp comic look.
Mars Attacks Red Sonja #1 sees the mean, green Martians size up the red-haired She-Devil and it only riles them up for a challenge. There is an exciting premise for readers to dive into, with colorful and action-pack sequences. The series has a strong start that will only get better from here.
Mars Attacks Red Sonja #1 will be released on August 26th, 2020.
Bitten by a radioactive video store rental employee and overcome by Pac-Man fever, Chris seeks new comic books, games, and movies to review.
Comic reviews
comics
dynamite comics
Fran Struken
John Layman
mars attacks
Mars Attacks Red Sonja
red sonja
Reviews
Taylor Esposito
topps
Valentia Briški