Game Review: Good Pizza, Great Pizza Switch version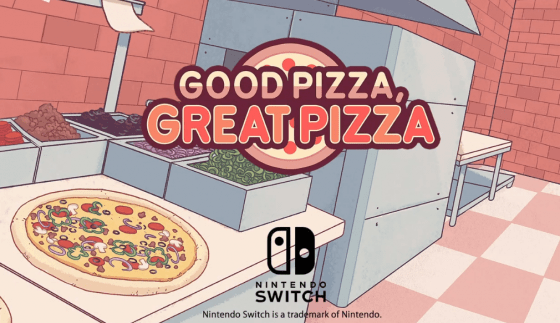 Pizza is one of the universal foods that are hard to dislike. It's can be light and chewy or crispy and thick. And can be topped with an endless combination of ingredients. It was no wonder when TapBlaze's Good Pizza, Great Pizza first hit the mobile market, people ate that game up, well, like pizza.  Now TapBlaze is bringing the same pizza making fun to the Nintendo Switch and I had the chance to get an early preview of the game.
Part cooking sim and part business management, Good Pizza, Great Pizza gives the player the chance to run their own up pizzeria. From ordering ingredients, tightening a budget, and cooking the pizzas, this personal pizzeria is going to take a lot of work to maintain. With demand for pizzas in a pizza obsessed city and rivals looming over the new restaurant, the player has to get baking. But with each pizza successfully sold, the goal of being the number one is within reach.
As a newcomer, the player must survive the rising demands of the customers and keep production costs in check. As pizza fades and festivals come into season, the player will have to buy and make certain pizzas to appeal to their customers. Customers ask for special orders and it's up the player to best assemble it together. However, the first challenge to the pizza making is understanding what the customers are actually requesting half the time.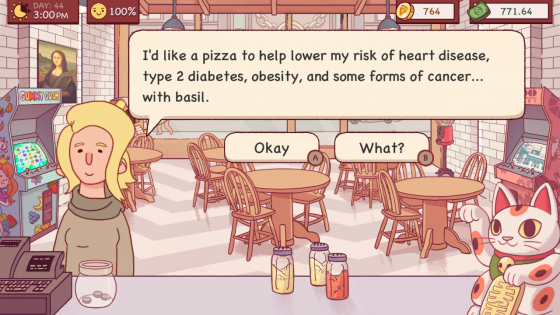 For some orders, the costumers will give pretty basic requirements of how they want their pizzas. It could be as simple as a cheese pizza, a meat-lovers, or a vegetarian. But sometimes the excitement of ordering a pizza can get in the way. Their descriptions of what exactly they want can get muddled with pizza lingo and slang. Taking the order starts a counter for the customer's satisfactory level. How quickly their order is served affects how much they will tip in the finale sale. Some costumers will use odd phrases, but it makes the player stop and think before heading into the kitchen.
Crafting a pizza together makes dough and toppings into perfect pizza. At the first few levels of the game, the request starts out simple with only a handful of ingredients available. However, having the just because the ingredients are on the pizza, doesn't make it an appetizing pizza. There are small factors of sauce and cheese balance, placement of topping, crispness, and how the pizza is sliced, all affect the overall score of the pizza. Piling on too many ingredients will reduce profits of the sale and when a pizza order isn't right, the customer gets a refund.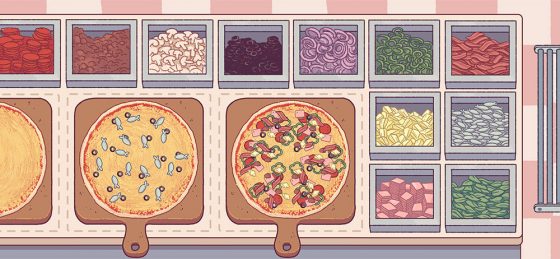 Luckily, each step in pizza making is explained. The first chapter eases the player to learn the basic mechanics. Selling pizzas for big profits will later allow for better equipment, more ingredients, and ways to reduce cost. Along the way, people and events tie into how well the community has been served.
The game offers the option to play with joycon control or the touch-screen of the Switch. I had tried both control methods and found the touch-screen is the preferred method to whip up pizzas. The joycon controls are fine to use, but they need that added patience to get a rhythm. It takes some more time to tap the right buttons and moving the cursor with precision. But it's hard to beat the ease of a few swipes of a finger.
The visuals are fun and lighthearted, with a hand-drawn art style with a cast of quirky characters and whimsical storytelling. The dialogue has a ton of pizza-related puns and jokes about pizza pop culture. I wish there was a way to customize where ingredients presentation and placement. For example, if I need to use bacon for a certain event. I should be able to make it part of my top ingredients layout. Instead, I have to scroll over for the overflow of toppings that can add extra time to my finale sale cost.
Good Pizza, Great Pizza on Switch is like a deluxe version of its mobile counterparts. The game offers fun items to customize the pizzeria and multiple save slots. Good Pizza, Great Pizza is definitely worth checking out for cooking simulator fans, especially pizza lovers. The simulation is not complex to master a learning curve, but not too simple to make people feel like it's holding your hand. It has a wonderful balance of simple and addictive, arcade mechanics that gets players drawn in for long periods of time.
Good Pizza, Great Pizza will be arriving in the Nintendo eShop September 3rd and early pre-orders get an extra 20% off if they buy it right now. You can grab your own copy at https://www.nintendo.com/games/detail/good-pizza-great-pizza-switch/
Bitten by a radioactive video store rental employee and overcome by Pac-Man fever, Chris seeks new comic books, games, and movies to review.
Game review
Good Pizza Great Pizza
Indie game
nintendo
nintendo switch
pizza
review
switch
TapBlaze
video game