The Pull List – Bill & Ted Are Doomed #1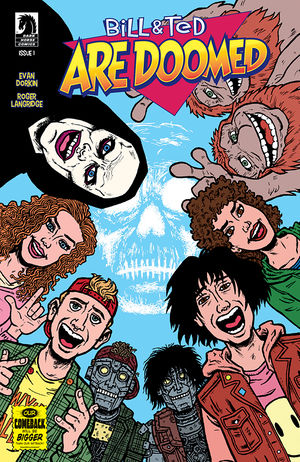 Publisher: Dark Horse Comics
Writer: Evan Dorkin
Art: Roger Langridge
In the future, Bill and Ted are remembered as musical saviors that united humanity with their music. Bill and Ted defeated the evil dictator De Nomolos and brought their band Wyld Stallyns, into mega-stardom in 1995. It was the start of their journey to write the greatest song ever. But five years later they have hit a wall. By 2000, with a dwelling fanbase and growing adult responsibilities, Bill and Ted are not sure the prophesied future would become true. In order to stay in the spotlight, they realize they need to gain a new audience. Now Bill and Ted leave San Dimas behind and bring Wyld Stallyns on a world tour.
Bill & Ted Are Doomed brings ionic characters from the hit movies and fills in the narrative gap between the second and third films. After the events of Bill & Ted Bogus Journey, Bill and Ted are a little older and wiser now, but they are still the same air-headed dreamers. Bill and Ted have not made much headway to creating their grand opus and now struggle with fading music career. They are supported by their wives, Joana and Elizabeth, and their young daughters, Thea and Billie. Station, Death, and the robotic counterparts are also waiting for Wyld Stallyns to regain their fame, but have started to look into building their own future as well.
Evan Dorkin leads Bill & Ted into an enjoyable direction that gets readers up to speed with the characters. The returning members of Wyld Stallyns get a brisk introduction, alongside some buildup for their later motivations. This does not waste much time rehashing too many previous events, so this feels like a unique story. The pacing is fast as the dialogue rapidly fires off jokes and quips while moving to the next scenes.  Dorkin nicely captures Bill and Ted's Californian mannerisms, so long time fans can easily hear their voices in the dialogue.
Roger Langridge goes for a more caricature style for this series. Langridge highlights interesting features to play up the comedic values of the story. Characters have fun expressions that easily give off the emotional weight of the moments and definitely fun to see Death get rejected over and over again. The colors are bright and cheerful, closely resembling the tones of the movies and giving it an animated look.
Bill & Ted Are Doomed #1 carries the spirit of the movies while letting the comic team freedom to show their own vision. It's an easily accessible read for newcomers of the series and for people that just recently saw the movie. There's potential for a solid adventure filled with thrills and laughs, and more reasons for Death to get mad.
Bill & Ted Are Doomed #1 will be released on September 9th, 2020.
Bitten by a radioactive video store rental employee and overcome by Pac-Man fever, Chris seeks new comic books, games, and movies to review.
bill & ted
bill and ted
Bill and Ted Are Doomed
Comic review
comics
dark horse comics
Evan Dorkin
review
Roger Langridge
the pull list