Preview of PAX Online/EGX Digital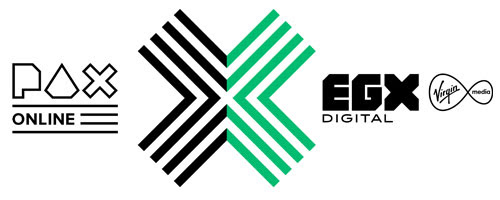 Because of the ongoing Covid-19 pandemic, gamers won't be able to gather in Seattle for the annual PAX West convention or in Europe for EGX but the two conventions have joined forces for the mega-event that will be PAX Online/EGX Digital.  Nine days of 24-hour gaming goodness kicks off this coming Saturday (9/12) and there will be panels, game reveals, speedrunning, demos, merch, and more.  Check out some of the things you can look forward to below.
Events
Check out the entire schedule at https://online.paxsite.com/schedule
Games
There will be tons of publishers and developers offering up demos and new looks at lots of great games, including the selections from the PAX Rising and Indie Showcase.  Some of the ones we're excited about are below.  Check out Steam for a ton of demos you can download and check out throughout the week.
ENDER LILIES: Quietus of the Knights from Binary Haze Interactive
Trickshot from Meddling Kids
https://www.youtube.com/watch?v=_7uvTxXcC_8&feature=youtu.be
Fire Tonight from Reptoid Games and Way Down Deep
B.ARK from TicToc Games
Adventures of Pip (on Nintendo Switch) from TicToc Games
Twin Stick Heroes from Twin Stick Heroes
Alien Hominid Invasion from The Behemoth
Fury Unleashed from Awesome Games Studio (We checked it out in June this year)
Dandy Ace from Mad Mimic
No Place for Bravery from Ysbryd Games
30XX from Batterystaple Games (which we checked out at PAX East)
Winter Ember from Blowfish Studios
Nine Witches: Family Disruption from Blowfish Studios
Blade Assault from TeamSuneat and Neowiz
Ghostrunner from One More Level, 3D Realms, Slipgate Ironworks, All in! Games and 505 Games (which we checked out at PAX East)
Even though it's going to be fully online, there's still going to be tons to see and do over the week+ of PAX Online.  Be sure to follow @Pax and @EGX on Twitter for updates and get on the PAX Online Discord for discussions with fellow gamers all week and get on Twitch for the panels, speedruns, concerts and more.  PAX Online will have four different channels going, be sure to check the schedule on the main PAX Online site to when and where the stuff you want to watch is airing.
I'm like the J. Jonah Jameson of Everything Action, writing and editing and constantly demanding pictures of Spider-Man.
30xx
alexey pajitnov
alien hominid invasion
ark
b
blade assault
Conventions
dandy ace
egx digital
ender lillies: quietus of the knights
fire tonight
Fury Unleashed
gearbox
ghostrunner
mike pondsmith
nine witches: family disruption
no place for bravery
PAX
pax online
pax west
sid meier
the adventures of pip
tony hawk
trickshot
twin stick heroes
video games
winter ember