The Pull List – Stranger Things: Science Camp #1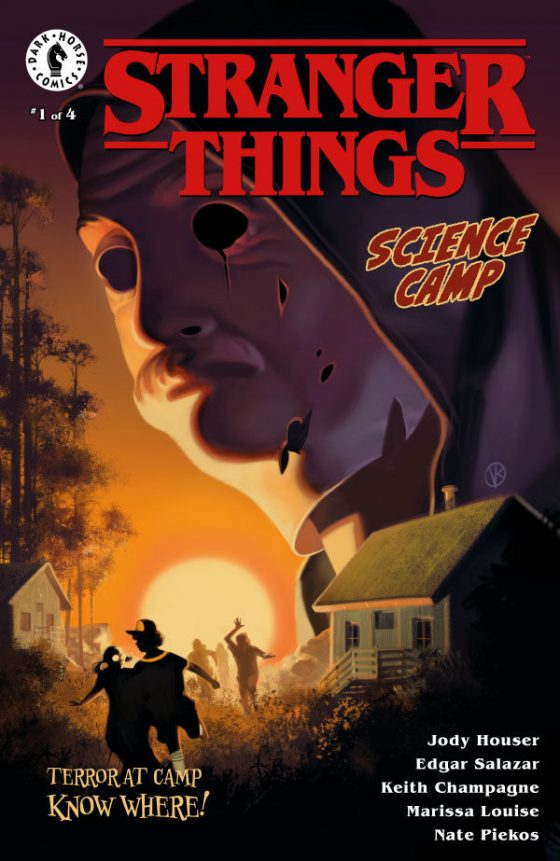 Publisher: Dark Horse Comics
Writer: Jody Houser
Penciller: Edgar Salazar
Inker: Keith Champagne
Colorist: Marissa Louise
Summertime means school is out and a whole season to relax. However, for Dustin Henderson, his time at Camp Know Where is anything but relaxing. Away from his best friends, Dustin prepares for a few weeks to learning math and science in the quiet outdoors. It doesn't take him long for two nerdy bullies sight set on Dustin and plan to make the summer a pain. But something more menacing than two brainy tormentors is lurking in the background of Camp Know Where. This mysterious figure will make the science camp to be scientifically terrifying for these campers.
Stranger Things: Science Camp is an inviting look of a Dustin as he takes on a sole adventure away from the main Hawkin's crew. While it is narrated from his perspective, the story follows a few characters at the camp. Upon his arrival, Dustin navigates the nerdy social group. To his surprise, amongst a camp of potential scientists, there are a few bullies. However, Dustin has faced fears before. Using his wits, he is able to gain new friends and new foes. Elsewhere at Camp Know Where, the teenage counselors are having their own fun. While not watching over the young campers, they each have their own take on how to spend the summer. But it's all fun and games until something strange starts happening at  Camp Know Where and everyone's summer plans will change.
Jody Houser builds a familiar setting for Dustin to get stuck in, stuffed with side charming side characters. Even after his many unusual encounters and hardships, Dustin can maintain a pleasant outlook for his summertime. Dustin's fight against the creatures of the Upside Down might have shown him unimaginable horrors, but he enjoys learning and still struggles to say the right things at the right time.
Edgar Salazar and Keith Champagne nicely recreated Gaten Matarazzo's portrayal of Dustin and capture his cheerful body movement well. Their realistic visuals keep the story feeling grounded but has plenty of room to be playful with the plot. Marissa Louise colors give the story the right kind of 80s horror undertones while giving the characters and environment designs a crisp look.
Science Camp adopts the great characterization of Dustin's growth and packages it well with a fun cheesy camp horror flick atmosphere. The first issue opens sets an interesting start of Dustin's new adventure and brings a lot of fan services to people that enjoyed the TV series.
Stranger Things: Science Camp #1 was released on September 30th, 2020
Bitten by a radioactive video store rental employee and overcome by Pac-Man fever, Chris seeks new comic books, games, and movies to review.
comics
dark horse comics
Dustin Henderson
Edgar Salazar
Jody Houser
Keith Champagne
Marissa Louise
netflix
stranger things
Stranger Things: Science Camp