The Pull List – Cyberpunk 2077: Trauma Team #2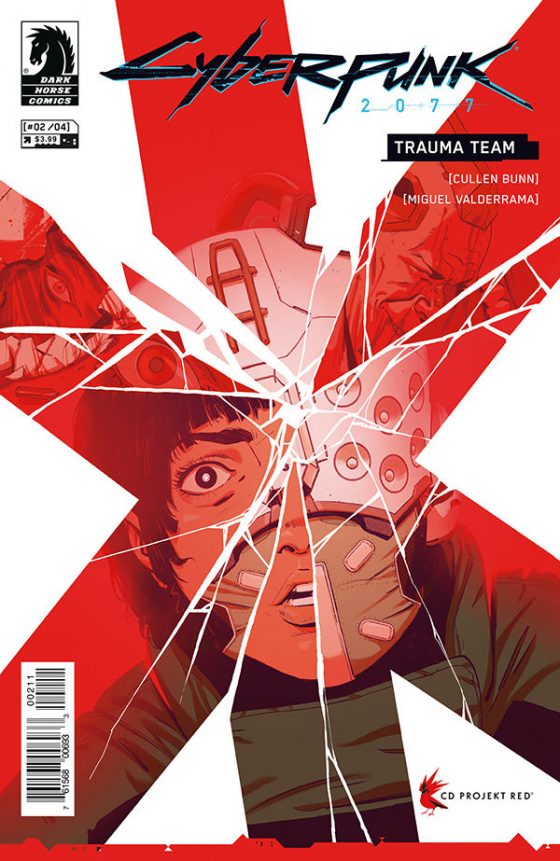 Publisher: Dark Horse Comics
Writer: Cullen Bunn
Art: Miguel Valderrama
Color: Jason Wordie
The Trauma Team's purpose is to keep their client safe, no matter what the situation. But a conflict arises in Nadia when her team's latest assignment is to rescue Apex, the man who slaughtered her former team.  Shocked by the reveal, Nadia struggles with keeping her mind level headed. Now Trauma Team has to battle against a gang hunting Apex down, but will Nadia overcome her past to help?
Face to face with Apex, Nadia is lost in a flood of emotions and memories that leaves her torn between her responsibility and her retribution. A mix of range, sadden and guilt rushes over Nadia, hesitating her every move. Meanwhile, Apex and the rest of the Trauma Team are unaware of Nadia's connection to Apex. Their focus is on the heavily armed gang, who is gunning to take down Apex. As a fierce firefight erupts, Nadia's loyalty to her duties will be tested.
Issue two explores Nadia's relationship with her former teammates, showing the deep relation roots that Apex ripped apart. The intense drama points are matched with explosive action sequences that show the perilous environment. Nadia's commitment to Apex is an anxious atmosphere and should keep readers on edge to see what happens next.
Cyberpunk 2077: Trauma Team #2 was released on October 7th, 2020.
Bitten by a radioactive video store rental employee and overcome by Pac-Man fever, Chris seeks new comic books, games, and movies to review.
CD Projekt Red
comics
Cullen Bunn
cyberpunk 2077
Cyberpunk 2077: Trauma Team
dark horse comics
Jason Wordie
Miguel Valderrama