The Pull List – Red Sonja: The Price of Blood #1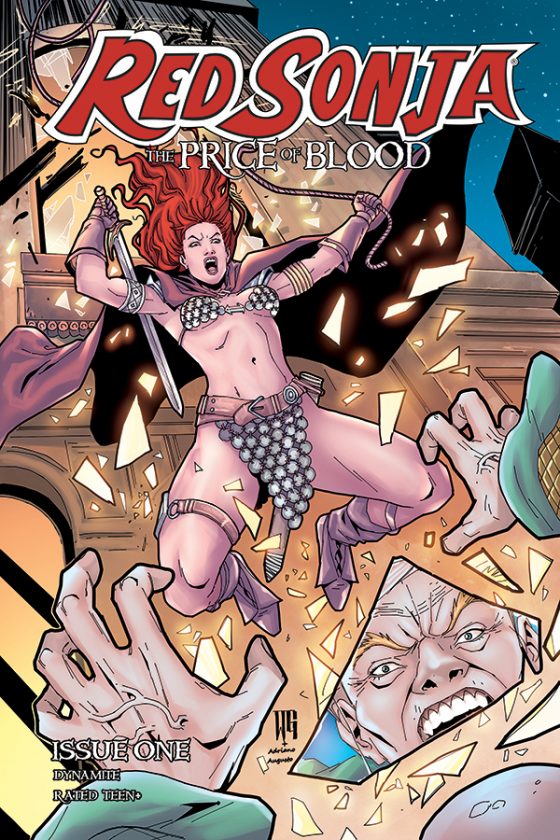 Publisher: Dynamite Comics
Writer: Luke Lieberman
Art: Walter Geovani
Colorist: Adriano Lucas
Letter: Taylor Esposito
Parties and libations are all the endeavors needed to let Sonja relax from her latest adventure. The Fire Festival, a ceremony that honors the deity Mitra, was known to be a lavish and wild celebration whose exploits piqued Sonja's interest. Her arrival at the festival lets Sonja indulge in some of the delights while learning about the followers of Mitra. However, some followers of Mitra have a different idea of Mitra's teachings. The Holy Order, a militant and violent group of Mitra believers, raid the Fire Festival. Looking for revenge, Sonja sets off to give payback the only a She-Devil can deliver.
Set in an early period of Sonja's adventures, The Price of Blood follows a young brash Sonja on a quest for vengeance. The Fire Festival seemed like the perfect vacation spot for Sonja. But a surprise attack from the Holy Order scatters the celebration. Soldiers slaughter innocent lives and enrage Sonja, who fights back the invaders. However, it is a futile attempt against the force's size. Offering a chance to strike a lethal blow to the Holy Order, the assassin operator named Yfat gives Sonja a contract to eliminate important figures. Now Sonja sets off to check off names on her contract.
The Price of Blood is a follow-up series to Lieberman's Birth of the She-Devil, which introduced an impulsive version of Sonja. This series continues to show Sonja as a bit overconfident in battle, although the events in the plot later restrict her to have a subtle approach to fighting. Lieberman crafts the Holy Order to be a powerful and organized force, that have clear-cut villainy backgrounds. It's definitely an exciting beginning to see Sonja pick apart an enemy as a silent assassin this first chapter.
This series also has the return of Walter Geovani, who illustrates tight and intense action sequences. Paired with Adriano Lucas's colors, the visuals are clean and direct. Characters easily emote emotions well and react naturally. The panel layout is pretty good too. Many moments are accented nicely when panels shrink and scale on dramatic moments, and give a nice shocking revealing as the story unfolds.
The Price of Blood has an excellent first chapter that serves as a good drop-in point for new readers and a fine follow up to Birth of the She-Devil. This chapter balances character introductions and great action sequences for a great read.
Red Sonja: The Price of Blood #1 will be on sale on December 9th, 2020
Bitten by a radioactive video store rental employee and overcome by Pac-Man fever, Chris seeks new comic books, games, and movies to review.
Adriano Lucas
comics
dynamite
dynamite comics
Luke Lieberman
red sonja
Red Sonja: The Price of Blood
Taylor Esposito
Walter Geovani