The Pull List – Fear Case #1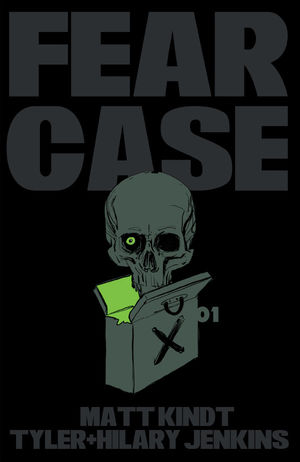 Publisher: Dark Horse Comics
Writer: Matt Kindt
Art: Tyler Jenkins
Colorist: Hilary Jenkins
A case containing a converted unknown power has been transferred around for generations, each time leaving devastation in the exchange. Rumors and stories shroud the case in infamy, causing its history to be a thing of legends. The Secret Service has sent agents to investigate and bring back this mystic box but no one has ever succeeded. However, when two agents, Mitchum and Winters, are given the chance to picking up where others had left off, they find there is some truth in the rumors.
A centuries-spanning investigation about a case has challenged the Secret Service, making it an infamous cold case within the agency. At best, those who picked up the case were left more puzzled than they started. Other times, agents have ended up dead. Mitchum and Winters are the latest agents to handle the case, given only three weeks to take a shot at it. Mitchum, the veteran of the pair and is straight lace and traditional with his methods. Winters is unsuspicious but determined to prove himself. They follow a seemly unpromising lead but discover a horrific murder with ties to the mysterious case.
Fear Case steadily merges supernatural elements into a detective story as the first issue focuses on how the history of the case has affected the main characters. Matt Kindt builds up the realism of the settings before the story starts to heads towards a dark twist. There is a great sense of identity for Mitchum and Winters that begs to be explored and undoubtedly will each react differently to the investigation.
Tyler Jenkins and Hilary Jenkins add some artistic raw visuals that art appears like courtroom sketches. Hilary Jenkin's coloring gives the art an especially bumpy texture that makes the panels appear to be freshly rendered by chalk and watercolors. It's an interesting style that is minimalistic but works well to deliver key details.
Fear Case aims to be a good mix of supernatural horror and crime drama. The premise lies somewhere between True Detective and The Ring and the first issue is a great opening chapter. If spooky detective stories are what you are missing, then check out Fear Case #1  if you dare.
comics
dark horse comics
Fear Case
Hilary Jenkins
Matt Kindt
the pull list
Tyler Jenkins