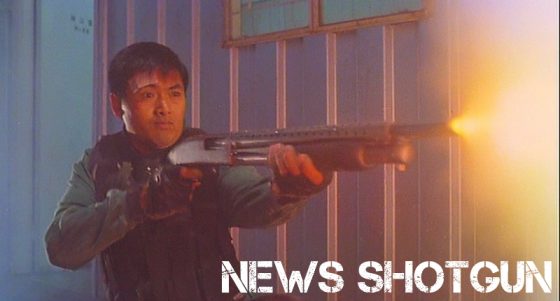 Own Optimus Prime from Bumblebee: If you want to roll out in real life, a seller on Facebook is selling the Optimus Prime truck seen at the end of Bumblebee.  The truck is in the original G1 style and the seller says it needs about $2,000 worth of repairs on top of the $21,600 asking price.
The Talisman TV series coming to Netflix: Another Stephen King property is coming to Netflix with The Talisman.  Steven Spielberg has teamed with the Duffer Brothers, the guys behind Stranger Things, to develop The Talisman into a TV series.  The book is a fantasy/horror novel where a 12-year-old boy named Jack Sawyer is teleported to an alternate universe called The Territories and given a quest to retrieve the titular artifact, which can save his dying mother.  Spielberg has had the rights to The Talisman since 1982 but hasn't been able to get anything off the ground in the decades since.
Theatrical release changes: As the pandemic situation continues to develop and, hopefully, improve in the US, some movies have shuffled around their release dates.  A Quiet Place 2 has actually moved up to Memorial Day weekend, May 28th, 2021, which was vacated this week by F9, which moved to June 25th.  Universal also moved the Minions sequel to July of 2022, it was originally planned for July of this year.
Amazon developing adaptation of Hellsing: Prime Video is developing a live-action adaptation of Kouta Hirano's manga Hellsing with John Wick's Derek Kolstad writing it.  The manga finds Dracula aka Alucard as a special agent of The Hellsing Organization, fighting other vampires, ghouls, and other supernatural threats.
Teddy and The Guardians of the Night coming to Netflix: One of The Rock's upcoming projects is coming to Netflix with Teddy and The Guardians of the Night.  The only movie in history to be developed off a single DeviantArt drawing, the movie is based on "Sweet Halloween Dreams" by artist Alex Panagopoulos, which features a teddy bear defending his owner from a demonic monster.  There's no word on how the plot has expanded from that single image or if The Rock will star, as of right now he's only producing the movie.
Silent Night, Deadly Night getting a reboot: The cult Christmas horror movie Silent Night, Deadly Night is getting a reboot from Orwo Studios and Black Hanger Studios.  There are
no casting, director, or plot details but it will arrive sometime in 2022.  The original film followed psychotic orphan Billy, who witnessed a man dressed as Santa kill his parents and, after years in an abusive Catholic orphanage, he puts on a Santa suit himself and goes on a rampage.  The sequel found his brother Ricky also going on a rampage, which included the immortal "Garbage Day" scene:
Superman & Lois and The Simpsons renewed:  After an impressive debut on The CW, the network has renewed Superman & Lois for a second season.  The show had the best one-day streaming ratings in the network's history and was also the most-watched live night for the network in two years.  The Simpsons were also renewed by Disney/Fox for two more seasons, seasons 33 and 34.  By the end of Season 4, there will be 757 episodes of the series.  The 700th episode of the show will air on March 21st this year.
Alamo Drafthouse files for bankruptcy: All movie theaters have been hit hard by the pandemic but Alamo Drafthouse especially took a hit and had to file for Chapter 11 bankruptcy this week.  The theater chain made an asset purchase agreement with Altamont Capital Partners and the company will be restructured with underperforming theaters closing.  The first theater to permanently close for the chain is The Ritz in downtown Austin, TX.
Aliens: Fireteam announced: A new co-op Aliens game was announced this week with Aliens: Fireteam.  The game is a shooter that will pit teams of Colonial Marines against xenomorphs in different locations like abandoned spaceships, overrun colonies, and more.  The game can have up to three players or single-player with AI teammates who will face over 20 different types of xenomorph enemies.  The game is out in the summer for both Xboxes, both Playstations, and PC.
Lionsgate movies will be exclusively on Starz: As theatrical windows and release strategies evolve, Lionsgate has announced that all of their upcoming theatrical releases will be exclusively streaming on Starz.  Lionsgate owns Starz, so it's a logical move.  Lionsgate currently has a deal with Hulu that will expire at the end of 2021 and afterward, Starz will be the only place to see Lionsgate movies after their theatrical runs, like the upcoming Borderlands and future John Wick movies.
New Liam Neeson movie coming to Netflix: Netflix has bought an upcoming Liam Neeson action movie, The Ice Road, to be a Netflix exclusive in the US.  Netflix spent $18 million for the rights to the movie, which finds Neeson as an ice driver who is leading a rescue effort to a remote diamond mine in Canada which has collapsed.
Tiny Tina cast for Borderlands: The upcoming Borderlands movie from Eli Roth has gotten another cast member with Arianna Greenblatt playing Tiny Tina.  Greenblatt is probably best known for playing young Gamora in the MCU.  In the Borderlands games, Tiny Tina is an NPC explosive expert that the Vault Hunters meet who is on a mission of vengeance against the man who sold her family to Hyperion for experiments, Flesh-Stick.
Comic-Con 2021 will be virtual again this year: Despite the hopefully wide-spread vaccinations by the time the convention was taking place, Comic-Con 2021 will be fully virtual again this year.  Badges that were purchased for a possible 2021 in-person convention will be rolled over to 2022 when cons will hopefully be back in full force.  Hopefully, Comic-Con has learned how to jazz up their virtual event after last year's boring and disastrous showing, getting shown up by much better events like DC Fandome.
Rege-Jean Page joins The Gray Man: Bridgerton star Rege-Jean Page has joined Netflix's The Gray Man.  A spy thriller from the Russo Brothers, the movie stars Chris Evans and Ryan Gosling as rival assassins who are hunting each other around the globe.  Billy Bob Thorton and Alfre Woodard recently joined the movie as well and Ana de Armas, Wagner Moura, Jessica Henwick, Julia Butters, and Dhanush also co-star.  The movie is expected to be one of the most expensive films Netflix has ever made.
Pinocchio live-action remake cast expands: The cast of Robert Zemeckis' live-action remake of Pinocchio for Disney has added new cast members this week with Joseph Gordon-Levitt signing on to voice Jiminy Cricket and Cynthia Erivo as the Blue Fairy.  Tom Hanks is playing Gepetto with Benjamin Evan Ainsworth voicing Pinocchio and Luke Evans as "The Coachman".  There is a rival Pinocchio production happening with Guillermo Del Toro at the helm and that movie is going to be stop-motion animation.  The Disney/Zemeckis film doesn't currently have a release date.
I'm like the J. Jonah Jameson of Everything Action, writing and editing and constantly demanding pictures of Spider-Man.
a quiet place part 2
alamo drafthouse
aliens: fireteam
arianna greenblatt
borderlands
comic con
cynthia erivo
disney
f9
hellsing
jiminy cricket
joseph gordon levitt
liam neeson
lionsgate
minions
netflix
News
news shotgun
optimus prime
pinocchio
Prime Video
rege-jean page
robert zemeckis
silent night deadly night
starz
superman & lois
teddy and the guardians of the night
the blue fairy
the gray man
the ice road
the simpsons
tiny tina