The Pull List – God of War: Fallen Gods #1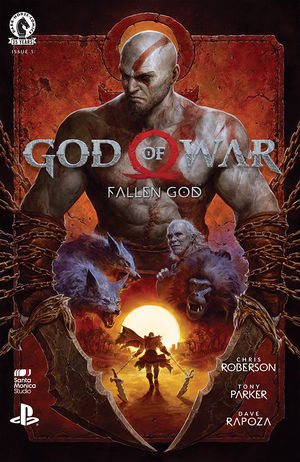 Publisher: Dark Horse Comics
Writer: Chris Roberson
Art: Tony Parker
Colorist: Dan Jackson
After Zeus' death and the destruction of his rule, Kratos believed his torment would end. Severing his connection to the gods and exiling himself, the God of War was to be no more. However, no matter how far he roams or what attempts he tries, he cannot outrun his fury and guilt. A war rages inside of Kratos, fighting to keep what little he has left to gain or lose.
Following countless battles and the defeat of Zeus, Kratos now desires to rest in silence. His strength and rage carried him to complete the impossible and he no longer needs it to survive. However, Kratos is haunted by his past deems and is driven mad by his attainment to the Blades of Chaos. Desperate to rid himself of the Blades, Kratos tries to casts it away, only for the weapon to return to his side. Driven mad and seeking an escape, Kratos travels to a new land but finds familiar troubles.
Chris Roberson returns to the God of War series to explore Kratos' troubling events after God of War 3. Fallen God follows Kratos as he tries to break his connection to his former life. Roberson examines Kratos' anguish as Kratos' consequences seemly cannot be forgotten. This has a very introspecting take on Kratos, as the tormented god killer has no one to fight, but himself to remove his pain.
Tony Parker builds an intense world, with great detail of Kratos' scowling face and bleak landscapes to capture his lonely isolation. Parker expresses Kratos's futility and anger in clean panel work. Dan Jackson adds in great colorwork to give the right emotional depth. The Blades of Chaos looks menacing that now mutely taunts the Ghost of Sparta with their present.
Fallen God #1 gives readers a deeper look into Kratos' misery after Zeus, focusing on Kratos' guilt embodied by the Blades of Chaos. While the first issue doesn't kick off into explosive action, fans of the series will appreciate the slow burn of the story and undoubtedly see Kratos rage out once more.
God of War: Fallen God #1 will be released on March 10th, 2021.
Bitten by a radioactive video store rental employee and overcome by Pac-Man fever, Chris seeks new comic books, games, and movies to review.
comics
dark horse
dark horse comics
god of war
Kratos
Santa Monica Studios
sony
the pull list
video games