Battle at the Box Office 3/22/21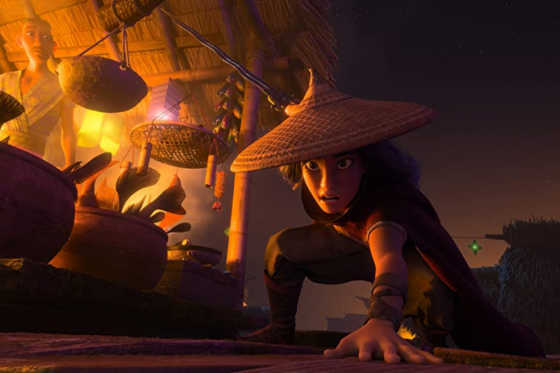 Raya and The Last Dragon remained the number one movie at the box office as the theater-going experience slowly returns to normal with more theaters that were closed opening and the movies that are currently out are outperforming the predictions for the weekend.
Raya made another $5.2 million, bringing it to $23.4 million for three weeks out and it has made another $47.8 million worldwide for $71.2 million for a global total.  That's in addition to the unknown amount that it has made on Disney+.
Tom & Jerry stayed in second place with another $3.8 million, bringing it to $33.7 million for four weeks out.  It made $43.8 million worldwide so far for a global total of $77.8 million.  It leaves HBO Max after this coming Sunday, so it will be only available in theaters starting next week but it remains to be seen if that will give it a boost or if everyone who might have gone to theaters watched it on HBO Max instead.
Chaos Walking stayed in third place with $1.9 million, bringing it to $9.6 million for three weeks out and only $4 million worldwide for a global total of $13.8 million and it seems more and more likely that it was sacrificed so Lionsgate could blame its failure on the pandemic and justify it not coming anywhere close to making its absurd budget back.
The Courier, a new release in 1,433 theaters, took fourth place with $1.8 million, which is much higher than predictions expected.
The Croods: A New Age remained in the top five for the 17th week in a row and took in another $625,995, bringing its total to $55.3 million and $160 million globally.
Wonder Woman 1984 and The Little Things, which have both been off HBO Max for a while, both saw a slight boost and they moved up to eighth and ninth place respectively.  WW84 gained 19 new theaters and took in another $460,000, bringing its domestic total to $45.6 million.
Raya kept the Per Theater average this weekend along with topping the box office, making $2,278 in each of the 2,261 theaters it played in.
I'm like the J. Jonah Jameson of Everything Action, writing and editing and constantly demanding pictures of Spider-Man.
Battle at the Box Office
disney
hbo max
raya and the last dragon
the courier
the croods: a new age
the little things
tom & jerry chaos walking
weekend box office totals
wonder woman 1984