The Pull List – The Invincible Red Sonja #1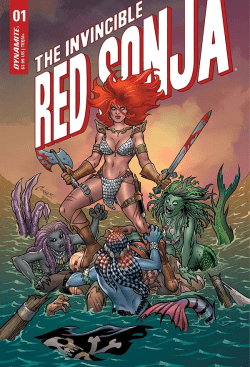 Publisher: Dynamite Comics
Writer: Amanda Conner and Jimmy Palmiotti
Artist: Moritat
Letters: Dave Sharpe
In an exchange between two kingdoms, Sonja finds herself at the center of their attention. Sonja's complicated journey starts at the sea, where she is a guest aboard a pirate voyage. A raid on a passing ship offers the pirates and Sonja some riches to blunder. One of the treasures is a princess, who defiantly refuses capture. But mankind is not the only danger in the sea. Vicious mermaids attack, leaving Sonja to fight back the blood-thirsty creatures.
The premise of The Invincible Red Sonja once again throws Sonja into extraordinary adventures, in which she is willingly or reluctantly to be involved. Amanda Conner and Jimmy Palmiotti set Sonja on an epic quest that has her fighting against dark creatures, royal armies, and more. At the start, Sonja teams up with a group of pirates but tries to never let her guard down. The pirates raid a ship and claim Princess Zaria of The Belanj Valley as their spoils from battle. Princess Zaria is rebellious and rejects Sonja's assistance. But fate has a funny way to make both of them come to an agreement, once their worlds are shaken.
Moritat's artwork really steals the spotlight in this comic. At times, it's perfectly colorful and playful for comedic effects. But when things get violent and bloody, it has great somber tones. The opening panel shows off Sonja as a fiery and bloody warrior, imposing and bracing for battling. While the title has the word Invincible, Sonja can still take damage. But that hardly slows her down.
The Invincible Red Sonja has a fun storyline with amazing artwork. For first-time readers, this is the best drop-in story to get into at the moment. Just one read thru and it will be easy to see why Sonja is the fan-favorite She-devil of them all.
The Invincible Red Sonja #1 was released May 5th, 2021.
Bitten by a radioactive video store rental employee and overcome by Pac-Man fever, Chris seeks new comic books, games, and movies to review.
Amanda Conner
comic
Dave Sharpe
dynamite
Dynamite Entertainment
Jimmy Palmiotti
Moritat
red sonja
She-Devil
The Invincible Red Sonja