News – No Kid Hungry & SpeedGaming Charity Stream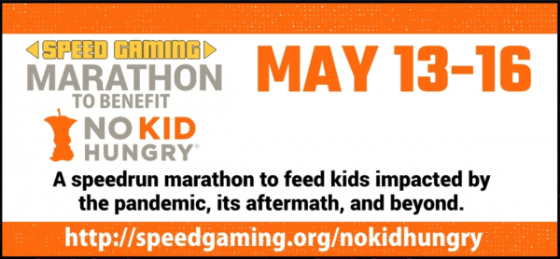 No Kid Hungry and SpeedGaming are hosting a charity speedrun stream starting this May 13th to the 16th. The gamers at SpeedGaming will be joined with over 70 runners to dash through 130 games. The target goal of the marathon will be $30,000 to end childhood hunger in America.
One of the games to be featured in the upcoming stream will be Sonic Robo Blast 2, a fanmade Sonic title that was developed on the original 1993 Doom engine. Sonic Robo Blast 2 closely follows the classic gameplay action of the 2D classics, with great 3D visuals that make it a lost title missing from the original Sonic lineup of releases. It has great fast-paced action, but in the hands of a speedrunner, this game gets all the power of a blast processer. Argick, a sonic speedrunner at SpeedGaming, shares his thoughts on Sonic Robo Blast 2 for the stream:
1 in 6 kids in America could face hunger this year and every $1 donated can help connect a child with up to 10 meals. You can watch and donate to the stream when the event goes live this May 13th. You can download and play Sonic Robo Blast 2 for free at https://www.srb2.org/
Bitten by a radioactive video store rental employee and overcome by Pac-Man fever, Chris seeks new comic books, games, and movies to review.
charity
Charity Stream
No Kid Hungry
No Kid Hungry Sonic Robo Blast 2
sonic
Sonic Robo Blast
Sonic Robo Blast 2
SpeedGaming
stream
twitch
video games