Everything Actioncast Ep 532 "Venom, The Purge, He-Man, Yasuke and More"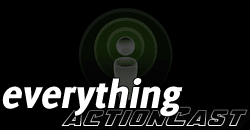 This week on the podcast, Zach and Chris talk about the first trailers for Venom: Let There Be Carnage, The Forever Purge and more, the first look at Kevin Smith's He-Man reboot, Adult Swim movies, Legends of the Hidden Temple, The Mitchells vs the Machines, Yasuke, Hellmaster, A Knight's Tale and more.
News: Venom: Let There Be Carnage, The Forever Purge, The Green Knight, and The Protege trailers, Knives Out 2 casting, First look at Kevin Smith's He-Man Netflix show, Adult Swim greenlights The Venture Bros, Aqua Teen and Metalocaplypse movies, The CW is rebooting Legends of the Hidden Temple, and Rambo and John McClane coming to Call of Duty games.
Show and Tell: Chris saw The Mitchells vs The Machines and Yasuke and Zach saw Scare Package, Hellmaster, and A Knight's Tale.
We want to hear your comments and feedback. Send them all to [email protected].
Also, be sure to subscribe, rate, and review us on Apple Podcasts, Stitcher, Amazon Music, & Spotify
Check us out on Twitter (@evaction) Facebook (www.facebook.com/everything.action), and Instagram (@everything.action).
Podcast: Download (Duration: 1:22:21 — 59.2MB)
a knight's tale
adult swim
aqua teen
call of duty
chris
episode
Everything Actioncast
he-man
hellmaster
john mcclane
kevin smith
knives out 2
legends of the hidden temple
let there be carnage
masters of the universe
metalocalypse
podcast
rambo
scare package
the CW
the forever purge
the green knight
the mitchells vs the machines
the protege
the venture bros.
venom
yasuke
zach