The Pull List – Far Cry: Rite of Passage #1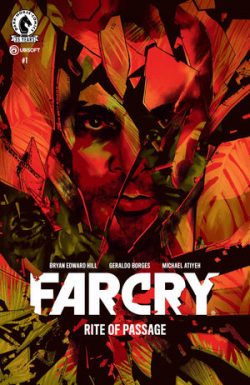 Publisher: Dark Horse Comics
Writer: Bryan Edward Hill
Artist: Geraldo Borges
Colorist: Michael Atiyeh
Power can quickly be seized but it far more difficult to maintain. For someone like Antón Castillo, controlling power is confronting chaos and bending it to his will. That is something he is passing to his son, Diego. On Deigo's thirteen birthday, Antón empowers Diego with the stories of others who tried to grab power and the consequences that followed.
On a tropic island named Yara, Antón Castillo is its authoritarian leader. Antón was not afraid to do what was necessary to rise in power and knows one day his own son will have to face similar choices ahead. When Deigo's thirteen birthday arrives, Antón takes Diego on a journey thru a remote area. While traveling, Antón tells a story about Vaas Montenegro, a boy that started out with small ambitions. But Vaas's ambitions would change him, leading down a ruinous path.
Far Cry: Rite of Passage explores the relation between Antón and Diego Castillo, and other characters featured in the Far Cry series. Bryan Edward Hill uses the source material really well, telling a part of Far Cry 6 while revisiting the previous installment. Issue one returns to Far Cry 3 to explore a few moments of Vaas Montenegro's past. Hill bridges a connection between Vaas, Antón, and Deigo with a story about conscience. Antón narrates Vaas's story, hoping to enlighten Diego about the dangers of not being self-aware. Hill paces the plot well to show Antón's calculated manner. He is not strict or loud, but Antón is definitely someone that has plans in motion.
Geraldo Borges and Michael Atiyeh have some great visuals to accomplish the story. Borges captures the likeness of Giancarlo Esposito well to give readers some Gustavo Fring vibes while reading Antón lines. Atiyeh colorwork is impressive, especially with panel scenes with firey backgrounds. Particular the tense, wordless moment among Vaas and Citra. The scene delivers a strong impact on conflicting emotions.
Far Cry: Rite of Passage #1 is definitely geared towards Far Cry fans first. The comic does a limited explanation of certain characters and settings, the reading experience is better for those who are familiar with the series villians. The Far Cry villains have been the best parts games and this series gives an introspective look at their complicated past.
Far Cry: Rite of Passage #1 will be released May 19th, 2021
Bitten by a radioactive video store rental employee and overcome by Pac-Man fever, Chris seeks new comic books, games, and movies to review.
Anton Castillo
Bryan Edward Hill
dark horse comics
far cry
far cry 6
Far Cry: Rite of Passage
Geraldo Borges
Michael Atiyeh
Rite of Passage
ubisoft
Vaas Montenegro