The Pull List – The Worst Dudes #1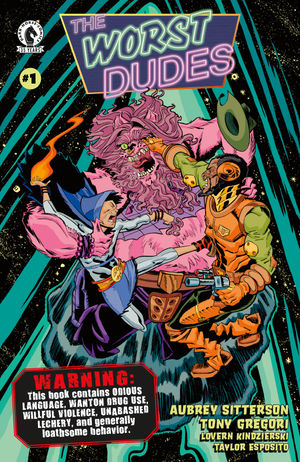 Publisher: Dark Horse Comics
Writer: Aubrey Sitterson
Artist: Tony Gregori
Colorist: Lovern Kindzierski
Letterer: Taylor Esposito
When a galactic pop star goes missing, a crooked cop and an averse demi-god team up and investigate the disappearance. But these two aren't friends and not exactly partners. Samuel Sugar, an interstellar detective with dirty ties, is demanded to find Zephyr Monsoon, a singer of secret royal lineage. Sugar is reluctantly accompanied by Bang, an angsty and immature royal heir. Now, these two dubious sleuths follow a trail of drugs, sex, and violence to solve this case.
Behind every shiny and clean spot in the galaxy, dirty and seedy exchanges are always happening behind it. Detective Sugar is a rogue cop, breaking the rules to get the job done and earn a quick profit.  However, when the Eternal Empress, a mighty overseeing queen, requests his assistance in a private manner, this is one rule he can't easily break. Zephyr Monsoon, a popular singer, has gone missing after a messy divorce. The Empress fears the backlash to her royal name if the public found out that Zephyr shares royal blood. Sugar is instructed to find Zephyr and return her before the public catches wind of the situation.
To make sure Sugar gets the job done, the Empress' son, Bang, joins the hunt. But Bang has been spoiled for far too long to be ready to explore the galaxy. The young heir to the royal throne is brash and impatient, the perfect combination to iterate Sugar. Bang sees himself as superior to everyone, which is going to lead to some trouble. But the budding prince can pack a punch, so he has his uses when he is not insulting everything in sight.
Aubrey Sitterson's take on the buddy-cop comedy formula is twisted and turned and dripped fed an energy drink for an unconventional story. There is a major focus on crude humor, and it doesn't hide that fact. It takes only four pages before Sitterson leans into the perverse. One nipple pinching joke later, you get a picture of what to expect and what not to expect from this comic.
Tony Gregori has a lot of fun, imaginative character designs. It's like an 80s toy chest exploded and pieces were stitched together. There's an interesting blend of medieval, film noir, and animalistic concepts. Lovern Kindzierski amped up lively imagery with a neon palette but mixes it up with a few darken greens and yellows for some dramatic flair.
Overall, this series is worth a peek if you are looking for a sci-fi romp with trippy visuals. There is a wide cast of quirky characters to see, with a few that may get an unexpected chuckle with the readers. The first issue feels like it skims the surface of a dirty pool that dares the reader to go deeper to reach the bottom.
The Worst Dudes #1 will be released on June 2th, 2021.
Bitten by a radioactive video store rental employee and overcome by Pac-Man fever, Chris seeks new comic books, games, and movies to review.
Aubrey Sitterson
comics
dark horse comics
Lovern Kindzierski
Pull List
Taylor Esposito
the pull list
The Worst Dudes
Tony Gregori