Everything Action Theater: Alienators: Evolution Continues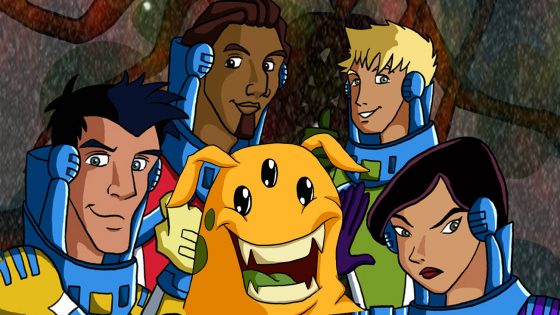 Celebrating its 20th anniversary this week is Ivan Reitman's comedy Evolution.  Dismissed at the time, and probably still to this day by most folks, as a poor man's Ghostbusters, Dreamworks and Columbia Pictures, who distributed the movie, clearly thought it was going to be potentially as big as Ghostbusters, as it got an animated series in the fall after the movie was probably mostly forgotten by those who had seen it earlier in that year.  Alienators: Evolution Continues aired on Fox Kids starting in September 2001 (which was not the greatest time for anything to premiere) and lasted for 26 episodes until June 2022.  The series was sort of the Real Ghostbusters, or maybe more Extreme Ghostbusters, to the movie, as it shared characters and the basic premise but also had some drastic differences so it felt more like an alternate universe version of the movie as opposed to a continuation.  A meteor containing an alien species known as the "Genus" arrives on Earth and starts to cause mutated creatures that terrorize Earth.  The Genus is lead by a humanoid alien named Scopes who can shape-shift and take various forms.  A special task force that includes Drs Ira Kane and Harry Block, teen firefighter wannabe Wayne Green and Special Forces soldier Lt. Lucy Mai is tasked by the US military to study and figure out a way to stop the Genus before they can wipe out all life on Earth.  Much like Slimer, the Alienators, as the team comes to be called, have an alien ally named GASSIE that acts like a dog and helps the team track down other aliens.  The show got toys and a GBA game developed Digital Eclipse but it has mostly faded into obscurity, although the entire series is on YouTube on the WildBrain channel, which owns the Alienators series but not Evolution the movie, which is now owned by Paramount.  You can check out the first episode of the show below, which was part 1 of a 3 part premiere.
I'm like the J. Jonah Jameson of Everything Action, writing and editing and constantly demanding pictures of Spider-Man.
2001
20th anniversary
alien invasion
alienators: evolution continues
digital eclipse
everything action theater
evolution
fox kids
GASSIE
genus
GPBA
harry block
ira kane
ivan reitman
lucy mai
mutations
Prime Video
scopes
wayne green
wildbrain
youtube