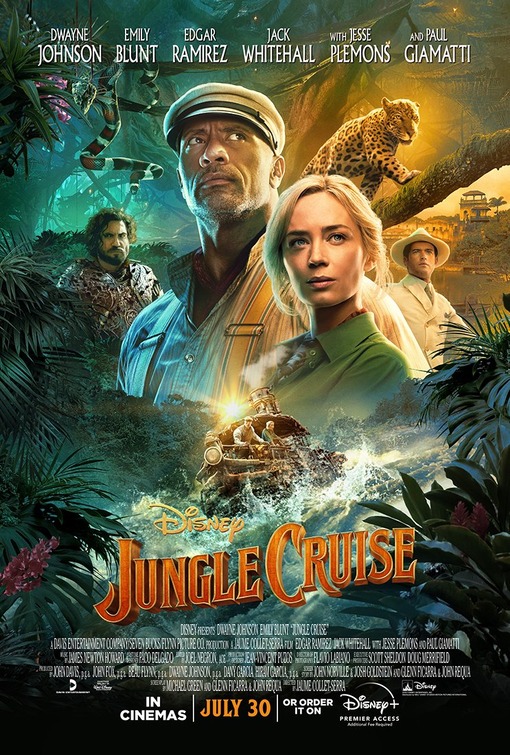 Jungle Cruise (Theaters and Disney+)
Starring: Dwayne Johnson, Emily Blunt, Edgar Ramirez, Jack Whitehall, Jesse Plemons, Paul Giamatti
Directed by: Jaume Collet-Serra
Plot: Dr. Lily Houghton travels from London, England to the Amazon jungle and enlists wisecracking jungle skipper Frank Wolff's questionable services to guide her downriver on La Quila–his ramshackle-but-charming boat. Lily is determined to uncover an ancient tree with unparalleled healing abilities–possessing the power to change the future of medicine. Thrust on this epic quest together, the unlikely duo encounters innumerable dangers and supernatural forces, all lurking in the deceptive beauty of the lush rainforest. But as the secrets of the lost tree unfold, the stakes reach even higher for Lily and Frank and their fate–and mankind's–hangs in the balance.
Rotten Tomatoes Freshness: 62%
Critic Consensus: "Its craft isn't quite as sturdy as some of the classic adventures it's indebted to, but Jungle Cruise remains a fun, family-friendly voyage"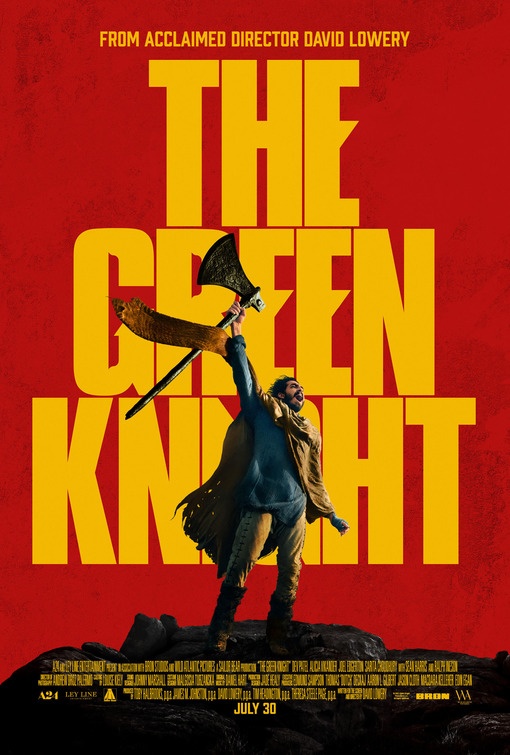 The Green Knight (Theaters)
Starring: Dev Patel, Alicia Vikander, Joel Edgerton, Sarita Choudhury, Sean Harris, Ralph Ineson, Barry Keoghan
Directed by: David Lowery
Plot: Sir Gawain, King Arthur's reckless and headstrong nephew, embarks on a daring quest to confront the eponymous Green Knight, a gigantic emerald-skinned stranger, and tester of men. Gawain contends with ghosts, giants, thieves, and schemers in what becomes a deeper journey to define his character and prove his worth in the eyes of his family and kingdom by facing the ultimate challenger.
RT Freshness: 92%
Critic Consensus: "The Green Knight honors and deconstructs its source material in equal measure, producing an absorbing adventure that casts a fantastical spell"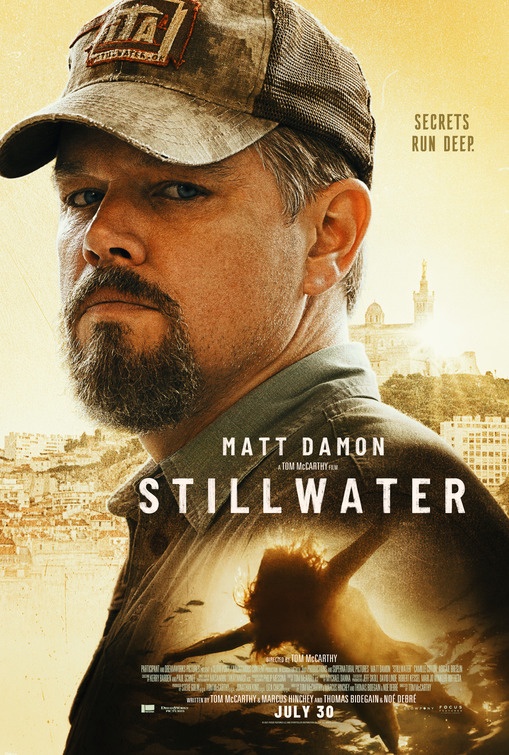 Stillwater (Theaters)
Starring: Matt Damon, Camille Cottin, Abigail Breslin, Lilou Siauvaud, Deanna Dunagan
Directed by: Tom McCarthy
Plot: A father travels from Oklahoma to France to help his estranged daughter, who is in prison for a murder she claims she didn't commit.
RT Freshness: 69%
Critic Consensus: "Stillwater isn't perfect, but its thoughtful approach to intelligent themes — and strong performances from its leads — give this timely drama a steadily building power"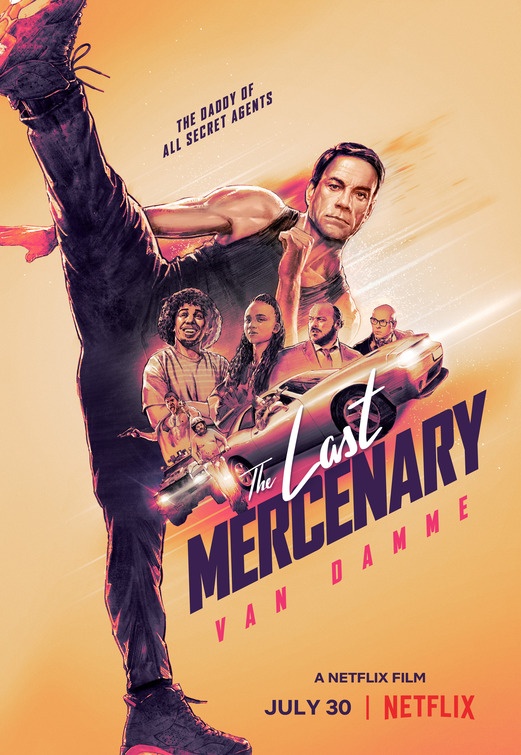 The Last Mercenary (Netflix)
Starring: Jean-Claude Van Damme, Alban Ivanov, Assa Sylla, Samir Decazza, Eric Judor, Patrick Timsit
Directed by: David Charhon
Plot: A mysterious former secret service agent must urgently return to France when his estranged son is falsely accused of arms and drug trafficking by the government, following a blunder by an overzealous bureaucrat and a mafia operation.
RT Freshness: N/A
Critic Consensus: N/A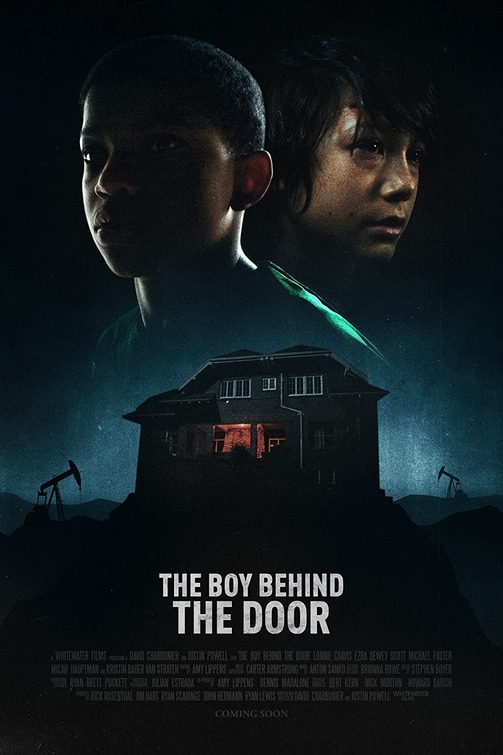 The Boy Behind the Door (Shudder)
Starring: Micah A. Hauptman, Kristen Bauer, Lonnie Chavis, Ezra Dewey, Scott Michael Foster
Directed by: David Charbonier, Justin Powell
Plot: After Bobby and his best friend Kevin are kidnapped and taken to a strange house in the middle of nowhere, Bobby manages to escape. But as he starts to make a break for it, he hears Kevin's screams for help and realizes he can't leave his friend behind.
RT Freshness: 96%
Critic Consensus: "A tense, terrifying, and all-around outstanding feature debut for its co-directing duo, The Boy Behind the Door should thrill discerning horror fans"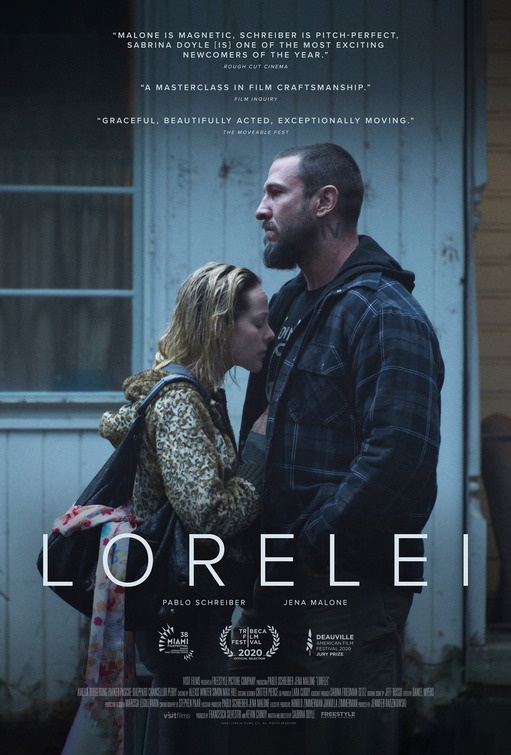 Lorelei (Theaters and VOD)
Starring: Pablo Schreiber, Jena Malone, Amelia Borgerding, Chancellor Perry, Parker Pascoe-Sheppard
Directed by: Sabrina Doyle
Plot: A man is released from prison after 15 years and reunites with his high school girlfriend, who is now a single mother of three.
RT Freshness: 82%
Critic Consensus: N/A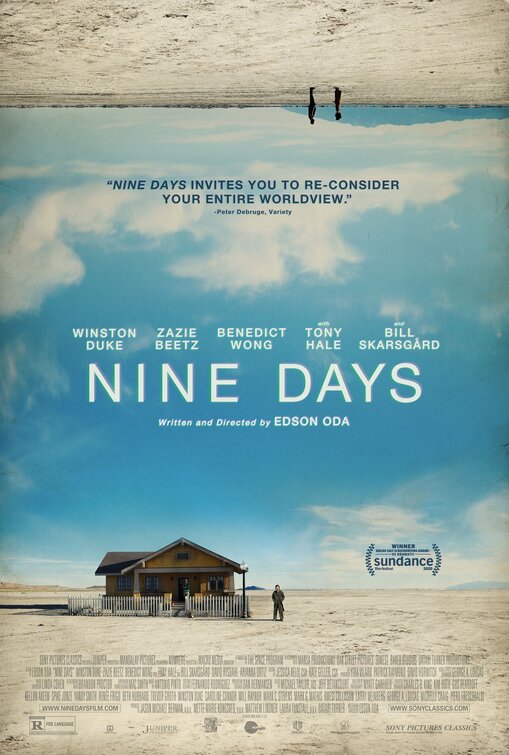 Nine Days (Theaters)
Starring: Winston Duke, Zazie Beetz, Benedict Wong, Tony Hale, Bill Skarsgard, Geraldine Hughes
Directed by: Edson Oda
Plot: A man interviews five unborn souls to determine which one can be given life on Earth.
RT Freshness: 83%
Critic Consensus: "A knockout feature directorial debut from Edson Oda, Nine Days is an ethereal and evocative film about the meaning of life – elevated by a phenomenal performance from Winston Duke"
abigail breslin
Admit One
david lowery
dev patel
disney
dwayne johnson
emily blunt
jaume collet-serra
jean claude van-damme
jungle cruise
lorelei
matt damon
netflix
new in theaters
nine days
shudder
stillwater
streaming
the boy behind the door
the green knight
the last mercenary
tom mccarthy