The Pull List – Elvira Meets Vincent Price #1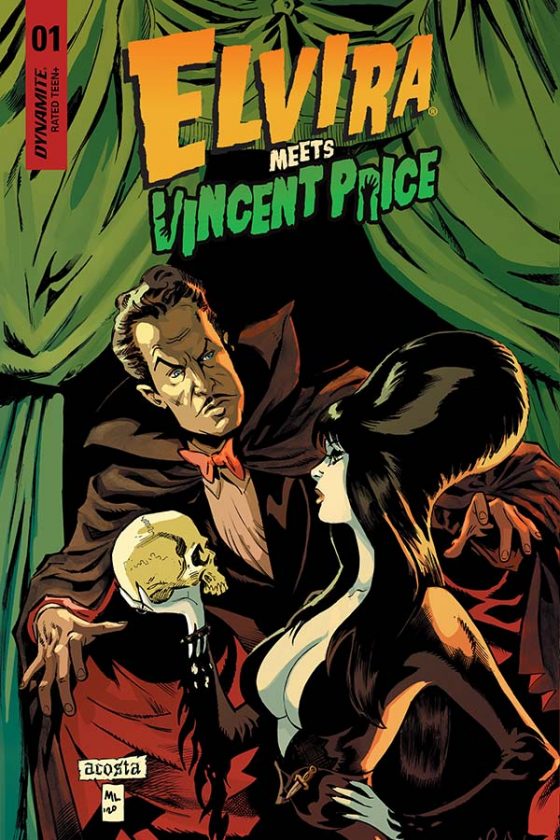 Publisher: Dynamite Comics
Writers: David Avallone
Artist: Juan Samu
Color: Walter Pereyra
Letters: Taylor Esposito, Elizabeth Sharland
After a string of questionable movie gigs and failed business meetings, Elvira was prepared for a night of drinks and horror movie binge-watching. Facing the possibility of her career coming to an end, her broken dream summons the spirit of Vincent Price. However, Price didn't just appear to give Elvira a confidence boost. The famed horror icon has returned to ask for Elvira's help to stop a ghoulish apocalypse from live-streaming to everyone's home!
Elvira and her business partner Ed are trying to pitch their latest ideas for horror TV shows to streaming companies, but they keep getting rejected. Frustrated, Elvira goes home to unwind from the stressful day. After a couple of drinks and falling asleep while watching a Vincent Price movie, Elvira finds herself being tortured in a nightmare. Luckily, Vincent Price arrives to free Elvira. Waking up from the dream, Elvira believes the booze was too much for her. But the spirit of Vincent Price was real and reappears to ask for Elvira's assistance to stop an ancient evil from taking over the world.
Elvira Meets Vincent Price has a great premise that sets up a fun, rompy story about Elvira and Price teaming to save the world. David Avallone absolutely nails the fun premise by having Elvira being snarky as ever who does not blink an eye when the ghost of Vincent Price arrives. Avallone presents Price as calm and well-mannered, which mimics his on-screen and real-life persona. The story does play up the campy factor, which really lets the plot takes its time to build and poke fun at itself. Even Vincent Price is aware that this is some Hero's Journey that Elvira has to go on.
Juan Samu's stellar artwork nicely captures Elvira's wise-cracking expressions and Vincent Price's piercing glaze. Price also goes thru a few costume changes, there's a version of Price wearing his attire from House on Haunted Hill and Theatre of Blood, each time matching how Price looked at the time of those roles. Walter Pereyra's colorwork for the backgrounds is bright and cheery, but still has plenty of dark tones for Elvira. There are also these ghostly white lines surrounding Price that are zany visual cues.
Elvira Meets Vincent Price leads with a great start that gives plenty of page time for Elvira and Vincent Price to interact. The story has a focus on slapstick comedy with some old fashion horror elements, something that both of these stars would have totally signed up to film if they had the chance. Mightnight horror movie fans would definitely appreciate the fantastic plot and wonderful visuals.
Elvira Meets Vincent Price #1 will be released on August 4th, 2021.
Bitten by a radioactive video store rental employee and overcome by Pac-Man fever, Chris seeks new comic books, games, and movies to review.
comics
David Avallone
dynamite
dynamite comics
Dynamite Entertainment
Elizabeth Sharland
elvira
Elvira meets Vincent Price
horror
Juan Samu
review
Taylor Esposito
the pull list
vincent price
Walter Pereyra