The Pull List – The Army of Darkness: 1979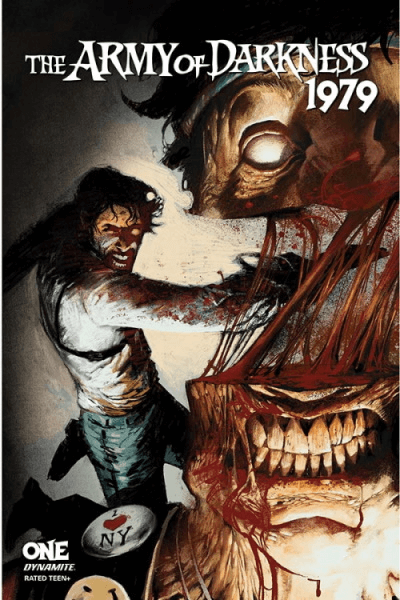 Publisher: Dynamite Comics
Writers: Rodney Barnes
Artist: Tom Garcia
Color: Dinei Ribero
Letters: Troy Peteri
The late 70s were not all about high-waisted jeans and disco clubs. There were rough patches that included violence and gangs. But nothing amplifies the worst conditions quite like adding the Necronomicon to the mix. In 1979, an occultist gang harness the Necronomicon to unleash an evil terror strikes New York. Luckily, a portal appears to bring a present-day deadites slayer Ash Williams for help. Now Ash must take on the mean streets of NYC and the undead punks that roam them.
With a tense gang war plagues the streets of New York, one gang calls for a meeting for a truce. The Dominos have a plan to unite the gangs as one, but a mysterious new gang, the Warlocks have other plans for the city. Using the power of the Necronomicon, the Warlocks make a quick impression about their deadly power by exploding a few people. Back in 2021, Ash was about to secure a new job before a temporal portal transports him to this new terror in the past. However, instead of a warm welcome, Ash is greeted with trouble from the living and the dead.
Writer Rodney Barnes lays out a great story for Ash to charm and slays his way around New York. However, it doesn't quite get its plot off the ground just yet. At face value, the premise is close to a mash-up between The Army of Darkness and 80s cult hit The Warriors. However, the plot shifts fully to The Army of Darkness territory once the Necronomicon is revealed. The comedy is well-written and is nicely contrasted by the explosive horror that comes out of the hands of the Warlocks. Tom Garcia and Dinei Ribero illustrated some great visuals, particularly starting strong with a homage to The Warriors by introducing the different types of gangs.
The Army of Darkness: 1979 is a solid debut issue that lets Ash do what he does best, but the plot doesn't use the time era to its advantage yet. However, there is a lot of space for the plot to expand and an easy read for any Evil Dead/The Army of Darkness to enjoy.
The Army of Darkness: 1979 #1 will be released on September 8th, 2021
Bitten by a radioactive video store rental employee and overcome by Pac-Man fever, Chris seeks new comic books, games, and movies to review.
1979
ash
ash williams
bruce campbell
comics
deadites
Dinei Ribero
dynamite
dynamite comics
Dynamite Entertainment
evil dead
Necronomicon
rodney barnes
The Army of Darkness: 1979
The Necronomicon
Tom Garcia
Troy Peteri