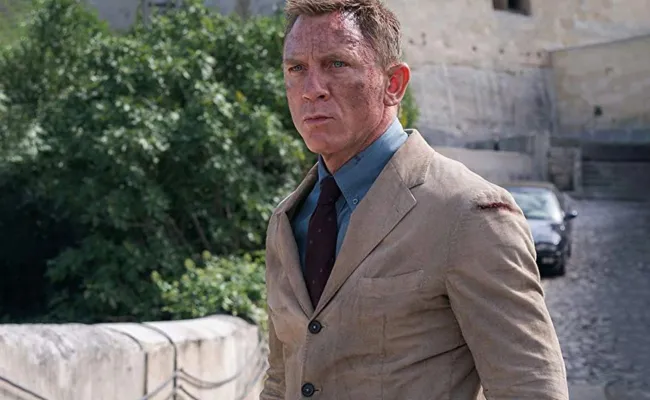 After 15 years, Daniel Craig's run as James Bond finally comes to a close with No Time to Die, an almost Avengers: Endgame length send-off that ties up all the loose ends of the Craig era but definitely feels its length at times and some other flaws that keep it from reaching the heights of Casino Royale or Skyfall.
Sometime after Spectre, Bond and Dr. Madeleine Swann (Léa Seydoux) are having a romantic vacation across Europe when they arrive in Matera, Italy, where Vesper Lynd is buried.  Madeleine implores James to visit Vesper's tomb and forgive her so they can have a future free of secrets and regret but the tomb explodes from a Spectre bomb and assassins arrive to kill Bond.  Believing Madeleine betrayed him, Bond leaves her and retires from active service.  Five years later, a deadly bioweapon and its creator are taken from an MI6 facility and Bond agrees to come out of retirement to help find it with Felix Leiter (Jeffrey Wright) and the CIA while MI6 sends their new 007, Nomi (Lashana Lynch) after it as well.  The plot is a pretty standard villainous Bond plot but the movie really takes its time to dole out the details of who is behind everything and the steps of the mission until the big island hideout finale.  The downtime is never unbearably boring but you'll definitely feel it at times and it sometimes feels like they just padded out a standard Bond movie to fill the epic runtime.  Despite all that extra time though, one of the major flaws of No Time to Die is the villain.  Despite 2 hours and 43 minutes of movie, Rami Malek's Safin feels like he's barely in the movie until the final act and, because of that, he doesn't really have the impact the movie seems to think he does and his motivations are fairly basic as far as Bond villains go with revenge mixed with world domination.  He does have past ties to Madeleine which the movie treats as this big reveal and spends a lot of seemingly pointless build-up until Bond finally finds out who he's up against and what Madeleine's ties to him are.  There are also some Safin henchmen that don't really stand out or have any interesting gimmicks except for one of them has a bionic eye but even that doesn't really factor in or do anything cool.  The movie also really expects you to be fully invested in the Madeleine/Bond love story and, if you aren't, No Time to Die will probably be a slog as that is most of the dramatic push and focus.  Léa Seydoux is fine and I bought into it enough for the sake of the movie but Madeleine is just kind of bland compared to say, Eva Green's Vesper.  The other women in the movie are much more interesting including Lashana Lynch as the new 007, who has a great cocky swagger and she and Bond almost have a sort of Archer/Lana rivalry where they try to one-up each other or needle each other throughout most of the movie.  Ana De Armas is also super fun as Paloma, a Felix asset who helps Bond early on who is both nervous and excited because it's basically her first big mission and she and Craig have an incredibly amusing dynamic.
Action-wise, director Cary Joji Fukunaga definitely comes up with some interesting scenarios that you normally don't see in Bond movies.  The opening action sequence in Matera is a pretty spectacular way to kick things off and it's a fantastic showcase for the iconic DB5 and its many gadgets.  There's also a slower-paced battle in a foggy forest that shows off Bond's ingenuity and stealth more than normal and Fukunaga pulls out a one-take sequence that we know he's great at since his big splash directing True Detective as Bond climbs an old Soviet control tower that is pretty excellent as well.  I don't know if any of the sequences will go down as all-time great Bond action sequences but they are all exciting and entertaining and the entire movie is beautifully shot, especially all the exotic locales that Bond visits throughout the movie.
No Time to Die is probably overlong and some elements don't quite work but as a send-off for Daniel Craig, it works, and, for me, it slots right behind the excellent Casino Royale and Skyfall and definitely well above the disappointments of Spectre and Quantum of Solace.  Craig's Bond is the first one to feel like he gets a proper send-off, as other Bond actors have mostly just had the franchise ride off the tracks from under them, like Pierce Brosnan's final movie being Die Another Day or Timothy Dalton not even really getting a chance with only two movies.  It's not clear what the future of Bond will be but the Craig era has had some high highs and low lows but was mostly a success and Craig's grittier and more dramatic take helped rescue the franchise from the cartoon it became.
007
ana de armas
aston martin
ben whishaw
cary joji fukunaga
daniel craig
dr. madeleine swann
felix leiter
james bond
lashana lynch
lea seydoux
m
MI6
moneypenny
movie review
naomie harris
no time to die
q
ralph fiennes
rami malek
review
safin