Everything Action Commentary: Blind Fury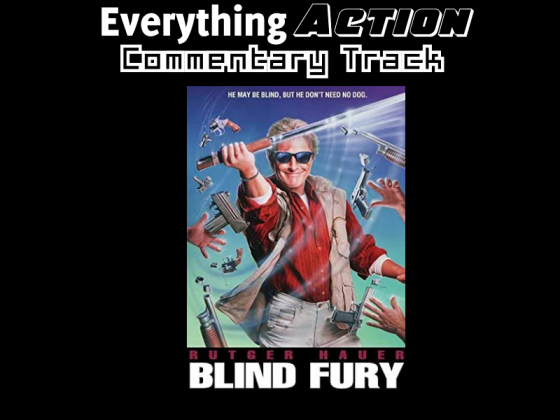 For the latest Everything Action Commentary, Zach and Chris celebrated Chris' birthday month with the traditional crazy martial arts movie, this time watching the Rutger Hauer classic Blind Fury with special guests Sam, Addam, and Justin.  Coming out in 1989 and directed by Phillip Noyce, Hauer stars as blind samurai Nick Parker, who lost his sight in Vietnam but became a skilled warrior thanks to the kindness and training of a small jungle village.  Returning to the US 20 years after he was MIA, he looks to reunite with his old friend Frank Devereux but gets himself caught up in a conflict Frank got into with Reno casino mogul and crime boss Claude MacCready (Noble Willingham) which results in Frank's ex-wife dead and Nick having to bring Frank's son Billy (Brandon McCall) from Florida to Reno.  The movie is loosely based on the 17th Zatoichi movie, Zatoichi Challenged and the guys try to figure out if Nick's blind powers are Daredevil level, the movie's obsession with having people ruthlessly prank Nick, the bizarre gaggle of henchmen working for MacCready, the abrupt ending, the brief appearance of the legendary Sho Kosugi and more.  Blind Fury is streaming on Prime Video and Starz and you can sync it up to the commentary below and watch along with the Everything Action crew.
You can find Justin on YouTube at: https://www.youtube.com/c/JJLomasEntertainment and on Instagram at: https://www.instagram.com/jjlomasentertainment
You can find Adam at @addamthecomic on Twitter and Twitch and at theadman2315#2135 on Discord
You can find Sam on Twitter, on Twitch and co-hosting the Silver Screen Fiends Podcast: https://soundcloud.com/silverscreenfiendspodcast
We want to hear your comments and feedback. Send them all to contact@everythingaction.com.
Also, be sure to subscribe, rate, and review us on Apple Podcasts, Stitcher, Amazon Music, & Spotify
Check us out on Twitter (@evaction) Facebook (www.facebook.com/everything.action), and Instagram (@everything.action).
Podcast: Download (Duration: 1:38:38 — 52.1MB)
Subscribe: Spotify | Stitcher | RSS
I'm like the J. Jonah Jameson of Everything Action, writing and editing and constantly demanding pictures of Spider-Man.
80's action
blind fury
blind swordsman
brandon mccall
everything action
frank devereaux
movie commentary
nick parker
noble willingham
phillip noyce
randall "tex" cobb
reno
road trip
rutger hauer
samurai
sho kosugi
terry o'quinn
vietnam vet
zatoichi
zatoichi challenged