Everything Action Theater: UHF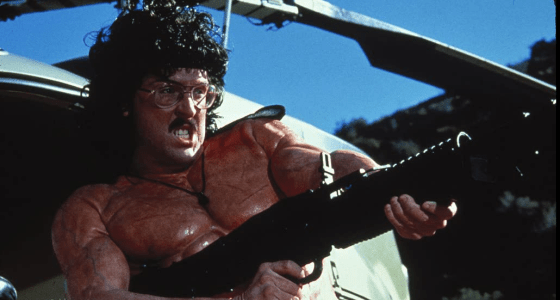 Like basically everything Weird Al does, UHF is a piece of comedic genius where the master of parodies puts his unique spin on the world of TV and movies.  Al plays George Newman, whose Uncle Harvey wins the middling UHF station Channel 62 and makes George the manager.  After some initial rough patches, George discovers the natural talents of Channel 62's janitor, Stanley Spudowski (Michael Richards), and gives him his own kids show, which becomes a massive hit and spawns a whole host of bizarre shows that make Channel 62 a rival to the big network affiliate in town, Channel 8, led by the sinister RJ Fletcher (Kevin McCarthy), who wants Channel 62 off the air.  David Bowe, Victoria Jackson, Fran Drescher, Gedde Watanabe, Anthony Geary, and Billy Barty co-star, and the movie is full of parodies of things like Raiders of the Lost Ark, Rambo, Conan the Barbarian, Gandhi and original sketches and ideas like Spatula City and Wheel of Fish.  Coming out in the summer of 1989, UHF had no chance at the box office against the likes of icons like Batman, Indiana Jones and the Last Crusade, Ghostbusters II and Back to the Future Part 2 but the movie has grown a massive cult following as Al has only gotten more and more beloved by fans.  You can watch the entire movie below thanks to YouTube.
I'm like the J. Jonah Jameson of Everything Action, writing and editing and constantly demanding pictures of Spider-Man.
80's movies
anthony geary
back to the future part 2
batman
billy barty
channel 62
david bowe
everything action theater
fran drescher
full movie
gedde watanabe
george newman
ghostbusters II
kevin mccarthy
michael richards
raiders of the lost ark
rj fletcher
spatula city
stanley spudowski
summer of 1989
uhf
victoria jackson
weird al yankovic
wheel of fish
youtube