Everything Action Theater: Small Soldiers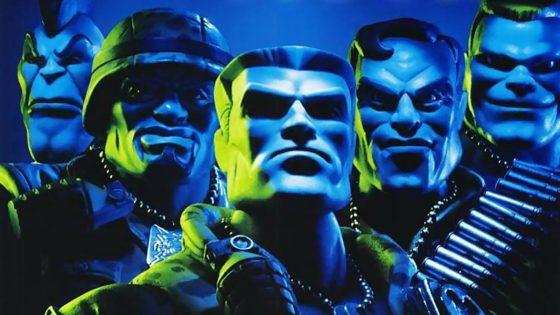 A favorite of everyone here at Everything Action as well as a bunch of fellow 90s kids, Small Soldiers arrived in 1998 from the legendary Joe Dante, who previously brought us movies like Gremlins and Gremlins 2, The Burbs, The Howling, and Innerspace.  The movie follows two armies of toys, the psychotic military soldiers the Commando Elite, and the peaceful and pacifist Gorgonites.  Tommy Lee Jones voiced Major Chip Hazard, the leader of the Commandos, while Frank Langella voiced Archer, the emissary of the Gorgonites.  A small town gets caught in the middle of a war between the two factions as the toys have top-secret microchips in them that give them advanced AI, allowing for the Gorgonites to learn about their new world and bond with their human ally Alan (Gregory Smith) while it allows the Commandos to build deadly vehicles and hatch various assault plans to try and take out the Gorgonites and anyone helping them.  Along with the excellent voice cast, which also included Ernest Borgnine, George Kennedy, Jim Brown, Bruce Dern, Michael McKean, Christopher Guest, Harry Shearer, and Jim Cummings, the human cast included the great Phil Hartman in his final role, Kirsten Dunst, Kevin Dunn, Jay Mohr, David Cross, Denis Leary, and Joe Dante stalwart, Dick Miller.  The movie was a massive summer blockbuster, eventually making $87.5 million worldwide, and featured tons of tie-ins, including a soundtrack album, multiple video games, action figures, and a Burger King promotion that featured the first appearance of the Rodeo Burger.  You can watch the entire movie below thanks to YouTube (you can also sync up our commentary with the movie if you want to watch along with the Everything Action crew).
I'm like the J. Jonah Jameson of Everything Action, writing and editing and constantly demanding pictures of Spider-Man.
1998
90s movies
archer
bruce dern
burger king
chip hazard
christopher guest
commando elite
david cross
denis leary
dick miller
ernest borgnine
everything action theater
frank langella
full movie
George Kennedy
globotech
gorgonites
gregory smith
harry shearer
jay mohr
jim brown
jim cummings
joe dante
kevin dunn
kirsten dunst
michael mckean
phil hartman
rodeo burger
small soldiers
tommy lee jones
wendy schaal