Battle at the Box Office 12/27/21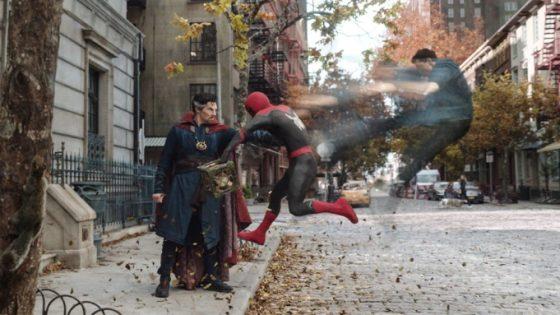 Spider-Man: No Way Home continued to dominate over the Christmas weekend, becoming the biggest movie in the world in its second weekend of release.
No Way Home took in $84.5 million for its second weekend out, dropping 68% from last weekend but still massive and around 4x as much as second place, Sing 2.  The movie has $470.4 million domestic and over $1.057 billion worldwide with an additional $587.1 million outside the US.  It's the biggest movie of the year both domestic and worldwide and also the first movie to cross $1 billion worldwide since the pandemic began.  It's pacing only slightly behind Avengers: Endgame and Avengers: Infinity War worldwide and it hasn't opened in China yet, which could add even more money to its already massive haul.
Sing 2 was the best performing of the new releases as a bunch of families probably headed out to theaters over the holiday.  The sequel took in $22.3 million for the weekend and a total domestic gross of $37.9 million, as it came out earlier in the week before Christmas.  The original Sing made $35.2 million when it opened around Christmas 2016.  The movie has $62.8 million worldwide.
The Matrix Resurrections opened below expectations with $12 million for the weekend.  It's obviously the lowest opening for the Matrix franchise and also low compared to other Wachowski movies, only topping Cloud Atlas.  The movie had $22.5 million for its total domestic release so far and $66.7 million worldwide.  There are no numbers for HBO Max, but it was the final day and date release for Warner Bros. theatrical releases and was available to stream at home since last Wednesday.
The King's Man and American Underdog rounded out the top 5.  The King's Man took in $5.9 million for the weekend and $9.5 million for a domestic total, which is well below either of the previous Kingsman movies, which both opened to over $35 million.  The King's Man hasn't opened globally yet.  American Underdog also didn't open globally but took in $5.9 million domestic for the weekend.
Further down the list, Licorice Pizza opened wide and took in $1.9 million, bringing its total to $3.2 million domestic.  A Journal for Jordan also opened and made $2.2 million.  Nightmare Alley nosedived after being smothered by No Way Home last weekend, falling out of the top ten in its second weekend with $1.2 million, beaten by Ghostbusters: Afterlife in its sixth weekend.
Spider-Man kept the Per Theater average with another $19,494 in each of the 4,336 theaters the movie was playing in over the weekend.
I'm like the J. Jonah Jameson of Everything Action, writing and editing and constantly demanding pictures of Spider-Man.
a journal for jordan
american underdog
Battle at the Box Office
christmas
ghostbsters: afterlife
licorice pizza
nightmare alley
no way home
sing 2
spider-man
spider-man: no way home
the king's man
the matrix: resurrections
weekend box office