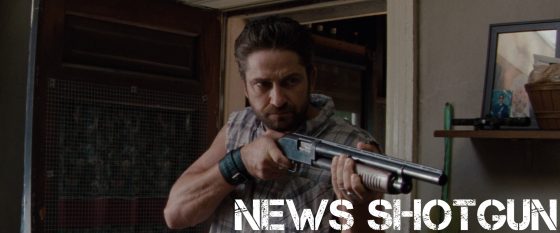 Here's the movie and TV news you need to know from the past week, it's the News Shotgun
The Santa Clause sequel series coming to Disney+: Tim Allen is coming to Disney+ with a sequel TV series to The Santa Clause movie trilogy.  Allen will reprise his role as Scott Calvin, who became Santa after donning the red suit in the first movie.  The new limited series will find Scott trying to find a replacement Santa as he nears his 65th birthday and preparing his family for a life away from the North Pole.
First look at Leslie Grace as Batgirl:
Justified returning for a limited series: Timothy Olyphant is returning as the gunslinging US Marshall Raylan Givens for a new FX limited revival of Justified, Justified: City Primeval.  The new series will find Raylan 8 years after having left Kentucky and working in Miami when a chance encounter on the road sends him to Detroit to face off against the violent sociopath

Clement Mansell

, known as The Oklahoma Wildman, who has eluded capture thus far.  The show is based on an Elmore Leonard novel, City Primeval: High Noon In Detroit.
David Ramsey starring in new Arrowverse series: Arrowverse vet David Ramsey, who plays John Diggle aka Spartan, will be starring in a new series under development at The CW.  The new series will be Justice U and will find Diggle forming a team of young metahumans and helping them to train to use their powers for good while sending them undercover at a prestigious college.  If the show gets picked up, Ramsey will direct the pilot episode as well as star.  The Arrowverse has not had the best luck with new spin-offs as both Arrow's Green Arrow and the Black Canaries and Black Lightning's Painkiller shows both never made it to air.
Quantum Leap reboot in development: NBC is looking to bring back the classic series Quantum Leap for a new sequel series.  The new show would be set 30 years after the original show ended and find a new team of researchers trying to perfect the Quantum Leap tech that went haywire in the original series and sent Dr. Sam Beckett bouncing from body to body across time.  It's not clear if Scott Bakula will return to the series and unfortunately original co-star Dean Stockwell passed away last year.  Blindspot creator Martin Gero will be working with Steven Lilien and Bryan Wynbrandt, the showrunners of La Brea, on the series.
Real Steel series in development at Disney+: Disney is looking to bring back the world of robot boxing with a Real Steel series for Disney+.  Director Shawn Levey is on board to executive produce but the show is in early development and there's no word on casting or plot, so no word on if Hugh Jackman or any of the cast from the previous movie would return or if it still follows the same characters or be a complete reboot.
The Equalizer 3 on the way: Doing press for The Tragedy of Macbeth, Denzel Washington revealed that The Equalizer 3 already has a script and he'll be returning as Robert McCall for the sequel.  Antoine Fuqua is back to direct and it seems like this will be Denzel's next project to shoot.  Fuqua most recently directed Emancipation, a Civil War movie starring Will Smith, for Apple TV+.
Netflix shooting two Red Notice sequels back to back: If you were a fan of Red Notice last year, there are two sequels on the way, which will be shot back to back according to Netflix.  Red Notice was one of the biggest debuts in the history of Netflix and one of their most-watched original films ever and it seems like they are going all-in on making it a franchise.  The main trio of The Rock, Ryan Reynolds, and Gal Gadot are all back as is director Rawson Marshall Thurber.
Female-led Zorro series in development at The CW: Robert Rodriguez is developing a female-led Zorro reboot with his sister Rebecca Rodriguez for The CW.  The series will follow a young Latinx woman whose father is murdered and she sets out on a mission of vengeance.  She joins a secret society and takes on the role of famous outlaw Zorro.  The Rodriguez siblings will write the pilot and Rebecca Rodriguez will direct the pilot.  Disney+ recently announced their own Zorro series that will star Wilmer Valderama as Zorro.
New Final Destination movie in development: HBO Max is getting a new installment in the Final Destination franchise as a reboot is in development for the streaming platform.  Spider-Man director Jon Watts is producing the new movie but there are no plot details or casting at the current time.  The franchise didn't have a lot of deep lore to deal with so as long as the new movie has creative death traps and a big opening disaster, it should be pretty solid.
Laura Donnelly joins Werewolf by Night: The Nevers ass-kicking co-star Laura Donnelly has signed on for the upcoming MCU Halloween special on Disney+ that will see Gael Garcia Bernal becoming Werewolf by Night.  Donnelly's role has not been revealed.  The special doesn't have a release date but it could be in October this year.
New A Queit Place movie gets a new director: The third entry in the A Quiet Place franchise has gotten a new director with Michael Sarnoski, who directed the critically beloved Pig last year with Nicolas Cage.  Director Jeff Nichols had previously signed on to direct the movie but left the project last year.  John Krasinski, Michael Bay, and Brad Fuller are producing the series and this movie will seemingly not follow the Abbott family but be a spin-off in the Quiet Place universe, following new characters in the post-apocalyptic alien invasion world.
Hell or High Water series coming to Fox: The Taylor Sherdian written Hell or High Water is becoming a TV series at Fox.  The show will have a similar premise to the movie as two brothers pull off a series of bank robberies to keep their family farm out of the hands of a greedy oil tycoon, who is plundering the land of West Texas.  The brothers become the target of two Texas Rangers who are on their heels.  Dopesick and Stranger Things producer Jessica Mecklenburg is executive producing the series.
The Raid remake coming to Netflix: Ever since the original The Raid exploded into action movie history in 2011, there's been talk of an English remake of the movie and that version took a big step forward as Netflix will bring that version to its streaming service.  Michael Bay will produce the remake with Expendables 3 and Hitman's Bodyguard director Patrick Hughes at the helm.  The new movie will take the action to Philadelphia's "Badlands" neighborhood as an elite DEA team fights their way in to take down a drug kingpin.  No word on casting but they definitely need someone like a Scott Adkins who can properly deliver action close to the level that Iko Uwais brought to the original.
I'm like the J. Jonah Jameson of Everything Action, writing and editing and constantly demanding pictures of Spider-Man.
a quiet place
arrowverse
batgirl
david ramsey
denzel washington
disney
final destination
hbo max
hell or high water
john diggle
justice u
justified
laura donelly
leslie grace
michael bay
michael sarnoski
movie news
netflix
news shotgun
patrick hughes
quantum leap
raylan givens
real steel
red notice
robert rodriguez
the CW
the equalizer 3
the raid
the santa clause
tim allen
timothy olyphant
tv news
werewolf by night
zorro