Everything Action Theater: Nick Fury: Agent of SHIELD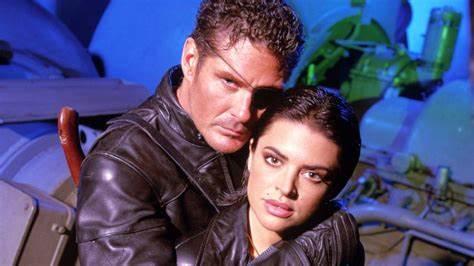 It's hard to imagine in the current golden age of the MCU but there was a time when good Marvel movies were seemingly impossible to achieve.  We love Dolph Lundgren's Punisher movie but it's not the best adaptation of the comics and there was stuff like the terrible 90s Captain America movies and, the movie you can watch below, 1998's Nick Fury: Agent of SHIELD.  Intended as a super-sized pilot episode for a new TV series, the movie aired on Fox and starred the one and only David Hasselhoff as Nick Fury.  Along with characters like Alexander Pierce (Neil Roberts), Dum Dum Dugan (Garry Chalk), and Contessa Valentina Allegra De Fontaine (Lisa Rinna), Fury was battling HYDRA and trying to stop them from launching a deadly virus against Manhattan.  Most of the characters in this 1998 TV movie have gotten a second chance in the MCU with characters like Alexander Pierce being played by the legendary Robert Redford and Contessa Val seemingly being a major behind-the-scenes player in the current phase of the MCU and played by the wonderful Julia Louis-Dreyfuss and it's bizarre to see this weird, alternate universe sort of take on the characters.  Nick Fury was written by David S. Goyer and directed by Rod Hardy, who would work on shows like Burn Notice, The X-Files, Battlestar Galactica, and JAG, among others.  Despite being signed on for the potential series/more movies, this was the only time the Hoff played Nick Fury, and the TV movie was panned by critics and ranked behind a rerun of the aforementioned JAG and an airing of Titanic the night it debuted.  Blade would come out a few months later and be the first truly great Marvel movie, with Sam Raimi's Spider-Man films and the start of the X-Men franchise coming a few years later.  It did eventually get a DVD release in 2008, but it was exclusive to Best Buy stores.  You can watch the entire movie below and go back to a time when Marvel movies were schlocky garbage.
I'm like the J. Jonah Jameson of Everything Action, writing and editing and constantly demanding pictures of Spider-Man.
90s movies
alexander pierce
arnim zola
backdoor pilot
contessa valentina allegra de fontaine
david hasselhoff
david s. goyer
dum dum dugan
everything action theater
fox
garry chalk
HYDRA
lisa rinna
Marvel Comics
MCU
neil roberts
nick fury: agent of shield
rod hardy
sandra hess
SHIELD
tv movie
viper