Here's the movie and TV news you need to know from the past week, it's the News Shotgun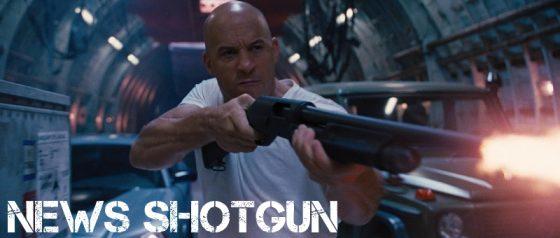 Van Damme's final action movie announced: Jean-Claude Van Damme is retiring from the world of action movies but he will hopefully go out with a bang in a meta finale of a movie called What's My Name?  Similar to JCVD and Jean-Claude Van Johnson, Van Damme will play a version of himself who gets into a car accident and suffers amnesia.  On his quest to rediscover who he is, he battles opponents from his past movies, like Bloodsport.  French director Jeremy Zag will helm the movie.
Harbinger movie finds a director: Following up Bloodshot, another Valiant comic is coming to theaters with an adaptation of Harbinger.  Wes Ball, who directed all the Maze Runner films, is directed the comic book movie, which follows a group of teenage superheroes who fight against the corporation that was trying to exploit them and their powers for evil.
Blade Runner TV series in the works: Ridley Scott is returning to the world of Replicants with a live-action TV series sequel to both his original film and Denis Villeneuve's excellent Blade Runner 2049.  The new series is Blade Runner 2099 and, obviously, set 50 years after 2049.  There are not many other plot details but it is in priority development at Amazon with Scott producing and Silka Luisa, who is the showrunner for the upcoming Apple TV+ thriller Shining Girls, showrunning this series as well.  Adult Swim and Crunchyroll had an anime series called Black Lotus that was set in the year 2032 of the Blade Runner universe that debuted last year.
Netflix Marvel shows leaving the service: In a move that may mean more involvement from the characters in the MCU going forward, the rights to the Netflix Marvel shows are reverting to Disney and the shows are leaving Netflix on February 28th.  Daredevil and Kingpin made their proper MCU debuts last year in Spider-Man: No Way Home and Hawkeye and it's possible that some or all of those characters may be appearing in future MCU projects.  It's not clear if the Netflix shows will move to Disney+ or, maybe more appropriately, Hulu after they leave Netflix.
End of Watch TV series in development: One of the best movies from director David Ayer, End of Watch is being developed as a Fox TV series.  The TV series will follow the same basic premise as the movie as it follows two young LAPD officers on their daily grind and their encounters with the criminal elements of the city.  Ayer will write and executive produce along with David Matthews, who produced shows like Vinyl and Tyrant.
Moviepass is coming back from the dead: After one of the biggest disasters in business history, Moviepass is coming back from the dead with one of the founders, Stacy Spikes, back at the helm.  Spikes co-founded the original version of Moviepass before the data analytics company Helios & Matheson bought the company and implemented the unlimited movies for $10 a month plan that gained a lot of publicity but quickly put the company into bankruptcy.  Spikes bought back the company and he plans to relaunch it this summer but with a tiered pricing plan and a credits system that users would use to redeem for movie tickets.  Unlike the previous version, theaters would have to opt in to allow the Moviepass credits to be used to purchase tickets at their theaters.  There is also a system of earning credits where users can watch advertisements but it will use a system called "Preshow" that forces the user to maintain visual attention by utilizing the front-facing camera on the user's phone.
Beauty and the Beast prequel series not moving forward:  A Disney+ series focused on Gaston and Lefou from the live-action reboot of Beauty and the Beast is not moving forward at present.  Luke Evans and Josh Gad were returning to reprise their roles and it would follow the pair as LeFou's step-sister Tilly, played by Briana Middleton, reveals a surprising revelation from her past and the trio sets off on an adventure.  The series isn't completely dead as Disney is going to go back to the drawing board and try to come up with a different version of the show that they believe will work.  The show was also going to be a musical and feature original songs from the legendary Alan Menken.
AMC/Shudder shows renewed: A bunch of shows under the AMC umbrella have been renewed.  Creepshow is getting a fourth season, Slasher will be getting a fifth season, Kin will be getting a second season, Bloodlands a third season and My Life is Murder a third season.  The next season of Slasher was revealed as Slasher: Ripper and set in 19th century London where a female serial killer called The Widow is killing the rich and powerful in an inverse and gender-flipped version of Jack the Ripper. Eric McCormack will co-star in the new season.
Obi-Wan gets a premiere date: We finally got a date for when Obi-Wan Kenobi will arrive on Disney+ and it will be on the 45th anniversary of Star Wars: A New Hope on May 25th.  Ewan McGregor is back for the limited series that will follow Obi-Wan in the time between the end of Revenge of the Sith and A New Hope.
Lord of the Rings Movie and Video Game rights for sale: Even though Amazon has their massive new Lord of the Rings series coming this fall, the movie and video game rights to the franchise are up for grabs, as the rights that Warner Bros. had to the property are mostly gone, they are still developing an animated movie set in the universe, and are being put up for sale by Saul Zaentz Co, who currently holds the rights for the Tolkien estate. Amazon is the heavy favorite to snatch up the rights to back their The Rings of Power show and the expectation is that it will cost at least $2 billion for the rights.
Futurama returning on Hulu: Futurama is coming back despite what felt like a perfect and beautiful ending to the series in 2013 as Hulu is getting a 20 episode new season.  Most of the cast is coming back including Billy West, Katey Sagal, Tress MacNeille, Maurice LaMarche, Lauren Tom, Phil LaMarr, and David Herman but the glaring hole is John DiMaggio, who did not believe the deal to come back was equivalent to the success and recognition of the series and, as of right now, is not returning.  Negotiations are ongoing but if DiMaggio refuses to come back, Bender and the other characters DiMaggio voices for the series will be recast.  Matt Groening and David X. Cohen are executive producing the new season.
Russell Crowe joins Kraven the Hunter movie: Sony continues to build out their somewhat bizarre Spider-Man adjacent universe and has added Russell Crowe to their upcoming Kraven the Hunter movie.  Aaron Taylor-Johnson was cast as Kraven a while ago but Crowe's role is currently unknown.  The movie is said to focus on Kraven and his family, so the speculation is that Crowe may be possibly playing Kraven's father.  JC Chandor, who directed Triple Frontier, will be directing the Kraven the Hunter movie.
Rebel Moon adds to its cast: Zack Snyder's next big movie for Netflix, the Star Wars-inspired Rebel Moon, has added to its cast.  Sofia Boutella was previously cast to star in the movie and Djimon Hounsou, Charlie Hunnam, Doona Bae, Ray Fisher, Jena Malone, Staz Nair, E. Duffy, Charlotte Maggi, and Sky Yang have all been cast.  The movie follows Boutella who is tasked by the denizens of her peaceful planet to travel the universe and find warriors to defend them from the evil Regent Balisarius, who are putting the universe under their despotic reign.  The movie started as a pitch for an actual Star Wars movie that Disney passed on but Snyder reworked it and brought it to Netflix as an original film.
The Continental adds cast members: The upcoming John Wick prequel series added more cast members this week including Katie McGrath, Ray McKinnon, Adam Shapiro, Mark Musashi, and Marina Mazepa, who join Mel Gibson and Colin Woodell in the series.  Katie McGrath will play The Adjudicator, a title that Asia Kate Dillon had in John Wick Chapter 3 while Musashi and Mazepa will be High Table assassins.  Woodell will play a young Winston as he enters the world of The Continental and learns the ins and outs of the hotel and the assassin world from Cormac, played by Gibson.  The series will be three episodes on Starz but each episode will be feature-length and air across three consecutive nights.
Fox buys the rights to Gumby: Classic claymation character Gumby has a new home with Fox and the plan is to create both new animated shows as well as live-action content feature Gumby, Pokey, and the rest of the characters created by Art Clokey.  Fox has all rights to Gumby, including TV, movies, games, merchandise, and publishing, and also has the full library of legacy content animated shows, movies, and specials at their disposal.
Reacher renewed for season 2: Amazon has renewed Reacher for a second season after the series dropped last week in its entirety to strong reviews and apparently strong viewing numbers.  The first season was based on the first Jack Reacher novel by Lee Child, Killing Floor, but it's not clear what book if any, the second season will be based on.
Catherine Zeta-Jones joins National Treasure TV series: Catherine Zeta-Jones has joined the cast of the upcoming National Treasure TV series that will be on Disney+.  Zeta-Jones is playing, "Billie, a badass billionaire, black-market antiquities expert, and treasure hunter who lives by her own code".  She is after the same treasure as the main character Jess, played by Lisette Alexis, and it sounds like she might be the Sean Beanesque antagonist of the series.  Lyndon Smith, Zuri Reed, Jake Austin Walker, Antonio Cipriano, and Jordan Rodrigues co-star and Jerry Bruckheimer, and original National Treasure director Jon Turteltaub are producing the series.
WarnerMedia/Discovery merger passes US regulators: The proposed merger between WarnerMedia and Discovery Networks has been approved by US regulators, meaning the $43 billion merger is one step closer to closing.  The shareholders of Discovery will vote on March 11th to approve or deny the merger and, if it passes, the merger will go through and the new company Warner Bros. Discovery will be official.  AT&T announced their plan to sell off WarnerMedia in May last year as they want to get out of the media/content business and return their focus to telecommunications.
I'm like the J. Jonah Jameson of Everything Action, writing and editing and constantly demanding pictures of Spider-Man.
AMC
beauty and the beast
blade runner
blade runner 2099
catherine zeta jones
creepshow
daredevil
discovery+
disney
end of watch
futurama
gaston
gumby
Harbinger
hulu
jack reacher
jcvd
jean claude van-damme
jessica jones
kraven the hunter
lefou
lord of the rings
luke cage
Marvel
merger
movie news
moviepass
national treasure
netflix
news shotgun
obi wan
Prime Video
reacher
rebel moon
ridley scott
russell crowe
shudder
the continental
the punisher
tv news
valiant comics
warnermedia
what's my name
zack snyder