Here's all the TV and movie news you need to know from the past week, it's the News Shotgun: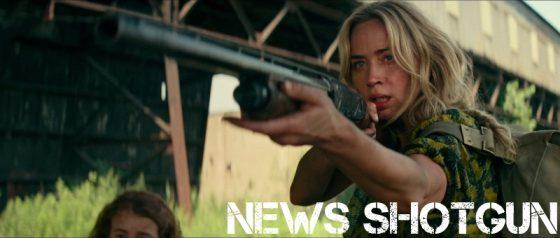 Steven Spielberg directing a new Bullitt: After remaking West Side Story last year, Steven Spielberg is looking to another movie classic for an upcoming project.  Spielberg is bringing back Bullitt but it won't be a direct remake of the Steve McQueen classic but a new adventure for the character of Frank Bullitt.  Spielberg is still negotiating with the McQueen estate for the rights to the character and is working on The Fabelmans next, which is a semi-autobiographical story based on his childhood of growing up in Arizona.
Haunted Mansion and Renfield get release dates: Disney and Universal have confirmed release dates for two of their big upcoming projects.  The Haunted Mansion movie from Disney, starring Tiffany Haddish, Owen Wilson, Rosario Dawson, Danny DeVito, and LaKeith Stanfield will arrive on March 10th, 2023.  Meanwhile, the Dracula-inspired Renfield from Universal, which stars Nicolas Cage, Nicholas Hoult, and Awkwafina, will arrive on April 14th, 2023.
Quentin Tarantino in talks to direct episodes of the Justified revival: As if it wasn't exciting enough that Justified was returning with the upcoming limited series Justified: City Primeval, we got word this week that Quentin Tarantino is apparently in talks to direct 1 and possibly more episodes of the series.  Tarantino worked with Justified star Timothy Olyphant on Once Upon a Time in Hollywood and has taken on Elmore Leonard material before as Jackie Brown was an adaptation of Leonard's novel Rum Punch.  Tarantino has also previously directed episodes of shows like ER and CSI.
Beyblade movie in development: Major producer Jerry Bruckheimer is looking to get into the Beyblade business as he's developing a live-action movie based on the toy line that could potentially turn into a franchise.  Neil Widener and Gavin James are currently working on the script but no plot details were revealed as of yet.  Beyblade is a toy line featuring battling tops that have gotten other media like comics and an animated series.
Shout Factory gets the rights to ALF: Shout! Factory has gotten the distribution rights to the classic 80s comedy series ALF and plans on a massive new push of the classic content across digital and home media as well as developing new ALF content.  Shout! Factory frequently puts out collectible Blu-ray and DVD collections of TV shows and movies as well as featuring content on their Shout! Factory streaming service and on other platforms like Roku Channels and Pluto TV.
The Meg 2 adds cast members: The upcoming sequel to the Jason Statham giant shark movie The Meg has added some cast members including Sienna Guillory, Skyler Samuels, and Sergio Peris-Mencheta. The sequel is officially titled Meg 2: The Trench, and while there are no plot details yet, it's a safe bet that it will be at least loosely based on the 1999 novel The Trench, Steve Alten's sequel novel to The Meg where the character Statham plays, Jonas Taylor, encounters more mysterious creatures coming from the Marianas Trench that were believe long extinct.
The Blacklist renewed for Season 10: NBC is staying in the Raymond Reddington business as The Blacklist has been renewed for a tenth season.  The ninth season is currently still airing with the 10th episode just debuting and the season has been dealing with the effects of *spoilers* losing one of its main characters, Megan Boone's Elizabeth Keen, who was killed at the end of the 8th season.
Black Samurai movie in development at Netflix: Netflix has picked up the rights and is developing a movie based on the novel series Black Samurai.  A blaxploitation action series written by Marc Olden, the Black Samurai books followed Robert Sand, a Black US soldier stationed in Japan who learns the ways of martial arts and becomes the Black Samurai.  He then travels around the world battling various villains.  The character has appeared on film before with a 1977 film starring Jim Kelly.
Frank Grillo playing a cult leader in new movie: Frank Grillo will be getting sinister in one of his upcoming projects, playing a cult leader in the movie Man's Son.  The movie's plot is about, "…a young couple hoping to create an aesthetically pleasing audition tape for an up-and-coming Charles Manson film. But when the couple chooses an eclectic desert Airbnb as the perfect backdrop, the dark events of the audition material slowly slip into their reality".  Grillo's son Remy Grillo will be directing the movie.
Chameleon cast for Kraven the Hunter: An important character tied to Kraven the Hunter has been cast for the upcoming Sony Spider-Man adjacent solo movie with The White Lotus and Pam and Tommy co-star Fred Hechinger has apparently been cast as Chameleon.  Aaron Taylor-Johnson is playing Kraven with Russell Crowe also part of the cast.  The casting of Chameleon seems like the movie will dig into the pair's bond as half-brothers and hunting partners, with a famous comic arc being Chameleon seeking vengeance on Spider-Man after Kraven killed himself because he failed to defeat Spider-Man.
Robert Downey Jr and Shane Black teaming up for a new Parker movie: Robert Downey Jr. and Shane Black are finally reteaming for another movie, the last time being Iron Man 3.  The pair are bringing Donald E. Westlake's iconic character Parker back for another adaptation, with RDJ in the lead role.  Parker has been appearing in films since the 60s with Lee Marvin, Mel Gibson, and Jason Statham playing the character in various movies. It's not clear if the new movie will be based on a specific Parker novel but Black is co-writing the script and the movie will be an Amazon Studios release.
I'm like the J. Jonah Jameson of Everything Action, writing and editing and constantly demanding pictures of Spider-Man.
alf
amazon prime
beyblade
black samurai
bullitt
chameleon
frank grillo
fred hechinger
haunted mansion
james spader
jason statham
justified
kraven the hunter
meg 2: the trench
movie new
news shotgun
parker
quentin tarantino
raymond reddington
renfield
Robert Downey Jr.
shane black
shout factory
steve mcqueen
steven spielberg
the blacklist
timothy olyphant
tv news