Here's all the movie and TV news you need to know from the past week, it's the News Shotgun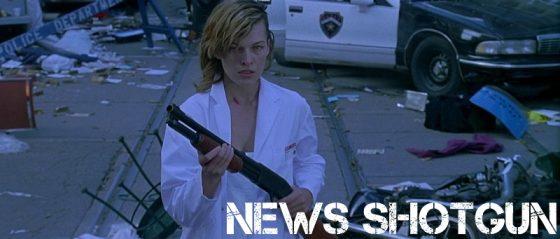 Kraven the Hunter adds more cast members: Sony's solo Kraven the Hunter movie starring Aaron Taylor-Johnson added more cast members this week with Ariana DeBose cast as Calypso and Alessandro Nivola as an unknown antagonist.  Russell Crowe and Fred Hechinger were previously cast and JC Chandor, who directed movies like Triple Frontier and A Most Violent Year, is directing the movie, which will hit theaters in January of next year.
NBC terminates Hulu deal: NBC Universal has terminated their deal to have their shows premiere the next day after airing on Hulu and their series will instead go to their streaming service, Peacock.  The current season that has a few more months before it wraps up should not be affected but this fall will be when shows like the Chicago shows, The Voice and the Law & Orders will not have new episodes on Hulu and you'll have to turn to Peacock or the NBC app to view them if you don't catch them live.  Due to the nature of the previous deal, past shows and seasons will remain on Hulu.  Disney owns the majority of Hulu and it was originally formed as a pact between Fox, Disney, and NBC Universal.
Fede Alvarez directing a new Alien movie: Evil Dead director Fede Alvarez is taking on the world of Xenomorphs as he's directing a new movie set in the Alien universe.  Ridley Scott will be producing the new movie, which will be a Hulu original movie. There are no plot details at the current time but in addition to this new movie, Noah Hawley is also working on an Alien series that will be on Hulu/FX, and Dan Trachtenberg's new Predator movie "Prey", will debut on Hulu this summer.
I Am Legend 2 in Development: A sequel to Will Smith's 2007 horror movie I Am Legend is in development with Smith set to return and teaming him up with Michael B. Jordan.  Smith's character seemingly sacrificed himself to kill a horde of the mutant vampires but an alternate ending saw him surviving and returning to the work he had abandoned of trying to develop a cure for the mutation.  It's not clear if Smith will appear in flashbacks or if they'll figure out a way to have his character survive the original's fiery explosion.  The new movie will pick up around a decade from where the first movie left off.
Disney+ Offering a Cheaper Plan: Disney+ will soon be offering a cheaper, ad-supported plan late this year, although no pricing was announced.  Peacock currently offers a $4.99 ad-supported tier that unlocks their whole library and HBO Max has a $9.99 ad-supported plan.  Currently, Disney+ is $7.99 a month, $79.99 for a yearly plan, or $14 a month with the Hulu/ESPN bundle.
A second The Batman spin-off will focus on Arkham Asylum: As The Batman is finally in theaters, there's news about the spin-offs that will continue the universe.  We knew about a Colin Farrell Penguin series and now director Matt Reeves said a second series, that was originally announced as focusing on the Gotham PD, now says this second series will connect to Arkham Asylum.  Both shows are in development right now and will debut sometime in the future on HBO Max as exclusive shows.
Tubi developing Titanic 666 movie: Streaming service Tubi is developing an original movie called Titanic 666 and has cast AnnaLynne McCord, Keesha Sharp, Lydia Hearst, and Jamie Bamber to star.  The movie follows the maiden voyage of the Titanic III, which is a replica of the fateful ship but full of advanced tech that is supposed to prevent any disasters like the original.  Arriving at the site of the original wreck, dark forces from the ocean depths rise and threaten the ship.  The movie is an Asylum joint, so expect it to be schlocky and ridiculous.
The Cuphead Show renewed for Season 2: Netflix's video game adaptation The Cuphead Show has been renewed for a second season shortly after the first season debuted, with new adventures for Mugman and Cuphead arriving this summer on the streaming platform.  The episodes were created alongside the first batch of episodes but held back to create a second season of episodes.  Critical reception to the series was mixed, with praise for the animation but criticism of the plot and humor.
Jamie Lee Curtis directing the adaptation of her graphic novel Mother Nature: Horror queen Jamie Lee Curtis is directing a horror movie for Blumhouse called Mother Nature and the movie will also get a graphic novel adaptation co-written by Curtis.  Co-written by Russell Goldman with art by Karl Stevens, the movie and graphic novel follow Nova Terrell, whose father died when an experimental oil extraction project exploded.  Trying to get revenge on the oil company, Nova starts to sabotage and vandalize their projects but she discovers a horrifying secret about what one of their projects, code-named "Mother Nature", has uncovered.  The graphic novel will arrive this fall but the movie doesn't have a release date.
Live-action Twisted Metal coming to Peacock: The live-action Twisted Metal series that has been in development for a while has now found a home on Peacock.  The show will be a Peacock exclusive and it stars Anthony Mackie as John Doe, who takes a job bringing a mysterious package across the post-apocalyptic wasteland.  Along the way, he'll encounter characters from the game, like Sweet Tooth.  The show is going to be a half-hour action-comedy and has Will Arnett, Marc Forman, Michael Jordan Smith, Rhett Reese, and Paul Wernick behind the scenes, who have collectively created or worked on Cobra Kai, Murderville, Arrested Development, Zombieland, Deadpool, and more.
Chris Hemsworth will be the villain of Furiosa: Anya Taylor-Joy's younger version of Furiosa will have to face off with Thor himself as Chris Hemsworth has been cast as the villain of the Mad Max: Fury Road prequel.  George Miller is back to direct with the movie set for a May 2024 release date.  Hemsworth hasn't really got that villainous, only really digging into his dark side in Bad Times at the El Royale and it will be interesting if he gets as grotesque or as weird as previous Mad Max villains, like Lord Humungus or Immortan Joe.
John DiMaggio will return for new Futurama episodes: Futurama is coming back with new episodes on Hulu but that announcement came with the news that John DiMaggio could possibly not return as Bender and other characters based on the deal that was presented.  After negotiations, DiMaggio will return with the rest of the cast for 20 new episodes that will debut on Hulu sometime next year.  The previous "series finale" aired in 2013 on Comedy Central.
HBO Max orders a new show from Tim Robinson and Zach Kanin: The duo behind Netflix's I Think You Should Leave has signed on with HBO Max to develop a new comedy series called Computer Science.  Robinson will co-star on the series, which follows a recent high school grad and his uncle (played by Robinson) who attend the same computer course in suburban Michigan.  The show was originally pitched to Hulu, which passed.
Sam Esmail developing Metropolis series for Apple TV+: Mr. Robot creator Sam Esmail is turning the iconic 1927 film Metropolis into a TV series for Apple TV+.  Directed by Fritz Lang, Metropolis is one of the most influential movies ever made and the series will expand and explore the story of a future dystopia with a massive gulf between the wealthy and the workers and the attempts of Freder, the wealthy son of the City Master, and Martha, a leader of the workers, to bridge that gap.
Brad Pitt joins attempt to get Beetlejuice 2 made: Seemingly moving in and out of development for decades, Beetlejuice 2 may have new life again as Brad Pitt's production company Plan B has signed on to produce the long-gestating sequel.  Michael Keaton and Winona Ryder are expected to return if it happens but it has not been officially greenlit by Warner Bros yet and Tim Burton has not signed to direct or even be involved.  The last update on Beetlejuice 2 was in 2017 when a new screenwriter was brought in for another draft of the script.
Netflix Marvel shows coming to Disney+: After leaving Netflix at the end of February, the Netflix Marvel shows that include Punisher, Daredevil, Luke Cage, Iron Fist and The Defenders are coming to Disney+ on March 16th.  To help families that may not want younger audiences seeing the mature content of those shows, a new parental control system will launch on that day as well, allowing parents to set a pin that will prevent TV-MA content from being viewed without the PIN being entered.  Agents of SHIELD will also arrive on Disney+ on the 16th.  Matt Murdock and Kingpin have appeared in the MCU recently in Spider-Man: No Way Home and Hawkeye respectively and Jessica Jones is rumored to be appearing in She-Hulk later this year.
Training Day prequel series in development: A prequel to Antoine Fuqua's classic cop thriller Training Day, which was announced back in 2019, is still in development and now has a title, Training Day: Day of the Riot, and it will be set in 1992 two days before the verdict in the Rodney King trial caused widespread unrest and destruction across Los Angeles.  A younger Alonzo Harris will be featured in the series and the events of that period may be a factor in his fall into the shady and corrupt version we find in the 2001 movie.  California recently handed out tax credits to the various studios and Warner Bros got $16.2 million, letting them put this series toward the top of their projects list.
I'm like the J. Jonah Jameson of Everything Action, writing and editing and constantly demanding pictures of Spider-Man.
alessandro nivola
Alien
alonzo harris
anthony mackie
apple tv+
ariana debos
arkham asylum
beetlejuice 2
bender
blumhouse
brad pitt
calypso
chris hemsworth
computer science
daredevil
disney
fed alvarez
fritz lang
furiosa
futurama
hbo max
hulu
i am legend 2
jamie lee curtis
jessica jones
john dimaggio
kraven the hunter
mad max
Marvel
metropolis
michael b jordan
michael keaton
mother nature
movie news
nbc
netflix
news shotgun
peacock
prequel
punisher
sam esmail
the asylum
the batman
the cuphead show
tim robinson
titanic 666
training day
tubi
tv news
twisted metal
will smith
winona ryder
zach kanin