Everything Action Theater: Little Shop of Horrors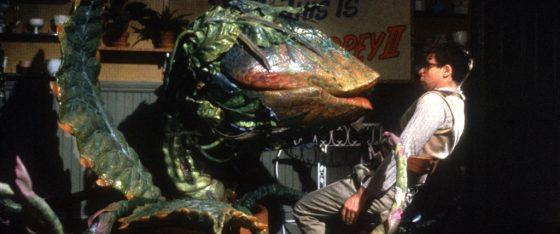 Celebrating its 35th anniversary last year, Little Shop of Horrors is still a beloved cult musical comedy and you can watch the entire movie in the latest Everything Action Theater.  Based on an off-Broadway musical that was in turn based on a 1960 Roger Corman (which featured one of the first appearances of Jack Nicholson), 1986's Little Shop of Horrors stars Rick Moranis as nerdy plant store employee Seymour Krelborn, who stumbles across an alien plant that thrives on human blood and is intelligent and talkative.  Naming the plant Audrey II after his crush Audrey (Ellen Greene), Seymour draws tons of business to the shop and becomes a celebrity but things escalate as Audrey II gets bigger and demands more and more blood.  Steve Martin co-stars as the demented dentist Orin Scrivello along with the incomparable Levi Stubbs as the voice of Audrey II.  The movie also features Bill Murray, Jim Belushi, John Candy, Christopher Guest, and Vincent Gardenia.  Frank Oz directed the movie, who brought the talent for puppetry after working with Jim Henson on the Muppet movies and Labyrinth.  Audrey II in its largest form took 60 puppeteers and it need to be filmed at a slower speed to make the lip sync work, requiring a herculean task for the actors like Rick Moranis, who had to act in slow-motion so that when the footage was sped up, it would look normal.  While the movie didn't perform to the studio's expectations, it has only grown more and more beloved as the years have gone, with re-releases and new versions on stage and a remake with Taron Egerton and Scarlett Johansson has been in the works for a while.  Check out this 80's classic below.
I'm like the J. Jonah Jameson of Everything Action, writing and editing and constantly demanding pictures of Spider-Man.
80's movies
audrey
audrey II
bill murray
christopher guest
ellen greene
everything action theater
frank oz
full movie
jim belushi
john candy
killer plant
levi stubbs
little shop of horrors
muppets
orin scrivello
puppets
rick moranis
roger corman
seymour krelborn
steve martin
vincent gardenia