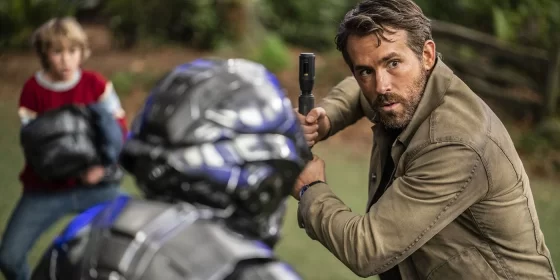 Last year Ryan Reynolds and director Shawn Levy delivered the hilarious and heart-warming Free Guy and they've teamed back up for the new Netflix movie The Adam Project.
Reynolds stars as Adam Reed, who time-travels from the year 2050 to try and get back to 2018 on a rescue mission.  Being pursued by enemy forces, he misses his target and crashes in 2022, meeting his 12-year-old self (Walker Scobell) and forced to team up with him to repair his time jet and also maybe deal with some personal baggage that has haunted him.  The movie doesn't really dig into the time travel mechanics although it offers up enough information to make things mostly make sense.  There's tons of cool tech that comes back to the present day between Adam and the bad guys, led by Maya Sorian (Catherine Keener), especailly adult Adam's "lightsaber" that can generate shock waves and slice through objects and the look of the enemy grunts.  The action is fantastic throughout, especially the first big fight between adult Adam and Sorian's men, who can go invisible and appear right before they attack, and Levy shoots it in a clear and coherent fashion, with a lot of happening in the daytime, which is always a welcome addition to action movies.  The special effects are mostly great with the only nitpick being the deaging tech being used on Catherine Keener at certain points, which isn't terrible but it is very noticable.
Although there's a ton of action and time travel mechanics to deal with, the main focus of the movie is the dynamic between young and adult Adam.  In his first movie, Walker Scobell does a fantastic job of mimicking the snarky charm of Ryan Reynolds and you totally buy that he's the younger version of Reynolds.  There's a lot of great details to help reinforce their similarities, like eating the exact same way or saying things in similar manner.  Reynolds is doing his usual thing but he does have some wonderful dramatic moments as well, like a scene between himself and his mother, played by Jennifer Garner, at a bar or a lot of the scenes between the Adams and Mark Ruffalo, who plays their father.  There's tons of great back and forth between Scobell and Reynolds and it adds a fun, breezy tone for the whole film, like nitpicking each other's respective looks or current life or younger Adam's pestering adult Adam for details about the future.  The rest of the supporting cast is good but they kind of fall to the wayside a bit next to the Adams.  Zoe Saldana has an amazing entrance and some cool action bits but doesn't get a lot of time in the movie although she makes the most of it.  We've seen how sinister Catherine Keener can be from movies like Get Out but she doesn't really have a lot to work with here and becomes a pretty generic evil CEO and there isn't a lot of distinction between her older self and her younger self.  Mark Ruffalo and Jennifer Garner are great but the nature of the plot and story only allows them to have one scene together but separately they are doing solid work and they both have funny moments that helps show where the Adams might have gotten their sense of humor and there's great dramatic moments between the Adams and their parents throughout as well.
The Adam Project is another solid, fun and action-packed entry from Shawn Levy that is thoroughly entertaining.  I think I might prefer Free Guy more but this is another great pairing between Levy and Reynolds and hopefully they keep it going for Deadpool 3, which Levy just signed on to direct.
I'm like the J. Jonah Jameson of Everything Action, writing and editing and constantly demanding pictures of Spider-Man.
adam reed
catherine keener
jennifer garner
mark ruffalo
maya sorian
movie review
netflix
Reviews
ryan reynolds
shawn levy
the adam project
time travel
walker scobell
zoe saldana