Here's all the movie and TV news you need to know from the last week, it's the News Shotgun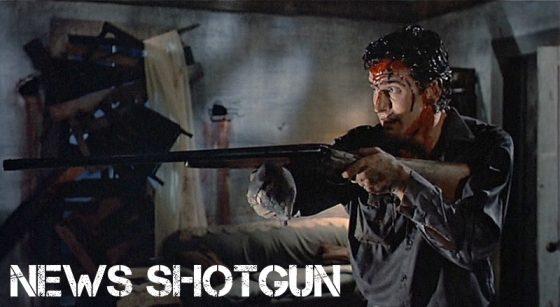 Irredeemable/Incorruptible movie coming to Netflix: Two of Boom! Comics' biggest books are being combined into one movie for Netflix with The Harder They Fall director Jeymes Samuel at the helm.  The titles were two separate comics from writer Mark Waid and artist Peter Krause that tied together with Irredeemable following the downfall of the world's greatest superhero, The Plutonian, who snaps and becomes a murderous supervillain while Incorruptible followed supervillain Max Damage, who decides to chart a path to being a hero and try to stop The Plutonian before he snaps himself due to the nature of his powers.  Kemp Powers, who wrote One Night in Miami and co-wrote and co-directed Soul is writing the script.
New True Detective on the way: True Detective will be back for a fourth season with Barry Jenkins and Issa Lopez at the helm.  Jenkins directed the Best Picture-winning Moonlight and most recently had the TV series The Underground Railroad on Prime Video while Lopez wrote the Mexican film Tigers Are Not Afraid and is working on projects with Noah Hawley and Blumhouse.  There are no plot details or actors yet for this new season but the last one featured Jenkins' Moonlight star Mahershala Ali along with Stephen Dorff for a return to form murder mystery in the Ozarks that spanned decades.
Christopher Lloyd joins The Mandalorian Season 3: Doc Brown is heading to a galaxy far, far away as Christopher Lloyd is joining The Mandalorian for the upcoming third season.  It's not clear who Lloyd is playing or if he will appear in multiple episodes but the third season is shooting now for a likely late 2022 release on Disney+.
Jumanji Theme Parks opening in North America and Europe:  We have Legolands and apparently, we'll have Jumanjilands soon as Merlin Entertainment, the company behind Legoland, Madame Tussaud's, and more, are developing theme parks based on the Jumanji film franchise to open across Europe and North America.  The first step will be a massive Jumanji attraction at Gardaland in Italy, which will be a ride/movie simulator hybrid along with themed rooms in the park's nearby hotel and retail shops.  It's not clear if Dwayne Johnson, Jack Black, Kevin Hart, or Karen Gillan will be involved in the ride or the upcoming parks.
Amazon closes the MGM acquisition: The merger between Amazon and MGM is complete, with Amazon formally purchasing the illustrious film company for $8.5 billion.  This gives Amazon full control of the studio's 4,000 films back catalog and equally massive TV catalog, including the Rocky and James Bond films, and the ability to create new projects based on those IP, which seems like it will be their primary goal going forward.  For Bond, Amazon will have to co-produce any new films in the franchise with EON Productions and the Broccoli family, who own 50% of the franchise even after the merger.
Star Trek: Strange New Worlds casts their young James T. Kirk:  The newest Paramount+ Star Trek series, Strange New Worlds, has cast their James T. Kirk with Paul Wesley stepping into the iconic role. Wesley was previously on The Vampire Diaries and Tell Me a Story and Strange New Worlds is a prequel series that follows the Federation crew led by Captain Christopher Pike (Anson Mount).  Wesley will appear in the upcoming second season, which was announced before Season 1 even premieres in May this year.
Sydney Sweeney joins Madame Web movie: Euphoria co-star Sydney Sweeney will co-star with Dakota Johnson in the upcoming Sony Spider-Man spin-off Madame Web.  It's not clear exactly what the movie is going to be as the most well-known version of Madame Web is the elderly psychic Cassandra Webb, which doesn't seem to jibe with Johnson's casting.  In the comics, Julia Carpenter aka Spider-Woman eventually became Madame Web, so that may be the direction they are going in.  Sweeney's role has not been revealed but fan speculation is throwing ideas out like Felicia Hardy aka Black Cat.
New Kung Fu Panda series coming to Netflix: A new TV entry in the Kung Fu Panda series is coming to Netflix with Jack Black back to voice Po.  Kung Fu Panda: The Dragon Knight will follow Po as he races around the globe against a pair of shift weasels, who are looking to collect powerful ancient weapons.  Po is joined by an English knight, Wandering Blade.  None of the other voice cast has been revealed yet outside of Black.  Kung Fu Panda has gotten three theatrical movies along with three seasons of a Nickelodeon series and one season of a Prime Video series.
Rifftrax: The Game coming in May: You can finally put your movie riffing abilities to the test against friends when Rifftrax: The Game arrives on console and PC on May 5th.  Coming from Wide Right Interactive, the developer behind What the Dub?!, Rifftrax: The Game features over 250 movie clips from Rifftrax classics like Rollergator and Plan 9 from Outer Space and you can play by writing out your own riffs to go with the clip or choosing the best one from a list of riffs from the Rifftrax team.  Up to 6 people can play along with 12 more audience members and it will have Twitch integration for streamers and options for remote play and cross-platform play.
RIP Scott Hall and William Hurt: Two legends in their respective fields passed away this week with Scott Hall and William Hurt.  Hall was best known as Razor Ramon in the 90s era of the WWF/WWE and then crossed over to their rival WCW, wrestling under his own name and being a part of New World Order with Hulk Hogan and Kevin Nash.  Hall held the Intercontinental Championship multiple times in the WWE and won multiple WCW titles as well.  William Hurt was an Oscar-winning actor who appeared in many movies and TV shows, including A History of Violence, Broadcast News, Altered States, Body Heat, Lost in Space, and more.  He also most recently appeared across multiple MCU films as General Thaddeus "Thunderbolt" Ross.  Hall was 64 and Hurt was 71.
Rhona Mitra co-starring with Frank Grillo for a new action movie: Rhona Mitra has joined the cast of a new Frank Grillo action movie, Hounds of War, that is currently shooting in Malta.  The excellent Isaac Florentine is directing the movie, which follows a team of mercenaries who are sent on a mission that goes bad, leaving only one of them left alive to get revenge for his fallen brothers.  Nicky Whelan co-stars as well.
Harley Quinn animated spin-off in development: While we wait for the third season of Harley Quinn on HBO Max, the show is getting a spin-off that will also be on the streaming platform.  Based around the bar featured regularly on the series, Noonan's, the premise of the new show is that fan-favorite Kite Man buys the supervillain hang-out and will be sort of a Cheers style show, but with DC supervillains and probably the same hilarious style of Harley Quinn.
Warner Media combo with Discovery+ will happen at some point: As shareholders at Discovery approved the massive merger with Warner Media, the current CEO of Discovery, and future CEO of Warner Media Discovery, Gunnar Wiedenfels, confirmed that they are planning on combining the Discovery+ and HBO Max services into one service, although details are vague at the current time.  They could have a bundle deal similar to the Hulu/Disney+/ESPN+ bundle from Disney or Wiedenfels said there could possibly be content from one service feeding into the other, like Discovery+ content appearing on HBO Max or vice versa.  They could also just combine them into one massive new service.  The deal will be finalized in a few weeks and then we might get more details on what the plan is for the new company.
I'm like the J. Jonah Jameson of Everything Action, writing and editing and constantly demanding pictures of Spider-Man.
amazon
barry jenkins
christopher lloyd
discovery+
euphoria
frank grillo
harley quinn
incorruptible
irredeemable
issa lopez
jack black
james t kirk
jeymes samuel
jumanji
kung fun panda
madame web
mgm
movie news
netflix
news shotgun
paul wesley
razor ramon
rhona mitra
rifftrax: the game
scott hall
star trek: strange new worlds
sydney sweeney
the mandalorian
true detective
tv news
warner media
warner media discovery
william hurt