Here's all the movie and TV news you need to know from the past week, it's the News Shotgun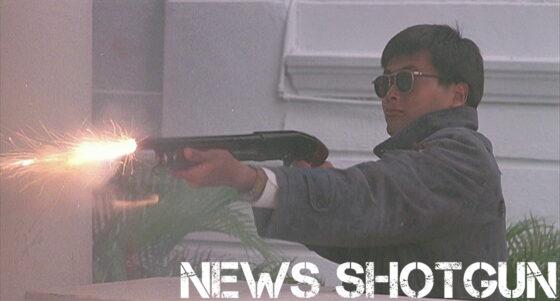 Zack Snyder's Rebel Moon adds more cast members: Zack Synder's Star Warsesque sci-fi Netflix movie Rebel Moon continues to add cast members with Michael Huisman, Cary Elwes, Corey Stoll, and Alfonso Herrera joining the cast this week.  Sofia Boutella stars as a woman who leaves her home planet to gather a group of warriors to battle an invading evil empire.
Will Smith banned from the Oscars for 10 years: In what is hopefully the final news from Slapgate, Will Smith has been banned by the Academy from attending the Oscars for 10 years.  Smith is not banned from being nominated and winning future Oscars, he just cannot attend the ceremony in person for the next decade.
Beverly Hills Cop 4 finds a director: Netflix has found a director for Beverly Hills Cop 4, which will bring Eddie Murphy back into the shoes of Axel Foley after almost 30 years since the third entry.  Mark Molloy, making his feature film debut, will direct the new movie, replacing the duo of Adil El Arbi and Bilall Fallah, who directed Bad Boys for Life and just recently wrapped production on Batgirl for HBO Max.
Tom Hiddleston starring in Apple TV+ series The White Darkness: Tom Hiddleston is coming to Apple TV+ in the upcoming limited series The White Darkness.  Based on true events, Hiddleston will star as Henry Worsley, a British special forces officer who became obsessed with explorer Ernest Shackleton and his expeditions to Antarctica.  Worsley, who was descended from one of Shackleton's expedition compatriots, made a journey with fellow explorers and crossed Antarctica on foot in 2009 and then, in 2015, attempted the journey solo.  Hiddleston is also starring in the upcoming Apple TV+ series The Essex Serpent.
Winning Time renewed for season 2: HBO's NBA show Winning Time, following the domination of the Lakers in the 80s, has been renewed for a second season.  John C. Reilly stars as Lakers owner Jerry Buss while Quincy Isiah plays Magic Johnson.  The current season will wrap up on May 8th.
John Cena starring in action/comedy Officer Exchange: John Cena has signed on to star in a new Amazon action/comedy movie Officer Exchange.  Cena will play an American cop who journeys to India and teams with an Indian cop to investigate and stop a diamond smuggling ring.  There's no word on a director or co-star for Cena yet but the script is currently being worked on by Ben Zazove and Evan Turner, who previously worked on the Happy Madison movie The Out-Law and Sherlock Gnomes.
Orphan Black coming back with a new series: The series that put Tatiana Maslany on the map, Orphan Black, is coming back with a new spin-off series at AMC.  Orphan Black: Echoes will be set in the same universe as the original series and continue the story of shady corporations doing experiments with cloning and the individual clones that result from those experiments.  It's not clear if Maslany will return but she's starring in She-Hulk and has other projects coming up, so probably not.  Echoes will get a 10 episode first season and most of the original team behind Orphan Black behind the scenes are returning for this new series.
Severance renewed for season 2 at Apple TV+: Apple TV+'s critically acclaimed series Severance will return for a second season.  The series, which stars Adam Scott and was directed and executive produced by Ben Stiller, follows employees of a company that undergo a procedure, the titular Severance, that splits them into two personas, their work one and their home one.  Neither persona has any memory of what occurs in the other one, so the work persona does not know anything about the employee's home life, family, etc. for example.  The first season finale just aired on Apple TV+.
Picard Season 3 will bring back the TNG cast: The Next Generation cast will be reuniting for the upcoming third and final season of Star Trek: Picard with Jonathan Frakes, Marina Sirtis, and Brent Spiner, who have already appeared on the series, will be joined by Levar Burton, Gates McFadden, and Michael Dorn, all reprising their TNG roles.  TNG cast members Whoopi Goldberg and John De Lancie have also appeared as Q and Guinan in the still airing Season 2.  Wil Wheaton is noticeably absent as Will Crusher but there may be a plot reason explained for his absence.
HBO Max developing Sherlock Holmes spin-off shows: Not exactly striking while the iron is hot, HBO Max is nevertheless working with Robert Downey Jr. to develop spin-off shows based on the Guy Ritchie Sherlock Holmes universe.  The report is that the new shows will feature new characters who did not previously appear in either of the two Holmes movies.  There's a third film that has been in development for years since Game of Shadows debuted in 2011 and these new characters might appear in that film if it ever comes to pass.  Rocketman director Dexter Fletcher has been signed on to direct the third RDJ Sherlock Holmes movie.
Paramount+ picks up new crime show Finestkind: Paramount+ has picked up a new crime series to go along with their originals like Mayor of Kingstown with Finestkind.  The show will star Ben Foster, Tommy Lee Jones, Toby Wallace, and Jenna Ortega and the plot follows a pair of brothers whose, "…desperate circumstances force them to strike a deal with a dangerous Boston crime syndicate, a young woman (Ortega) finds herself caught in the middle. Along the way, sacrifices must be made, and bonds between brothers, friends, and a father (Jones) and his son are put to the test".  The show comes from Oscar-winner Brian Helgeland, who wrote LA Confidential, Payback, A Knight's Tale, Man on Fire, and more.
Harrison Ford starring in new Apple TV+ show Shrinking: Harrison Ford will make his first regular starring role on a TV series with the Apple TV+ show Shrinking.  Ford will co-star with Jason Segel, who plays a psychiatrist who suffers a tragic loss and starts to tell his patients exactly what he thinks.  Ford will play a fellow psychiatrist who gets a Parkinson's diagnosis and he has to deal with this change in his practice with two young proteges.  The show comes from Bill Lawrence, who created the incredibly popular Ted Lasso for Apple TV+, and Jason Segel, who is executive producing along with starring.
Wesley Snipes co-creating a new comic: Wesley Snipes previously helped create the comic book Dead Speed and he's returning to the pages for a new book, The Exiled. Working with writer Adam Lawson and artist Gabriel "Eskivo" Santos, Snipes created the story with the President of PCB Entertainment, Keith Arem and it follows a "Detective Niles "Roach" Washington as he pursues a serial killer in the aftermath of a deadly gas attack. As the killer rips the spines from his victims, using tools over 5,000 years old, the world outcasts Roach for his theories. But his instincts keep pushing him forward. With enemies on all sides, and within, he wades into the darkness to find the killer and uncovers Earth's darkest secret".  The book will be crowd-funded on Kickstarter and the campaign will launch in June with a 140-page graphic novel being the main goal, along with other versions and rewards for backers.
Kid Cudi joins the new John Woo movie: Most recently co-starring in Ti West's horror movie X, Kid Cudi will be working under the legendary John Woo for the action master's new movie, Silent Night.  Joel Kinnaman is starring in the movie as a grieving father who goes on a mission of revenge to take out the people who murdered his son.  The big hook for Silent Night is that the movie is going to be completely dialogue-free, with the story progressing completely visually through the action.  The movie is currently in production in Mexico City.
Max Payne remakes in development: Speaking of John Woo, the Max Payne games are highly in debt to Woo's trademark style of action and there was news this week that Remedy will be remaking the first two Max Payne games in the Control engine.  Remedy will work with Rockstar, who published the first two games and developed Max Payne 3, on the new remakes, which be out exclusively on the PS5, Xbox Series X, and PC.
Locke & Key ending with the third season: Locke & Key will be ending on Netflix with the upcoming third season.  Season 2 debuted last fall on Netflix and there's currently no release date for the third season.  The second season completed the storyline of the original comic book in an arguably rushed fashion and this third season will be something brand new exclusive to the TV series.
Bob Odenkirk staying at AMC for new series: As we gear up for the finale of Better Call Saul, Bob Odenkirk will be sticking with AMC for his follow-up series.  Odenkirk will star in a dramedy series Straight Man, which is about "William Henry Devereaux Jr., played by Odenkirk, who is having a midlife crisis. Devereaux is the chairman of the English department at Railton College, a school with little money in the Pennsylvania rust belt".  The show will have a lighter tone than Saul and is based on a novel by Pulitzer Prize winner Richard Russo and directed by Peter Farrelly, who directed the Oscar-winning Green Book recently along with 90s comedy classics like Dumb & Dumber and There's Something About Mary.
I'm like the J. Jonah Jameson of Everything Action, writing and editing and constantly demanding pictures of Spider-Man.
alfonso herrera
apple tv+
ben foster
beverly hills cop 4
bill lawrence
bob odenkirk
brian helgeland
cary elwes
comic book
CONTROL
corey stoll
finestkind
harrison ford
HBO
hbo max
jason segel
john cena
john woo
kid cudi
locke & key
max payne
michael husiman
movie news
netflix
news shotgun
officer exchange
orphan black
oscars
paramount
picard
rebel moon
remedy
Robert Downey Jr.
rockstar games
severance
Sherlock Holmes
shrinking
silent night
star trek: TNG
straight man
the exiled
the white darkness
tom hiddleston
tommy lee jones
tv news
wesley snipes
will smith
winning time
zack snyder