The Pull List – Immortal Red Sonja #1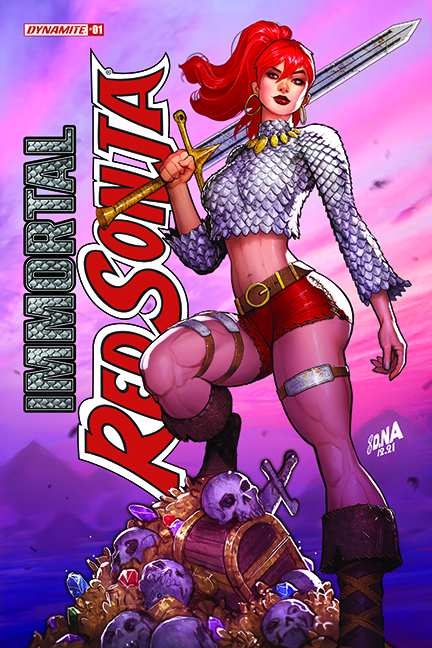 Publisher: Dynamite Comics
Writers: Dan Abnett
Artist: Alessandro Miracolo
Cursed by enchanted chainmail that imprisons its wearer, Sonja is on a quest free herself from the armor's steely grip. She travels far from her home to a distant land to seek answers.  But no matter how far she travels to foreign lands, she finds familiar danger. Sonja steps into Arthurian legends to craft her own lore one sword swipe at a time.
For the wandering warrior, it should be no surprise when you stumble across the occasional magical item. But some items can be subtle and the outcomes can catch people off guard. That is what happens to Sonja when she found a nice chainmail armor that was suspiciously too nice. The chainmail she put on like a prized treasure has become a terrible burden when it refuses to be taken off. Worst yet, it speaks to her. Guide by the chainmail, Sonja is drawn to a remote forest and encounters an old hermit that may have a clue to her curse.
Immortal Red Sonja is quick to establish the basic premise that lets readers get comfortable with Sonja and her latest adventure. Dan Abnett's use of the Arthurian tales works well as past adventures that were lost to time in Sonja's universe. Her introduction to folklore gives her an interesting opportunity to interact with these characters.  The chainmail itself also is like a secondary character that acts like Sonja's partner that annoys her while providing crypt feedback on her journey.
The artwork by Alessandro Miracolo is wonderful, it captures the chaotic and messy look of the sword and sorcery. Especially when it comes to Sonja's disheveled eating manners. The character designs have a bold look that when mixed with the great colorwork makes the characters pop from the panels. But when the action kicks off, the fight scenes play out with great intensity. The use of shadow work of the characters gives the fights an epic feel.
IRS #1 is a great combination of a fun Sonja tale and a reimagining of Arthurian characters. Sonja fits in the mystical setting of knights and mystic creatures, and will surely be testing her might in the coming issues.
Immortal Red Sonja #1 will be released on April 13th, 2022.
Bitten by a radioactive video store rental employee and overcome by Pac-Man fever, Chris seeks new comic books, games, and movies to review.
Alessandro Miracolo
Comic review
comics
Dan Abnett
dynamite
dynamite comics
Immortal Red Sonja
red sonja
review
the pull list