Here's all the movie and TV news you need to know from the past week, it's the News Shotgun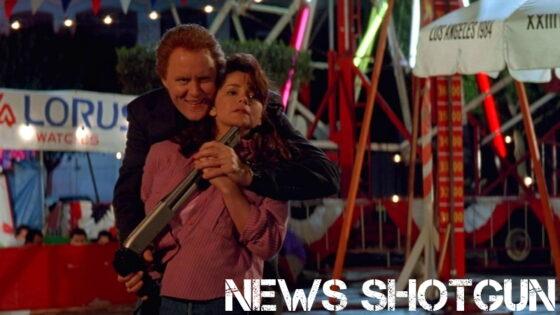 Legends of Tomorrow and Batwoman canceled at The CW: Two of the Arrowverse shows are not returning next season as Batwoman and Legends of Tomorrow were both canceled.  Legends had completed its seventh season and Batwoman finished its third.  Both shows ended on cliffhangers with the Legends being arrested along with Booster Gold (Donald Faison) by time police while Batwoman was setting up Dr. Phosporus as a new villain.  Given the somewhat connected nature of the shows, it's possible the characters could still appear in shows like The Flash and maybe get some resolution.
Space Force canceled by Netflix: Also canceled this week was Space Force over at Netflix.  The Greg Daniels created show had two seasons, the second of which dropped in February earlier this year.  The show did not have a strong presence on Netflix's own Top 10 most-watched list or the Nielsen ratings for streaming content and it was also fairly expensive to make.  Netflix is also in something of a tailspin right now and is looking to cut costs and figure out how to deal with its massive loss in subscribers.
Jon Watts leaves the Fantastic Four movie: After directing the fantastic new Spider-Man trilogy, director Jon Watts was scheduled to direct the MCU's take on Fantastic Four but has dropped out this week.  Watts said he wants to step away from superhero movies and is producing the new Final Destination and directing and writing a new film for Apple that will star George Clooney and Brad Pitt.
Bruce Greenwood replacing Frank Langella on House of Usher: After being removed from the series for inappropriate comments, Frank Langella has been replaced by Bruce Greenwood on Mike Flanagan's House of Usher Netflix series.  Greenwood previously appeared in Flanagan's movies Gerald's Game and Doctor Sleep.
Adam Sandler reuniting with the Safdie Brothers for a new movie: The team-up that brought us the incredible Uncut Gems is reuniting as Adam Sandler will once again star for the Safdie Brothers on a new project.  There are no plot details at the time but Sandler mentioned that it will be "different" than Uncut Gems.
RIP Neal Adams: One of the greatest comic book artists, Neal Adams, passed away this past week at age 80.  Adams worked on books for DC and Marvel, including Teen Titans, Deadman, The Avengers, and X-Men but his biggest impact is probably on Batman.  His run with Denny O'Neil on Batman is considered one of the greatest periods ever for the Dark Knight and they created iconic characters like Man-Bat and Ra's Al Ghul.  The duo also had the legendary Green Lantern/Green Arrow arc that dealt with real-life issues as the two emerald-clad heroes journeyed across America.
Ana De Armas officially starring in Ballerina: Lionsgate officially confirmed this week that Ana De Armas will star in the John Wick spin-off movie Ballerina.  Len Wiseman, the director of Live Free or Die Hard and Underworld, will be directing the movie and it follows an assassin/ballerina who seeks revenge for her family.  John Wick: Chapter 3 Parabellum had a brief glimpse of the ballerina assassins when John goes to "The Director" to seek safe passage out of NYC.
Dune spin-off series finds a director: With Dune: Chapter Two on the way, HBO Max is also getting a spin-off TV series: Dune: The Sisterhood, that will focus on the Bene Jesserit.  Chernobyl director Johan Renck has signed on to direct the first few episodes of the series. The show is set 10,000 years before Dune and follows a group of Harkonnen sisters as they form the mystical sect.
Noonan's picked up to series on HBO Max: Speaking of HBO Max, they have also given a full 10-episode season order to the Harley Quinn spin-off series Noonan's.  The show follows Kite Man as he buys the supervillain bar seen in Harley Quinn and deals with the rowdy patrons as well as pulling heists with his new lady, Golden Glider, to keep the bar afloat.
Melissa McBride leaves Walking Dead spin-off: Melissa McBride, who plays Carol on The Walking Dead, has left the spin-off series that was going to follow Carol and Norman Reedus' Daryl after the main show ends this year.  The show was going to film in Europe, which apparently was not a feasible arrangement for McBride.  There is an anthology series, Tales of the Walking Dead and Isle of the Dead, a Lauren Cohan/Jeffrey Dean Morgan starring spin-off coming up as well and the main show will end later this year with the final 8 episodes.
The Nun sequel in development: Warner Bros Discovery is developing a sequel to The Conjuring spin-off The Nun.  Michael Chaves, who directed the loosely connected Conjuring spin-off The Cure of La Llorona, will be directing the movie and James Wan will be producing.  Akela Cooper, who most recently co-wrote Malignant with Wan, will be writing the script for The Nun 2.
Justin Lin steps down from Fast X: Although he was poised to close the franchise he helped launch into the stratosphere, Justin Lin has left his directing gig on Fast X.  It's not clear the reason for Lin's stepping down but he will remain a producer on the movie.  Universal is scrambling to find a new director and will shoot second-unit footage until a new director is found.  Fast X currently has a release date of May 19th next year.
Robert Pattinson back for The Batman 2: WB has officially announced a second entry in The Batman series is greenlit, with Matt Reeves back to direct and Robert Pattinson back to star.  There are no plot details but Reeves will write the movie as well.  There was the cameo from Barry Keoghan as The Joker in the final few moments of The Batman which may be setting up that character as the main villain of the sequel but hopefully, Reeves will possibly explore one of Batman's rogues that haven't gotten the cinematic spotlight yet.
TNT and TBS will no longer develop scripted content: One of the first big developments following the WB/Discovery merger, TNT and TBS will no longer be developing scripted content.
I'm like the J. Jonah Jameson of Everything Action, writing and editing and constantly demanding pictures of Spider-Man.
ana de armas
ballerina
batwoman
bruce greenwood
dune
dune: the sisterhood
el muerto
fantastic four
ghostbusters: afterlife
harley quinn
house of usher
illumination
johan renck
john wick
jon watts
justin lin
kite man
legends of tomorrow
matt reeves
melissa mcbride
movie news
neal adams
netflix
news shotgun
noonans
robert pattinson
robotech
space force
super mario bros
TBS
the batman 2
the nun
tnt
tv news
venom
walking dead