Here's all the movie and TV news you need to know from the past week, it's the News Shotgun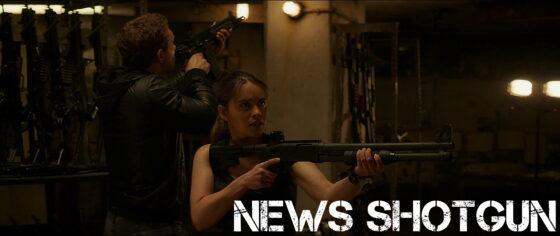 Netflix renews I Think You Should Leave with Tim Robinson: The critically acclaimed sketch show I Think You Should Leave with Tim Robinson on Netflix has been renewed for a third season. Robinson and his team are currently writing new sketches for the third season and Robinson is also co-creating an HBO Max show called Computer School, which Robinson will also co-star in.
Quantum Leap reboot greenlit by NBC: NBC has given a series order to their reboot of Quantum Leap, which will function as something of a sequel to the classic original series starring Scott Bakula.  Raymond Lee stars in the new series as Dr. Ben Seong, who is trying to unlock the secrets of the Quantum Leap accelerator that caused Dr. Samuel Beckett to disappear 30 years earlier but Dr. Seong finds himself in a similar situation.  Ernie Hudson co-stars and original producer Don Bellisario is executive producing along with Blindspot creator Martin Gero.
Chad Stahelski directing Project Nemesis TV series: Based on The Nemesis Saga books by Jeremy Robinson, Chad Stahelski, the director of the John Wick series, will be directing a TV series based on the first book in the series, Project Nemesis.  The books follow a monster that is created when the Greek goddess Nemesis fuses with the DNA of a murdered little girl, carving a path of destruction from Maine to Boston.  A sarcastic DHS agent, Jon Hudson, who leads the department's Paranormal branch, becomes the man tasked with stopping the monster.  There's no network or streamer attached to the project yet.
Andrea Savage joins Stallone's Tulsa King: The absolutely hilarious Andrea Savage will be co-starring with Sly Stallone for his upcoming TV series, Tulsa King.  Coming from Yellowstone's Taylor Sheridan, the series will be a new Paramount+ exclusive where Stallone plays Dwight "The General" Manfredi.  Recently released from prison, he's basically exiled by the mob to Tulsa to set up operations in the Midwest.  Savage will be playing ATF agent Stacy Beale, who begins to investigate this new mafia presence.
Michael Keaton directing and starring in new neo-noir movie Knox Goes Away:  Michael Keaton will be directing and starring in a new noir thriller called Knox Goes Away, which "follows a contract killer who, after being diagnosed with a fast-moving form of dementia, is presented with the opportunity to redeem himself by saving the life of his estranged adult son. But to do so he must race against the police closing in on him as well as the ticking clock of his own rapidly deteriorating mind".  The film was sold recently at the Cannes Film Festival and will begin shooting in August this year.
Darkman sequel in development: Most likely riding the buzz of Sam Raimi's Multiverse of Madness,  Universal is apparently looking into developing another sequel to the director's cult classic Darkman.  Raimi directed the original movie, which starred Liam Neeson as Dr. Peyton Westlake, whose face is horribly disfigured when he's attacked by criminals in his lab.  Westlake develops a way to create extremely life-like masks which allow him to take on the identity of others and he uses these to seek revenge. The original movie got two direct to video sequels but Universal, according to Raimi, is looking into developing a fourth movie in the franchise and they have a producer attached.  Raimi is not attached to direct and Neeson is not currently attached to come back.  Arnold Vosloo took over for Neeson in the sequels.
Justified: City Primeval rounds out its cast: The revival of Justified has found new cast members to co-star with the returning Timothy Olyphant.  Boyd Holbrook, Aunjanue Ellis, Marin Ireland, Vondie Curtis Hall, Adelaide Clemens, Norbert Leo Butz, Victor Williams, and Olyphant's daughter, Vivian Olyphant will co-star on the revival series.  City Primeval sees US Marshall Raylan Givens heading from Kentucky to Miami, where's been living for 8 years following the events of the original series.  "A chance meeting" in Miami sends Raylan to Detroit, on the hunt for a dangerous serial killer nicknamed "The Oklahoma Wildman".  Despite rumors, along with the casting news, it was revealed that Quentin Tarantino won't be involved in the series.
Florian Munteanu joins Vikings: Valhalla: Creed 2 and Shang-Chi co-star Florian Munteanu has been cast to join Vikings: Valhalla, which was renewed for two more seasons following the first, which debuted in February this year.  Munteanu will be playing real-life Byzantine general George Maniakes, who answered only to the ruler of the Empire, The Emir.
Jackass coming back as a series: Following the success of Jackass Forever, Paramount Plus is getting a brand-new Jackass TV series, which will be exclusive to the streaming service.  The new series will mostly feature the new cast members introduced in Jackass Forever, including Rachel Wolfson, Sean "Poopies" McInerney, and Jasper Dolphin.  Jackass 4.5, a new movie consisting of outtakes and never before seen footage, will debut on Netflix later this month.
Viola Davis starring in Suicide Squad spin-off series: Following the smashing success of Peacemaker, Viola Davis is in talks to star in a second spin-off series from James Gunn's The Suicide Squad, which will focus on Amanda Waller.  Gunn will produce the new series along with Peter Safran, who produced The Suicide Squad and Peacemaker.  There are no plot details but Gunn mentioned earlier this year that he was working on another series that "wouldn't be as much of a comedy", which makes sense for Amanda Waller, who is no-nonsense, serious, and ruthless.  Peacemaker was renewed for a second season on HBO Max earlier this year.
John Woo remaking his movie The Killer: One of his "heroic bloodshed" classics, legendary director John Woo is directing a remake of The Killer for Peacock.  There were talks of a Killer remake back in 2018, with Lupita Nyong'o attached to star but that version never came to anything and this Peacock movie is a completely new project.  Woo is also currently working on Silent Night, an action movie with no dialogue starring Joel Kinnaman.
Louis Leterrier is in talks to take over Fast X: After Justin Lin exited the franchise last week, Universal was scrambling for a new director and they are apparently in talks to secure Louis Leterrier as the replacement for Lin.  Leterrier has directed movies like The Transporter, Now You See Me, and The Incredible Hulk along with working on TV shows like Netflix's Lupin series. Fast X had just started production when Lin left and there are currently second unit scenes being worked on until a new director is officially secured.
I'm like the J. Jonah Jameson of Everything Action, writing and editing and constantly demanding pictures of Spider-Man.
amanda waller
andrea savage
darkman
fast x
florian munteanu
hbo max
i think you should leave
jackass
james gunn
john woo
justified: city primeval
justin lin
knox goes away
louis leterrier
michael keaton
movie news
news shotgun
paramunt plus
quantum leap
remake
Stallone
the killer
the suicide squad
tim robinson
timothy olyphant
tula king
tv news
vikings: valhalla
viola davis