Here's the movie and TV news you need to know from the past week, it's the News Shotgun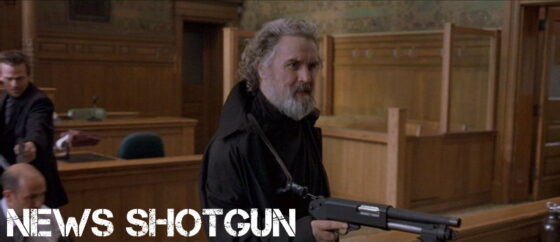 What We Do in The Shadows back on July 12th: One of the funniest shows of all time is back this summer when Season 4 of What We Do in The Shadows arrives on July 12th.  There were some huge cliffhangers from Season 3 and we can't wait to reunite with our favorite vampires to see how they deal with everything.
Alan Ritchson joins Fast X: Despite some directing issues with Justin Lin exiting and Louis Leterrier stepping in, Fast X is continuing to shoot and add cast members, with Jack Reacher himself, Alan Ritchson, joining the cast. There's no word on who Ritchson will play but he'll join fellow new cast members Jason Momoa and Brie Larson along with the returning regulars.
Stephanie Beatriz joins Twisted Metal: Brooklyn Nine-Nine and Encanto's Stephanie Beatriz is heading into the apocalyptic wasteland of the Twisted Metal TV series to co-star with Anthony Mackie.  She is playing a character named Quiet, "a ferocious, badass car thief who acts purely on instinct – you couldn't stop her any more than a manhole could stop a volcano".  Mackie is playing John Doe, who is offered the chance at a better life if he can survive a trip to deliver a package across a wasteland ruled by insane characters in deadly vehicles.  Rhett Rheese, Paul Wernick, and Cobra Kai's Michael Jonathan Smith are behind the series, which will be a half-hour action comedy on Peacock.
TV Renewals and Cancelations: It's that time of year when the networks cancel a slew of shows and renew others.  Here's a rundown of some of what happened this past week, check out a comprehensive list over at Deadline:
Big Sky (ABC): Renewed for Season 3
MODOK (Hulu): Canceled
Young Rock (NBC): Renewed for Season 3
The Endgame (NBC): Canceled
Naomi (The CW): Canceled
Magnum PI (CBS): Canceled
Law & Order (NBC): Renewed
Law & Order: Organized Crime: Renewed
FBI (CBS): 2 Season Renewal
FBI: Most Wanted (CBS): 2 Season Renewal
FBI: International (CBS): 2 Season Renewal
Jack Ryan (Amazon): 4th Season is the Final Season
The CW picks up three new shows: While they thoroughly cleaned house after this current TV season, The CW did pick up three new shows for the fall.  The Winchesters, which is a prequel to Supernatural, Walker: Independence, an 1800s set Walker prequel, and Gotham Knights, a DC series following Batman's rebellious son teaming up with the children of some of Batman's rogues to uncover the mystery of Bruce Wayne's murder.
True Lies TV show picked up by CBS: After six years, McG and Burn Notice's Matt Nix's reboot of James Cameron's 90s classic True Lies is coming to CBS, as the network picked up the show to series.  Steve Howey is taking on the role of Harry Tasker while Ginger Gonzaga is playing Helen Tasker and the show follows the same premise where Helen is shocked to learn that her bland computer salesman husband is actually a globe-trotting spy and eventually joins him on his missions.
Married With Children animated series in development: Shows like Friends and Seinfeld are still hugely popular on streaming services and another 90s classic, Married With Children, is coming back with an animated reboot that will feature the entire original cast.  Ed O'Neill, Katey Sagal, Christina Applegate, and David Faustino are all returning to reprise their roles and Alex Carter, an executive producer on Family Guy, will be showrunning the series.  There's no network attached yet but Deadline says the logical choices are either Peacock, Hulu, or a FOX network series.  The original Married With Children currently streams on both Peacock and Hulu.
RIP Fred Ward: Character actor Fred Ward passed away this week at age 79.  Ward died on May 8th at age 79.  He was best known for his roles in Tremors, The Right Stuff, The Player, Henry and June, Remo Williams: The Adventure Begins, Miami Blues, and more.  Most recently, he was on True Detective, 2 Guns, and Leverage.
Dan Stevens joins Godzilla vs Kong sequel: Dan Stevens is reuniting with his The Guest director Adam Wingard for the sequel to Godzilla vs Kong.  There's no info on Stevens' role but it will be a major one in the new film.  The sequel begins filming in Australia this summer and there's also an Apple TV+ Monsterverse TV series in development as well.
Cast rounds out for Francis Ford Coppola's new movie: The legendary Francis Ford Coppola has rounded out the cast for his long in development film Megalopolis with Adam Driver, Nathalie Emmanuel, Laurence Fishburne, Forest Whitaker, and Jon Voight starring.  The movie has been in development in some form by Coppola since the 80s and he has self-funded most of the reported $100 million budget.  The movie's logline is, "The fate of Rome haunts a modern world unable to solve its own social problems in this epic story of political ambition, genius, and conflicted love" and it apparently takes inspiration from things like Metropolis and The Fountainhead.
Polar sequel in development: Mads Mikkelsen will be back as Duncan Viszla aka The Black Kaiser for a new movie adapted from the Dark Horse comic series Polar, The Black Kaiser.  Polar hit Netflix in 2019 and Mikkelsen will reunite with the director of that movie, Jonas Akerlund, for the sequel, which finds Viszla uncovering a conspiracy protecting a group of powerful killers, which puts him into their crosshairs. The film is up for sale at Cannes, so it's not clear if it will join Polar as a Netflix film or go to a different studio/streamer.
Alan Wake TV series in development: AMC is developing a TV series based on the critically acclaimed Remedy game Alan Wake.  The show was announced by Remedy's Creative Director Sam Lake, who will executive produce the new series.  There's no casting or directing news about the new series but it will adapt the story of the original game.   A sequel, Alan Wake 2, was announced last year at The Game Awards and will be out in 2023.
Spinal Tap II in Development: Heavy metal superstars Spinal Tap are making their triumphant return as a sequel to the iconic mockumentary movie is in development.  Rob Reiner will return to direct the sequel and co-star as in-universe filmmaker Marty DiBergi will Michael McKean, Harry Shearer, and Christopher will return to reprise their roles as the members of Spinal Tap, who have been broken up and not seen each other in years.  The widow of their manager finds an item in their original contracts that forces them to perform one more concert, so they must reunite and perform one last time.  The original movie is a beloved classic that is in the National Film Registry.
Christopher Walken joins Dune: Part 2: Denis Villeneuve has found his Emperor as Christopher Walken will play the supreme ruler of the galaxy, Emperor Shiddam, in the upcoming Dune: Part 2.  Shiddam influences the great houses and manipulates events, like the Harkonnens attack on the Atreides on Arrakis.  Florence Pugh is playing Walken's daughter, Princess Irulan, and Austin Butler, star of the upcoming Elvis, is playing Feyd-Rautha, the role previously played by Sting in the David Lynch Dune.
Liam Neeson starring in gangster movie Thug: Liam Neeson continues to crank out movies and he'll star as an aging gangster in the upcoming thriller, Thug.  Neeson plays a gangster from San Pedro who is trying to leave the business behind but the business does not seem to want him to leave.  The movie is directed by Neeson's Cold Pursuit director, Hans Petter Moland.
New cast returning for Scream 6: The main young survivors of Scream (2022) will be back for the upcoming sequel with Melissa Barrera, Jenna Ortega, Jasmin Savoy Brown, and Mason Gooding all reprising their roles.  The new movie follows the group leaving Woodsboro to try and start a fresh chapter in their lives but a killer in Ghostface mask arrives to start a new murder spree.  Matt Bettinelli-Olpin and Tyler Gillett aka Radio Silence are back to direct Scream 6 after directing this year's legasequel.  Courtney Cox is returning as Gail Weathers and Hayden Panettiere will return from Scream 4 as Kirby Reed.
Apple rounds out cast for Manhunt: Apple has rounded out the main cast for their upcoming true-crime limited series Manhunt.  Brandon Flynn, Betty Gabriel, Will Harrison, Hamish Linklater, Damian O'Hare, Patton Oswalt, and Lili Taylor will star in the series, which is about the hunt for John Wilkes Booth following his assassination of Abraham Lincoln.  It's based on the book by James Swanson.
The Omen prequel movie in development: The Omen has seen a ton of sequels and a reboot but its getting a prequel soon in The First Omen.  Arkasha Stevenson, who directed episodes of Legion, Brand New Cherry Flavor, and Briarpatch, is making her feature film debut and rewriting the script. David S. Goyer and Keith Levine are producing the movie, which will take place before the 1976 Richard Donner classic.
Halle Berry starring in the new thriller Mother Land: Halle Berry has signed on to star in a new thriller, Mother Land, with director Alexandre Aja at the helm.  Berry will play a mother with twin boys who have been haunted by an evil spirit for years.  Stranger Things producers Shawn Levy, Dan Cohen, and Dan Levine are producing the movie.
New Doctor Who revealed: With Jodie Whittaker wrapping her time as The Doctor in July, the BBC announced this week that Sex Education co-star Ncuti Gatwa will take over the role.  The new season will begin production later this year.
RIP George Perez: Beloved and acclaimed comic artist George Perez passed away this past week at age 67.  Perez announced he had stage 3 pancreatic cancer in December last year and decided to forego any treatment, as it had a low chance of success, and wanted to spend the time with family, friends, and fans.  He made some final trips to the DC offices and to meet and greets with fans.  Perez helped to shape the look of 80s DC comics and drew the iconic Crisis On Infinite Earths.  He also worked on Justice League and co-created Deathstroke with Marv Wolfman and created the definitive Teen Titans team and storylines.  He also worked for Marvel and even other companies like Topps, inking their adaptation of Jurassic Park with Walt Simonson.
Richard Linklater directing action-comedy Hitman: Director Richard Linklater has signed on to direct an action/comedy Hitman with Glen Powell and Adria Arjona co-starring.  This will the fourth collaboration between Linklater and Powell and the movie is based on true events with Powell playing a hitman who actually works for the cops. When he takes a job for a desperate woman, played by Arjona, he goes on the run with her and takes on the identity of one of his alternate personas.
I'm like the J. Jonah Jameson of Everything Action, writing and editing and constantly demanding pictures of Spider-Man.
adam wingard
adria arjona
alan ritchson
alan wake
alexandre aja
apple tv+
cbs
christopher walken
dan stevens
doctor who
dune: part 2
fast x
francis ford coppola
fred ward
george perez
glen powell
godzilla vs kong 2
gotham knights
halle berry
hitman
liam neeson
mads mikkelsen
manhunt
married with children
megalopolis
mother land
movie news
ncuti gatwa
news shotgun
polar
richard linklater
rob reiner
scream 6
spinal tap 2
stephanie beatriz
the black kaiser
the CW
the first omen
the omen
the winchesters
thug
true lies
tv cancelations
tv news
tv renewals
twisted metal
walker: independence
what we do in the shadows