Here's all the movie and TV news you need to know from the last week, it's the News Shotgun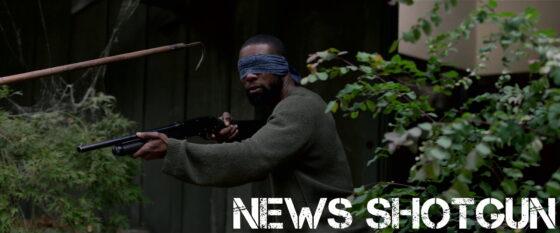 Matt Shakman directing Godzilla Apple series: Apple TV+ is getting a Godzilla series set in Legendary's Monsterverse and Wandavision's Matt Shakman has signed on to direct and executive produce the series.  The new show is set after 2014's Godzilla and "will explore one family's journey to uncover its buried secrets and a legacy linking them to the secret organization known as Monarch".  The show is also apparently officially titled Godzilla and The Titans now.
Thomas Haden Church joins Twisted Metal: Peacock's Twisted Metal action/comedy series is rounding out its cast, with Anthony Mackie and Stephanie Beatriz already cast and now Thomas Haden Church has signed on as Agent Stone for the series.  Stone is from the games and is a police officer who drives the car Outlaw.  His description from the show is, "a cold and unyielding post-apocalyptic highway patrolman who rules the roads with a silver tongue and a twisted iron fist, prosecuting even the smallest crimes with the harshest of judgments. Agent Stone will stop at nothing to bring law and order back to the Divided States of America, and will kill anyone in his path who defies his power".
Scott Eastwood back for Fast X: Scott Eastwood will be back in the Fast & Furious universe for Fast X as his Fate of the Furious character, Little Nobody.  Eastwood's character was the assistant to Kurt Russell's Mr. Nobody but didn't return for F9 last year.
Daredevil coming back on Disney+: Apparently a continuation of the Netflix series, which came to Disney+ earlier this year along with the other Defenders shows, Daredevil is getting a new series on Disney+.  Marvel and Disney have not officially confirmed the news and Charlie Cox and Vincent D'Onofrio have not been officially confirmed to return but they both made appearances in the MCU recently in Spider-Man: No Way Home and Hawkeye respectively, which probably was the precursor to this new series.  Matt Corman and Chris Ord, the team behind USA's Covert Affairs, are writing and producing the new series.
Barry renewed at HBO: Bill Hader's incredible dark comedy Barry will be back for a fourth season, as HBO renewed the series about halfway through the current third season.  Bill Hader will direct every episode of the upcoming fourth season as well as star and executive produce with Alec Berg.  The third season will wrap up on June 12th.
New Ocean's movie in development with Margot Robbie: A new entry in the Ocean's heist film franchise is in development with Margot Robbie in talks to star.  It's not clear if it will be a full reboot or continue in the Steven Soderbergh universe like Ocean's Eight did but Jay Roach, the director of Margot Robbie's movie Bombshell is in talks to direct.
RIP Vangelis: One of the most influential electronic musicians of all time, Vangelis passed away this past week at age 79.  The Greek musician was best known in the world of film for his scores to Chariots of Fire and Blade Runner and he also worked on movies like Oliver Stone's Alexander later on.  His music was also heard in Carl Sagan's Cosmos and his influence continues to this day with many of the artists in the synthwave/retrowave movement along with artists like John Carpenter and Tangerine Dream.
Wonder Twins movie canceled: The HBO Max Wonder Twins movie will not be moving forward.  The project was announced about a month ago and Riverdale's KJ Apa and Young Sheldon's Isabel May were cast as Zan and Jayna with Black Adam's Adam Sztykiel hired to write and direct.  The reason for the cancelation is related to the recent merger, as new CEO David Zaslav pledged to cut $3 billion in costs from the new company and this Wonder Twins movie was going to cost around $75 million to make.
Jack Reacher Season 2 will adapt Bad Luck and Trouble: When Alan Ritchson returns to Prime Video for Reacher Season 2, he will be in an adaptation of the 11th Jack Reacher book, Bad Luck and Trouble.  Ritchson tweeted a picture of himself with a copy of the book and a quote from it.  The plot of the book, and presumably the new season, is that members of an elite Army investigators team that Reacher was once a member of are being killed off and Reacher has to reunite with his old friends to figure out who and why.
Sasha Baron Cohen developing an animated special for HBO Max/Cartoon Network: Sasha Baron Cohen is getting more family-friendly than he usually is for an upcoming animated special called Chelm: The Smartest Place on Earth.  The special, "shares the absurdist humor and interpretive questioning that is a nod to Jewish intellectual traditions. Narrated by Cohen, the special will present a fresh take on the silly antics and exaggerated conflicts of the town, while also preserving the essence and heart of the classic folktales".  Mike Judge, Greg Daniels, and Michael Komen are producing the special, and Daniels and Judge are working on the script and story with Cohen.
Rick and Morty getting an anime spin-off series: Apparently inspired by a pair of anime shorts that Adult Swim released for Rick & Morty, a full 10-episode anime series is coming to Adult Swim, Rick and Morty: The Anime.  Tower of God and Shenmue the Animation director Takashi Sano will direct the series and his animation studio will handle the animation.  Sano also directed both of the previous shorts for Adult Swim, "Rick and Morty vs Genocider" and "Summer Meets Good (Rick Meets Evil)".
All-star cast signs on for action movie Tin Soldier: An all-star cast has signed on to star in a new action movie, Tin Soldier.  Jamie Foxx, Robert De Niro, Scott Eastwood, and John Leguizamo are signed on with director Brad Furman, who previously directed The Lincoln Lawyer, directing.  The movie stars Foxx as The Bokushi, who has assembled an army of devout ex-military in a fanatical militia.  De Nero plays government agent Emmanuel Ashburn, who is attempting to infiltrate and take down the group.  Eastwood plays Nash Cavanaugh, a former member of the militia who agrees to go back in as part of his quest for revenge against The Bokushi.
Jon Watts developing mysterious Star Wars series: Jon Watts, the director of the Tom Holland Spider-Man trilogy, will be moving to the Star Wars universe for a mysterious new series.  The show doesn't have a title yet but is described as an homage to 80s coming-of-age movies, like the Amblin catalog, and set in the same general time as The Mandalorian.  Watts is working on the series with writer Chris Ford.
League of Extraordinary Gentlemen reboot coming to Hulu: Alan Moore and Kevin O'Neill's comic series The League of Extraordinary Gentlemen are getting a second shot after the disastrous 2003 movie version, with a new movie coming to Hulu.  There are very few details but BAFTA nominee Justin Haythe, who wrote Revolutionary Road, is writing the script.  The comic pulls together literary characters like The Invisible Man, Dr. Jekyll, Mina Harker, Captain Nemo, and Alan Quartermain into a special team that takes on threats like Moriarty and the aliens from War of the Worlds.  The movie was apparently such an excruciating experience for Sean Connery that it caused him to retire from acting.
Helen Mirren and Harrison Ford starring in Yellowstone prequel 1932: The Taylor Sheridan Yellowstone universe continues to expand as another prequel series, 1932, is coming to Paramount+ and Helen Mirren and Harrison Ford are set to star.  The show will follow members of the Dutton family in the titular time period as they deal with things like Prohibition and the Great Depression from their Montana homestead. There is also a spin-off to the first prequel series, 1883, 1883: The Bass Reeves Story, that will explore the famous Black lawman who inspired the creation of The Lone Ranger.
Black Mirror finally getting a new season: After around 3 years since Season 5 of Black Mirror dropped on Netflix, a new season of the sci-fi anthology series is finally in development.  Creator Charlie Brooker and his partner Annabel Jones left their production company in 2020 and the company they left retained the rights to Black Mirror, preventing a new series to get underway until some sort of deal was made.  Netflix invested heavily in Brooker's new company and apparently worked out a deal with the current Black Mirror rights holder, Banijay Group, to get the new season into development.  The new season will be more episodes than Season 5 and casting is underway.
I'm like the J. Jonah Jameson of Everything Action, writing and editing and constantly demanding pictures of Spider-Man.
1932
agent stone
barry
black mirror
brad furman
charlie brooker
daredevil
disney
fast x
godzilla
harrison ford
hbo max
helen mirren
hulu
jack reacher
Jamie Foxx
jay roach
john leguizamo
jon watts
league of extraordinary gentlemen
margot robbie
matt shakman
mike judge
monsterverse
movie news
netflix
News
news shotgun
ocean's eleven
rick and morty
rick and morty: the anime
robert de niro
sasha baron cohen
scott eastwood
star wars
takashi sano
the bokushi
thomas haden church
tin soldier
tv news
twisted metal
vangelis
wonder twins
yellowstone