Here's all the TV and movie news you need to know from the past week, it's the News Shotgun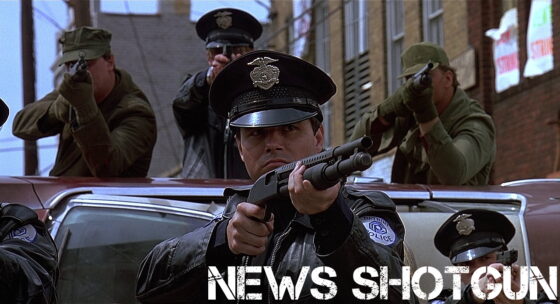 Universal "reimagining The River Wild: Universal's 1440 Entertainment branch is developing a "reimagining" of the 90s thriller The River Wild for non-theatrical release in 2023, which most likely means debuting on Peacock or another streaming platform.  Leighton Meester, Adam Brody, and Taram Killam will star in the movie, which follows two siblings (Meester and Brody) who are on a white-water rafting trip with a small group, including a friend (Killam) who is "more dangerous than he appears to be".  Ben Katai is directing the movie.
Frank Grillo starring in new action thriller: Frank Grillo has signed on for a new action thriller called Black Lotus, directed by Todor Chapkanov.  The movie stars 11-time kickboxing champion, Rico Verhoeven, as a special forces soldier who is living with the guilt of his best friend's death while on a mission.  Living in Amsterdam, he has to wage a one-man war to rescue his dead friend's daughter, who has been kidnapped. Marie Dompnier, Peter Franzén, Rona-Lee Shim'on, Magnus Samuelsson, Simon Wan, Kevin Janssens and Roland Møller co-star.
Adam Scott joins Madame Web: Currently starring in Severance (which earned him an Emmy nomination), Adam Scott has joined the cast of Sony's Madame Web movie.  Dakota Johnson is starring in the title role and Sydney Sweeney, Celeste O'Connor, Isabela Merced, Emma Roberts, and Tahar Rahim were previously cast.  Scott's role, like most of the other casting besides Johnson, is being kept under wraps.
Andrew Garfield starring in Richard Branson limited series: Andrew Garfield will be playing Richard Branson for a limited series called Hot Air.  The show is based on the book Dirty Tricks by Martyn Gregory and follows the rise of Branson and Virgin Airlines.  There's apparently competition between various streaming platforms for the project, which is being helmed by David Leitch.
Warrior TV series coming to Paramount+: A TV show loosely inspired by the Tom Hardy/Joel Edgerton MMA movie Warrior is coming to Paramount+ from that movie's director, Gavin O'Connor.  The new series will follow four different fighters, two women and two men, as they enter a massive MMA tournament for various reasons.  Gina Rodriguez and former UFC champion Daniel Cormier are in talks for two of the four main roles.
Live-action Lilo & Stitch gets a new director: Disney's upcoming live-action remake of Lilo & Stitch has gotten a new director.  Originally supposed to be directed by Jon M. Chu, Dean Fleischer Camp, who just directed the limited theatrical hit Marcel the Shell With Shoes On, has signed on to direct the project.  It's not clear if this new Lilo & Stitch will be a theatrical release or a Disney+ exclusive.
The Bear renewed for Season 2: One of the biggest TV hits of the summer, FX's The Bear is coming back for a second season.  The show stars Jeremy Allen White as a chef trained in the world of fine dining who is forced to return to his hometown of Chicago and run the family's small sandwich shop after his brother commits suicide.
Samara Weaving and Tony Revelori join Scream 6: Scream 6 has added two cast members with Samara Weaving and Tony Revelori joining the cast.  The movie is coming out next March and features the return of Scream (2022)'s Melissa Barrera, Jasmin Savoy Brown, Mason Gooding, and Jenna Ortega along with Courtney Cox and Hayden Panettiere's Kirby, who was last seen in Scream 4.  Dermot Mulroney, Jack Champion, Liana Liberato, Devyn Nekoda, Josh Segarra, and Henry Czerny are also co-starring and Matt Bettinelli-Olpin and Tyler Gillett aka Radio Silence, are directing again after directing Scream (2022), which will reunite them with their Ready or Not star with Samara Weaving's casting.
Criminal Minds coming back: Criminal Minds is the latest TV series getting a revival series, as most of the cast is coming back for a new Paramount+ series.  Joe Mantegna, Kirsten Vangsness, Adam Rodriguez, A.J. Cook, Aisha Tyler, and Paget Brewster are back from the original series and the new season follows the team as they learn about a deadly serial killer who has used the pandemic to build a network of other serial killers and has now activated this network as the world begins to recover, putting tons of innocent people at risk.  The new season will be 10 episodes and will be a serialized story as opposed to the episodic "case of the week" structure of the original series.
Jeff Goldblum joins Netflix's Kaos series: After only finding out about the show a week or so ago, Netflix's Kaos has already had a major casting shift, as Jeff Goldblum will now star as the Greek god Zeus, replacing Hugh Grant.  The show is a modern take on the Greek pantheon with a paranoid, aging Zeus who becomes convinced that someone is planning his downfall.  The show will be an 8-episode first season and will start filming this summer.
Black Mirror cast revealed: The cast for three of the new episodes for Black Mirror Season 6 has been revealed with Zazie Beetz, Paapa Essiedu, Josh Hartnett, Aaron Paul, Kate Mara, Danny Ramirez, Clara Rugaard, Auden Thornton, and Anjana Vasan.  There are no plot details yet but this new season will be longer than Season 5, which was only three episodes, and the cast of the other episodes will be revealed in the future.
Travis Fimmell starring in the mystery drama Black Snow: Vikings and Raised by Wolves star Travis Fimmel is starring in a new mystery-drama series called Black Snow.  The show is set in the small Australian town of Ashford where 17-year-old Isabel Baker is murdered in 1995.  In 2020, a time capsule is unearthed and opened that reveals new clues about who is behind the murder.  Fimmel plays detective James Cormack, who specializes in cold cases.  The show will be streaming in Australia on the Stan platform and will most likely come to the US via Sundance Now.
Only Murders in the Building Renewed for Season 3: After racking numerous Emmy nominations, including Best Comedy Series, and shortly into Season 2 on Hulu, Only Murders in the Building is renewed for a third season.  The show stars Steve Martin, Martin Short, and Selena Gomez as a trio of true-crime podcasters who become embroiled in their own murder mystery where they are believed to be the prime suspects.
RIP Monty Norman: The composer of the James Bond Theme, Monty Norman, passed away this past week at age 94.  Norman first composed the iconic James Bond Theme for Dr. No after drawing the attention of Bond producer Cubby Broccoli with his musical theater work in the late 1950s.  Norman also wrote songs for artists like Cliff Richard, Tommy Steele and Bob Hope.
I'm like the J. Jonah Jameson of Everything Action, writing and editing and constantly demanding pictures of Spider-Man.
andrew garfiled
black lotus
black mirror
black snow
criminal minds
daniel cormier
frank grillo
gavin o'connor
gina rodriguez
james bond theme
jeff goldblum
kaos
lilo & stitch
mma
monty norman
movie news
news shotgun
only murders in the building
richard branson
rico verhoeven
samara weaving
scream 6
the bear
the river wild
tony revelori
travis fimmel
tv news
warrior