Here's all the movie and TV news you need to know from the past week, it's the News Shotgun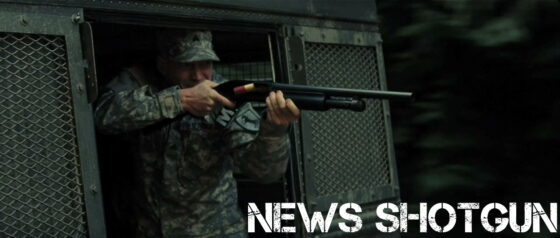 For All Mankind renewed for Season 4: Apple TV+'s alternate history sci-fi series For All Mankind has been renewed for a fourth season.  Created by Ronald D. Moore, the series began in 1969 in an alternate history where the Soviet Union was the first country to put men on the Moon. Each season has jumped ahead in time, with Season 3 being set in the 1990s and the upcoming fourth season will be set in the 21st century as the still existent USSR and the US continue to look to space and try to expand their control to Mars.
The Walking Dead Rick Grimes/Michonne limited series coming soon:  Originally planned to be a movie, possibly in theaters, the resolution to the Rick Grimes story on The Walking Dead will now be a limited series that will bring back Andrew Lincoln and Danai Gurira as Rick and Michonne.  Rick departed the series in Season 9 after seemingly sacrificing himself by blowing up a bridge with a horde of zombies on it but it was revealed that he survived and was airlifted on a helicopter by an unknown group to an unknown location.  Michonne left the main series in Season 10 on a quest to find Rick after getting clues that he might still be alive.  This new series will debut sometime next year along with the Daryl spin-off and Isle of the Dead, which will feature Negan and Maggie.
Cast members revealed for Gremlins: Secrets of the Mogwai: Revealed at the panel for the upcoming animated prequel to Gremlins, the show has added several members to its cast, including OG Gremlins star Zach Galligan  Sandra Oh, Randall Park, George Takei, and Bowen Yang will be featured as well along with the previously announced stars Izaac Wang, A.J. Locascio, and Gabrielle Green.  The show stars Wang as 10-year-old Sam Wang, who lives in 1920s Shanghai and finds Gizmo.  Wang then tries to help his new friend find his family, setting out across the Chinese countryside and encountering creatures from Chinese folklore and Gremlins.
What If? gets an early Season 3 renewal, reveals some storylines: Marvel's What If? got an early Season 3 renewal before Season 2 even debuts next year.  The panel at SDCC also revealed there will be an episode inspired by Neil Gaiman's 160s storyline along with possibly an MCU take on Planet Hulk and more stories featuring Hela, Black Panther, Peter Quill, Iron Man, Red Guardian, and the return of Captain Carter.
New Nicolas Winding Refn series coming to Netflix: A new series from director Nicolas Winding Refn is coming to Netflix with Copenhagen Cowboy.  The series is, "a thrill-inducing series set in six episodes about a young heroine, Miu (Angela Bundalovic) who travels through Copenhagen's criminal underworld.".  The show was shot on location in Denmark and will debut on Netflix later this year.  Refn previously worked with Amazon for the Prime Video series, Too Old to Die Young.
Wheel of Time renewed for Season 3: Prime Video's fantasy series The Wheel of Time has been renewed for Season 3.  The series is based on the Robert Jordan series of books and stars Rosamund Pike, who find five young people, one of whom may be the prophesied Dragon Reborn, who will either save or destroy the world.
Greg Nicotero making a film based on the making of Night of the Living Dead: The driving force behind The Walking Dead and Creepshow, Greg Nicotero is directing a movie about the making of George A. Romero's classic Night of the Living Dead.  The movie will be a dramatized version of the filming of the movie, with recreated scenes from the movie being shot in the movie's black and white style but the actual movie being in color.
Sarah Michelle Gellar joins Wolf Pack as co-star and executive producer: Sarah Michelle Gellar is joining the upcoming Teen Wolf spin-off series Wolf Pack as a co-star and executive producer.  The series is based on a book series by Edo Van Balkam and follows a teenage boy and girl who must face a terrifying supernatural creature that is unleashed after a massive California wildfire.  Armani Jackson and Bella Shepherd are the teen stars while Gellar will play arson investigator Kristin Ramsey, who is called in to find the person who caused the wildfire.  The series will be on Paramount+ later this year along with Teen Wolf: The Movie, the continuation of the MTV series that stars Tyler Hoechlin and Tyler Posey.
Gargoyles getting a comic continuation: 90s favorite Gargoyles is getting a comic book continuation from Dynamite Entertainment.  Gargoyles creator Greg Weisman is on board to help continue the storyline, which will pick up from where the original animated series ended but be accessible for newcomers.  Dynamite is also going to reprint the original Marvel comics that ran when the animated series was airing, which ran for 11 issues.  The new Gargoyles series is expected to begin late this year.
Kurt and Wyatt Russell join the Apple TV+ Godzilla series: Kurt and Wyatt Russell are entering the Monsterverse, as they've joined the cast of the upcoming Apple TV+ Godzilla series, Godzilla & The Titans.  The show is set after the 2014 Godzilla reboot and follows a family in the wake of the attack on San Fransisco as they discover their ties to Monarch.  Anna Sawai, Ren Watabe, Kiersey Clemons, Joe Tippett, and Elisa Lasowski were previously cast and Wandavision's Matthew Shakman is directing the first two episodes of the series.
Matchbox car movie in development: Mattel is working on developing a movie based on their Matchbox cars.  The company is already working on developing a movie for their other iconic toy car line, Hot Wheels.  There were no details about what a Matchbox car movie might be about by Mattel is working with Skydance Entertainment on it.  Mattel has projects in development for American Girl, Barney, Hot Wheels, Magic 8 Ball, Major Matt Mason, Masters of the Universe, Polly Pocket, Rock 'Em Sock 'Em Robots, Thomas & Friends, UNO, View-Master, Wishbone, the Christmas Balloon and Barbie, which is the Margot Robbie/Ryan Gosling starring movie from Greta Gerwig that will debut next year.
Disney developing a movie based on The Graveyard Book: Neil Gaiman's The Graveyard Book is becoming a Disney movie, with Marc Forster, who previously directed World War Z and Quantum of Solace, set to direct.  The book is about a young boy named Nobody "Bod' Owen, who was raised in a graveyard by ghosts and other supernatural creatures after his family was murdered.
Hugh Jackman joins Koala Man: Coming from the team behind Rick & Morty, Koala Man is an upcoming Hulu animated series created by and starring Michael Cusack, who will voice Koala Man aka middle-aged dad Kevin, who seeks to clean up and protect his small suburb of Dapto, New South Wales.  Hugh Jackman will voice Big Greg, Kevin's boss and foil, who sits on the town council and gets most of the credit for everything Koala Man does.
The Munsters coming to Netflix: The Rob Zombie Munsters news continues this week as the movie was announced to be coming to Netflix, along with a Blu-ray release on September 27th.  There's no concrete release date on the streaming release but it will most likely be sometime in September/October this year.
Grounded video game getting an animated series: Released for the Xbox, Grounded is a video game that takes inspiration from stuff like Honey I Shrunk the Kids as players team up to survive after being shrunk down to bug size.  Brent Friedman, who previously worked on The Clone Wars, is developing the series, which will be an animated series set in the universe of the game and follow four friends in the summer before high school who get shrunk down and have to survive the jungle of a backyard.
Powerpuff Girls and Foster's Home for Imaginary Friends getting reboots: Animated reboots for The Powerpuff Girls and Foster's Home for Imaginary Friends are coming soon with original creator Craig McCracken.  The Powerpuff Girls reboot seems like a continuation of the original series as Blossom, Bubbles, and Buttercup face off against new and familiar foes while the Foster's reboot is aimed at younger audiences and set at a preschool for imaginary friends.  The Powerpuff Girls were going to get a live-action reboot at The CW but the pilot that was shot did not live up to the studio's expectations and has been stuck in a reworking limbo.
Heavy Metal Magazine developing a slate of live-action projects: The iconic Heavy Metal Magazine has announced they are developing a "Metalverse" that will feature live-action TV and movies based on some of their properties.  Stephanie Phillips' Taarna, George C. Romero's Cold Dead War, Matthew Medney's Dark Wing, Blake Northcott's Arena Mode, Medney and Bruce Edwards' The Adventures of Adrienne James, Dylan Sprouse and Joe Harris' Sun Eater, and Brendan Columbus' Savage Circus are some of the properties that will be adapted.  The first series from the Metalverse will be Moon Lake, created by Dan Fogler and follows the Man in the Moon, who saves the Earth from attack by the native moon-men by telling them stories that are equal parts horrific and hilarious.
New Batman/Spawn crossover in development: Todd McFarlane and Greg Capullo are teaming up to deliver the massive new crossover comic, Batman/Spawn.  The one-shot 48-page comic will be available on December 13th and will be the third ever crossover between the characters.  DC will reprint the second crossover, Batman/Spawn: War Devil, on November 15th to promote the new crossover.
I'm like the J. Jonah Jameson of Everything Action, writing and editing and constantly demanding pictures of Spider-Man.
1602
apple tv+
batman
copenhagen cowboy
disney
for all mankind
foster's home for imaginary friends
gargoyles
godzilla
greg capullo
greg nicotero
gremlins: secrets of the mogwai
grounded
heavy metal magazine
hugh jackman
koala man
kurt russell
marvel's what if
matchbox cars
neil gaiman
news shotgun
nicolas winding refn
night of the living dead
Prime Video
rick grimes
sarah michelle gellar
sdcc 2022
spawn
teen wolf
the graveyard book
the munsters
the powerpuff girls
the walking dead
todd mcfarlane
wheel of time
wolf pack
wyatt russell
zach galligan