Here's all the movie and TV news you need to know from the past week, it's the News Shotgun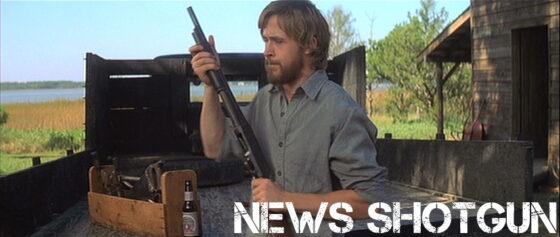 New Max Headroom series in development: 80s icon Max Headroom is coming back with a new series in development at AMC with Halt and Catch Fire's Christopher along with Elijah Wood's SpectreVision.  Matt Frewer is returning to play Max but it's not clear exactly what the new series will be about.  Max first appeared in the British TV movie Max Headroom: 20 Minutes into the Future and then went on to host a music video TV show, appeared in ads for New Coke, and got an ABC series in the US that lasted for two seasons.
Tomb Raider franchise getting rebooted:  Because of their purchase with Amazon and the restructuring and recalibrating that entails, MGM has lost the rights to Tomb Raider and a bidding war for the rights is on.  This means the sequel to the 2018 movie is canceled and Alicia Vikander is no longer Lara Croft, so whatever new project comes from the new rights holders will be a total reboot.  A sequel to the 2018 movie was announced in 2019 with Lovecraft Country's Misha Green at the helm.
Peacock gained no subscribers in the last quarter: Netflix has been getting most of the attention for their subscriber woes but Peacock isn't doing that hot either.  The NBC/Universal streaming service did not get a single new paid subscriber in the last quarter and is flat at 13 million subscribers.  There was no Super Bowl or Olympics, which was a major boost to Peacock's numbers last year, which most likely contributed to the lack of growth.
Creed III delayed: The upcoming third movie in the Creed series has been delayed to 2023.  Originally looking at a November 23rd, 2022 date, Creed III will now be released on March 3rd, 2023.  Michael B. Jordan is starring and directing the third entry, which will put his Adonis Creed up against Jonathan Majors, who is playing new boxing opponent Anderson Dame.  The new date will put Creed III up against Dungeons & Dragons: Honor Among Thieves.
Krysten Ritter starring in Orphan Black spin-off: Krysten Ritter has signed on to star in the upcoming Orphan Black spin-off series, Orphan Black: Echoes.  The show, "takes place in the near future and explores the scientific manipulation of human existence. It follows a group of women — one of them played by Ritter — as they weave their way into each other's lives and embark on a thrilling journey, unravelling the mystery of their identity and uncovering a wrenching story of love and betrayal".  The new show will debut next year with a 10-episode first season on AMC+ and their linear networks (either AMC or BBC America).
Holt McCallany joins MI: Dead Reckoning Part 2: Mission: Impossible gets another cool addition to the cast as Holt McCallany has joined Dead Reckoning Part 2, the second part of next year's Mission: Impossible movie.  McCallany's role is unknown but he joins Tom Cruise, Rebecca Ferguson, Simon Pegg, Ving Rhames, Hayley Atwell, Shea Whigham and Pom Klementieff.  Christopher McQuarrie is writing and directing both entries of Dead Reckoning after directing Rogue Nation and Fallout.
New VHS entry coming to Shudder: Shudder is getting another exclusive entry in the horror anthology series VHS with V/H/S/99.  As the title suggests, the stories will be set in 1999, the last gasp of VHS as DVDs took over as the dominant media.  Maggie Levin, Johannes Roberts, Flying Lotus, Tyler MacIntyre and Joseph & Vanessa Winter will direct segments in this new entry.
Ivan Drago movie in development at MGM: Some sort of Rocky spin-off movie focusing on Ivan Drago is in development.  It's not clear what the movie is about but it's being written by Robert Lawton, who wrote a screenplay for a movie called Becoming Rocky, about the making of the first Rocky.  That script apparently impressed MGM and they are having him write a new entry in the franchise.  It's not clear if Dolph Lundgren will return but he apparently was aware of the idea for a spin-off last year, mentioning it in an interview with The Hollywood Reporter.
Taron Egerton starring in new Jaume Collet-Sera thriller: Jaume Collet-Sera has Black Adam on the way this year and he's just signed on to direct Taron Egerton in a new action thriller, Carry On.  Egerton stars as a TSA agent who is blackmailed into letting a dangerous package slip through security and onto a plane on Christmas Day. The movie is part of the deal Steven Spielberg's Amblin Partners made with Netflix to produce two films annually for the streamer.
Rick and Morty Season 6 gets a release date: Rick and Morty will be back on September 4th on Adult Swim when the show's sixth season begins.  The new season picks up from where season 5 ended, with Evil Morty completing his grand plot to destroy the Citadel of Ricks and breakthrough into a previously restricted area of the multiverse with dimensions where Rick isn't the smartest person in the universe.
Peacock getting a gladiator drama from Roland Emmerich: Peacock is going to Ancient Rome for a new series focused on gladiators, Those About to Die.  The show is directed and executive produced by Roland Emmerich, based on a non-fiction book by Daniel Mannix.  The series, "introduces an ensemble of diverse characters across the many layers of Roman society where sports, politics, and business intersect and collide".  The bar for gladiator/Roman shows was set extremely high by the awesome Spartacus, which ran for 4 seasons on Starz.
David Harbour and Pedro Pascal co-starring HBO crime drama: Two genre favorites are teaming up for a new HBO true crime limited series.  David Harbour and Pedro Pascal will co-star in My Dentist's Murder Trial, which is based on the story of Dr. Gilberto Nunez, who was charged with killing his friend Thomas Kulman along with two forgery counts.  Pascal will play Dr. Nunez but it's not clear yet who Harbour will play.  The show is based on the New York Times article "My Dentist's Murder Trial: Adultery, false identities, and a lethal sedation" by James Lasdun.
Avengers: The Kang Dynasty gets a director: One of the two huge Avengers movies coming in 2025 has a director with Shang-Chi's Destin Daniel Cretton helming Avengers: The Kang Dynasty.  The movie is coming out on May 2nd, 2025, with Avengers: Secret Wars coming out the same year on November 7th.  Not much is known about the plot except it will most likely feature a major team-up of MCU heroes to take on Kang, who is being played by Jonathan Majors and will make his theatrical debut next year in Ant-Man and The Wasp: Quantumania.
The Gray Man sequel and spin-off in development: Netflix is continuing the world of The Gray Man with a sequel movie in development along with a spin-off.  The first movie was based on the book by Mark Greaney, which has a whole series of books to draw from for sequels.  Ryan Gosling and The Russo Brothers will be back for the sequel and Paul Wernick and Rhett Reese will be writing the spin-off, which doesn't have any other information at the current time.
New Eragon series coming to Disney+: Disney is giving a second shot to the fantasy series Eragon, developing a new series based on the books by Christopher Paolini.  The first book of The Inheritance Cycle, Eragon, got a movie in 2006 that was panned by critics and a financial disappointment.  Paolini is working on the series and will co-write and executive produce.
Mark Dacascos joins Warrior Season 3: The former Cinemax turned HBO Max martial arts series Warrior is adding Mark Dacascos to the cast for Season 3 along with Chelsea Muirhead.  The series is set in the 1870s San Fransisco during the Tong Wars and stars Andrew Koji as a martial arts master who gets sold to one of the most powerful Tong leaders.  Dacascos is playing Kong Pak, the former mentor and friend to Joe Taslim's Li Yong and Muirhead plays Yan Mi, "the unassuming but shrewd daughter of a local print shop maker based in Chinatown".
RIP David Warner and Paul Sorvino: Another pair of great character actors passed away this past week.  David Warner passed away at age 80 and was best known for his roles in movies like The Omen, Tron, Titanic, multiple appearances across different Star Trek properties and much more.  Paul Sorvino passed away at age 83 and was best known for his roles in movies like Goodfellas, The Rocketeer, Cruising, Bulworth, Romeo + Juliet, and his stint on Law & Order.
I'm like the J. Jonah Jameson of Everything Action, writing and editing and constantly demanding pictures of Spider-Man.
carry on
creed III
david harbour
david warner
disney
eragon
gladiators
holt mccallany
ivan drago
jaume collet-serra
krysten ritter
mark dacascos
max headroom
mission: impossible dead reckoning part 2
movie news
my dentist's murder trial
news shotgun
orphan black: ecoes
paul sorvino
peacock
pedro pascal
rick and morty
roland emmerich
shudder
taron egerton
those about to die
tomb raider
tv news
v/h/s/99
VHS
warrior