Here's all the movie and TV news you need to know from the past week, it's the News Shotgun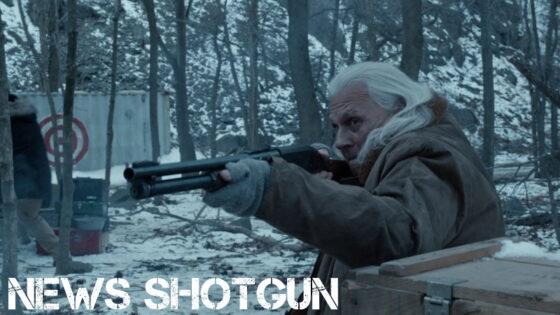 HBO Max and Discovery+ will merge into one service next summer: On an earnings call this past week, it was confirmed that HBO Max and Discovery+ will merge into one service next summer.  There's no word on the price or what the name of the new service will be.
Devil in the White City coming to Hulu: In development for years, Devil in the White City, based on the excellent book by Erik Larson, is greenlit and coming to Hulu with Keanu Reeves starring.  It will be Keanu's first TV starring role and Leonardo DiCaprio and Martin Scorsese are producing the series.  Reeves will play Daniel Burnham, the architect of the 1893 Chicago World's Fair.  While Burnham worked to get the fair constructed, HH Holmes, America's first serial killer, was building his "World's Fair Hotel" and luring people to their deaths.  Holmes hasn't been cast yet for the series.
Insidious 5 starts production: The fifth entry in the Insidious series is underway with Patrick Wilson, Rose Byrne, and Ty Simpkins back to reprise their roles.  The story follows Josh Lambert (Wilson) as he drops his son Dalton off at college.  While at college, the horrific demonic threats of the Further return.  Sinclair Daniel, Peter Dager, and Hiam Abbass have joined the cast and Patrick Wilson is directing the movie, in his directorial debut.
The Flash ending next season: The Flash is coming to an end next season as it was confirmed that Season 9 will end the Arrowverse series.  The ninth season will be 13 episodes and will debut midseason next year.  The Flash became the Arrowverse's longest-running series, surpassing Arrow's eight seasons and it's the last main series for the franchise as Arrow, Batwoman, Legends of Tomorrow, and Black Lightning have all wrapped up or been canceled.  It was confirmed this past season that Superman & Lois is technically not in the same universe as the main Arrowverse shows and Stargirl is in its own universe as well.
RIP Nichelle Nichols: Iconic Star Trek actress Nichelle Nichols passed away this past week at age 89.  Nichols portrayed Uhura on the original Star Trek series as well as the first six Star Trek movies.  She and William Shatner made television history with one of the first interracial kisses in TV history and was role model and hero to many.
New Garfield movie gets a release date: The new Garfield movie starring Chris Pratt as the famous cat has a release date of February 16th, 2024.  Chris Pratt is voicing Garfield while Samuel L. Jackson is playing a new, original character, Vic, who is Garfield's father.  Mark Dindal, who directed The Emperor's New Groove and Chicken Little, is directing the movie.
Joker 2 gets a release date: Despite all the other DC and WB Discovery-related craziness this week, Joker 2 aka Joker: Folie A Deux has a release date of October 4th, 2024.  Lady Gaga confirmed via a short teaser that she will co-star with Joaquin Phoenix as Harley Quinn and the movie is going to be a musical.
Road House remake coming to Prime Video: Prime Video has greenlit a remake of the Patrick Swayze classic Road House, with Jake Gyllenhaal starring.  Gyllenhaal plays a former UFC fighter who takes a job as a bouncer in a rough bar in the Florida Keys.  Conor McGregor is co-starring in his acting debut and Billy Magnussen, Daniela Melchior, Gbemisola Ikumelo, Lukas Gage, Hannah Love Lanier, Travis Van Winkle, B.K. Cannon, Arturo Castro, Dominique Columbus, Beau Knapp, and Bob Menery are co-starring as well.  Doug Liman is directing the movie.
Batgirl canceled at HBO Max: Definitely, the biggest news of the week, the Batgirl movie starring Leslie Grace, which was getting ready to head into post-production after completing filming, has been outright canceled and will not be released in any form.  There were lots of rumors and differing reasons for the decision, including that it had a disastrous test screening, but the main reason seems to be a shifting of strategy by the new CEO, David Zaslav, who wants to refocus on movies going to theaters before coming to the streaming service and making DC Studios, a new branch of the company that will have a more focused plan for DC movies going forward to compete directly with Marvel Studios.  There is also a financial angle as there is a massive amount of debt for the company following the merger and canceling Batgirl and the Scoob! sequel will allow them to do a massive tax write-off.
Skeet Ulrich joins The Driver: Giancarlo Esposito is staying on AMC following Better Call Saul with a new series called The Driver and Skeet Ulrich is joining him.  The show is a remake of a British series and stars Esposito as a cab driver who takes a job chauffeuring The House (Zackary Momoh), a notorious New Orleans gangster who specializes in human trafficking.  Ulrich plays Vince, an old acquaintance of Esposito's character.
Nick Offerman joins MI: Dead Reckoning Part 2: Holt McCallany joined the cast last week and this week Nick Offerman has joined MI: Dead Reckoning Part 2.  His casting came with a promo photo that shows he's playing some sort of military officer named Sydney.
I'm like the J. Jonah Jameson of Everything Action, writing and editing and constantly demanding pictures of Spider-Man.
AMC
batgirl
david zaslav
devil in the white city
discovery+
garfield
giancarlo esposito
hbo max
insidious 5
jake gyllenhaal
joker 2
joker: folie a deux
keanu reeves
mission: impossible dead reckoning part 2
news shotgun
nichelle nichols
nick offerman
road house
skeet ulrich
the driver
the flash
warner bros discovery