Here's all the movie and TV news you need to know from the last week, it's the News Shotgun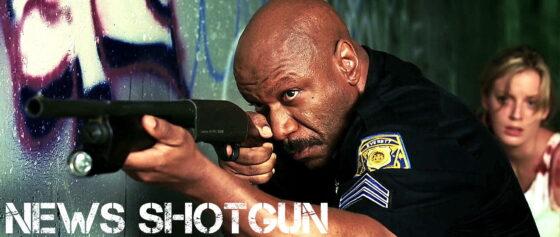 Emily Blunt co-starring in The Fall Guy remake: Ryan Gosling is starring in a remake of the 80s TV show The Fall Guy, which starred Lee Majors as a Hollywood stuntman who earned extra cash catching bail jumpers.  David Leitch is directing the movie and Emily Blunt has joined the movie.  It's not 100% who Blunt is playing but the series featured Heather Thomas as Jody Banks, a fellow stunt performer who helped Lee Majors on his bounty hunting gigs, so Blunt will probably be in that role or something equivalent to it.  The movie is coming out on March 1st, 2024.
Love, Death, and Robots renewed for season 4: After the most recent, and excellent, third volume of Love, Death, and Robots, Netflix has renewed the adult animation anthology for a fourth season.  Tim Miller, David Fincher, Jennifer Miller, and Joshua Donen are returning as executive producers.
The Russo Brothers add more cast members to new Netflix movie: Following up on The Gray Man, The Russo Brothers are bringing another star-studded movie to Netflix with The Electric State, which added more cast members this week.  Millie Bobby Brown is starring in the movie along with Chris Pratt and this week added Michelle Yeoh, Brian Cox, Stanley Tucci, Jason Alexander, and Jenny Slate.  The movie is set in a retro-future past where a young woman (Brown) travels the American West with a robot and a drifter on a quest to find her brother.  Cox and Slate are voicing CG characters in the movie but not much else is known about anyone's roles.  Production on the movie starts in the fall.
Disney+ surpasses Netflix and adds ad-supported tiers and bundles: Disney+ announced that it has (including Hulu and ESPN+ subscribers) more subscribers now than Netflix with a combined 221.1 million subscribers to Netflix's 220.67 subscribers.  The streaming service is also adding several ad-supported tiers and bundles including a Disney+ ad tier for $7.99 a month, Disney+ and Hulu for $9.99, and Disney+, Hulu, and ESPN+ for $12.99 a month.  The premium tier of Disney+ with no ads will go up to $10.99. The price increases and new bundles and plans will launch on December 8th.
Stephen King's The Regulators becoming a movie: Stephen King's movie The Regulators is becoming a movie, optioned by the Bohemia Group.  The King novel is about a group of "regulators" who roll into a small town in Oregon with shotguns blazing and killing anyone they see on the streets and the town slowly transforms into a child's version of the Wild West, as an autistic boy possesed by an evil entity is behind the events.
Alec Baldwin and Olga Kurylenko starring in Chief of Station: The newest film by action director Jesse V. Johnson, Chief of Station, has Alec Baldwin and Olga Kurylenko joining the cast.  The movie follows Baldwin as a retired CIA station chief who discovers that his wife's death wasn't an accident and teams up with a rouge agent (Kurylenko) to uncover the truth.  Kurylenko previously worked with Johnson on the Michael Rooker/Bruce Willis movie White Elephant.
Prey was Hulu's biggest premiere ever: Tons of people checked out Prey last weekend on Hulu, as it was the biggest premiere in the service's history.  There's no exact number but Disney/Hulu is basing it on hours watched in the first three days of release and it's the biggest movie or TV show premiere ever for the service.
Sean Kanan returning for Cobra Kai Season 5: Another Karate Kid alum was officially confirmed to be returning for the upcoming season of Cobra Kai as Sean Kanan aka Mike Barnes will be back.  Promo shots showed Kanan along with Alicia Hannah-Kim, who is playing a new Cobra Kai sensei as Terry Silver (Thomas Ian Griffith) expands Cobra Kai dojos across the valley following their All-Valley Tournament victory in Season 4.  Kanan appeared with Griffith in The Karate Kid Part III, taking on Daniel LaRusso in the All-Valley Tournament.
Sonic the Hedgehog 3 gets a release date: The next movie in the Sonic franchise is arriving on December 20th, 2024, which would put it on a collision course with Avatar 3.  That seems like a big vote of confidence from Paramount as the previous two movies have made over $705 million worldwide combined.  Paramount also shifted their new Smurfs movie to February 14th, 2025.
Fargo Season 5 adds new cast members: Joining Jon Hamm, Jennifer Jason Leigh and Juno Temple in the upcoming fifth season of Noah Hawley's Fargo are Joe Keery, Lamorne Morris, and Richa Moorjani.  Keery is playing a character named Gator Tillman (!) while Morris is playing Witt Farr and Moorjani is playing Indira Olmstead.  Plot details are scarce but the new season is set in 2019 and involves some sort of kidnapping plot.
Cary Grant biopic in development: A biopic around one of Hollywood's biggest legends, Cary Grant, is in development with Jason Isaacs taking on the role of Grant.  The project will be a limited series from ITV and BritBox International and premiere on the upcoming ITVX streaming service in the UK.  The show is a four-episode series titled Archie, after Cary Grant's real name Archibald Alexander Leach, and will follow him from his birth in 1904 to his childhood in extreme poverty to his move to the US, where he transformed into the superstar known as Cary Grant.
Pac-Man movie in development: A live-action Pac-Man movie is in development with Jane the Virgin co-star Justin Baldoni producing it under his Wayfarer Studios.  There are no plot details yet but it is based on a story by Chuck Williams, who was a producer on Sonic the Hedgehog at Paramount, so maybe it will have a similar vibe to those movies.
RIP Olivia Newton-John and Clu Gulager: The entertainment world lost another pair of actors and entertainers this week as Olivia Newton-John and Clu Gulager passed away.  Newton-John was 73 and best known for her co-starring role in Grease along with music hits like "Physical".  She also co-starred in the wild cult classic Xanadu, which produced another #1 hit with "Magic".  Clu Gulager was 93 and a veteran of numerous horror movies, including The Return of the Living Dead, A Nightmare on Elm Street 2, The Hidden, The Uninvited, Puppet Master 5, Pirahna 3DD, and more.
ad-supported
alec baldwin
brian cox
cary grant
chief of station
Clu Gulager
cobra kai
david leitch
disney
emily blunt
fargo
hulu
jason alexander
jason isaacs
jenny slate
joe keery
lamorne morris
love death and robots
michelle yeoh
movie news
news shotgun
olga kurylenko
olivia newton-john
pac man
prey
richa moorjani
ryan gosling
sean kanan
sonic the hedgehog 3
stanley tucci
stephen king
the electric state
the fall guy
the regulators
the russo brothers
tv news