Everything Action Theater: The Phantom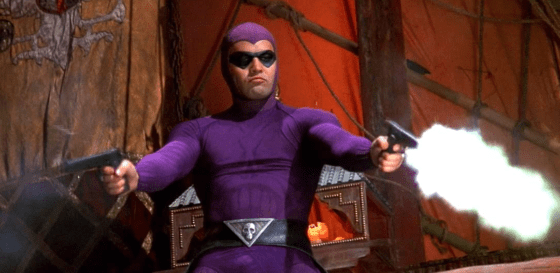 Probably kicking off with Tim Burton's Batman in 1989 but definitely with Dick Tracy in 1990, the early to mid-90s was full of big, pulpy blockbusters like The Rocketeer, The Shadow, The Mask of Zorro, and The Phantom, the latter of which you can watch in this week's Everything Action Theater.  Coming out in 1996, Billy Zane stars as Kit Walker aka The Phantom, a superhero whose title is passed down through the generations and defends against piracy, greed, cruelty, and injustice.  When the sacred Skulls of Touganda are stolen, Walker heads to New York City to track them down, reuniting with an old college classmate, Diana Palmer (Kristy Swanson), and learning that evil businessman Xander Drax (Treat Williams) wants to use the power of the skulls to take over the world.  Catherine Zeta-Jones, James Remar, and Patrick McGoohan co-star, and the movie was directed by Simon Wincer, who had previously directed Free Wily, Operation Dumbo Drop, and Quigley Down Under.  The movie got mixed reviews and didn't do well at the box office but its intentionally pulpy action and cheesy humor have earned it a cult following today.  You can watch the entire movie below thanks to YouTube.
I'm like the J. Jonah Jameson of Everything Action, writing and editing and constantly demanding pictures of Spider-Man.
90s action
90s movies
bengalla
billy zane
catherine zeta jones
diana palmer
dick tracy
everything action theater
full movie
james remar
kit walker
kristy swanson
patrick mcgoohan
pulp hero
simon wincer
skulls of touganda
the mask of zorro
the phantom
the rocketeer
the shadow
treat williams
xander drax